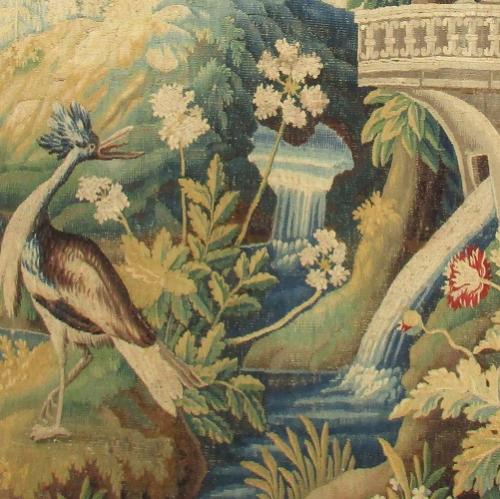 A BADA guide to the care of antique tapestries and textiles.
 
Lining textiles
Always ensure that antique tapestries and textiles are both lined and interlined.
A good lining will prevent dust filtration and also help to deter pests.
An effective lining should be finely woven and reasonably light to avoid adding excess weight.
Your local BADA textile specialist will be able to recommend an experienced conservator.
 
Wall hanging
Seek advice from a specialist before hanging a heavy wall covering.
Effective support is critical to avoid damaging the warp and weft of your tapestry.
The atmosphere, insects and dirt affecting the foundation, can also significantly damage antique textiles.
Ensuring that your tapestry or textiles are correctly hung by a professional will greatly reduce the risk.
Using a professional specialist is particularly important when hanging silk tapestries.
 
Hanging materials
The best hanging method is to use velcro, hand sewn in wide stripes.
This allows heavy items to be hung easily and removed without distress.
The use of velcro also ensures that the weight of your textile can be distributed evenly. This will help to prevent sagging.
To prevent damage, avoid suspending a tapestry near a radiator.
It is also a good idea to avoid locating textiles in direct sunlight which will cause colours to fade over time.
 
Cleaning antique tapestries
Lightly dust or feather tapestries and velvet pile textiles.
Clean antique tapestries regularly and look out for signs of fatigue or disintegration.
Advice about the restoration of antique textiles should be sought from a specialist BADA dealer.
To view dealers that specialise in tapestries and textiles click here 
To view stock of tapestries and textiles click here
For advice on caring for antique Carpets & Rugs click here
For BADA recommended specialists in packing and shipping antiques and fine art click here