BADA is the leading trade association for the fine art, design and antiques community. Read our guide to caring for antique barometers.

Mercury Barometers
Mercury expands, or contracts, according to temperature.
Consequently, antique barometers will be affected by exposure to extreme heat sources.
To retain accuracy, barometers should never be positioned close to a radiator or fireplace.
It is important to remove any gold, or silver jewellery, before you handle a mercury barometer.
Mercury combines with precious metals on contact, and will result in permanent staining.
 
Relocating barometers
Barometers are precision scientific instruments. 
Any sudden movement, or accidental knocks, can damage a barometer's delicate mechanism.
Before moving an antique barometer, consult a BADA specialist for advice on the best method of transit.
When moving mercury barometers, it is essential to keep the instrument in an upright position.
This will prevent sudden movement of the mercury, which can cause the glass tube to shatter.
Dealing with mercury spillages
If you experience a small spillage, always wear rubber gloves for protection.
Use an eyedropper, or pipette, to collect the droplets.
Store the droplets securely in a sealed container.
Then dispose at a council refuse facility that accepts used batteries.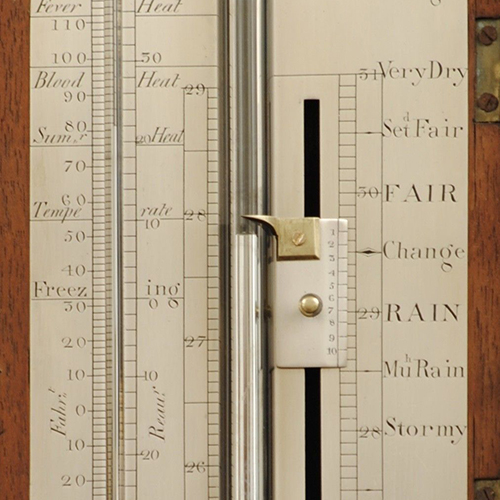 Cleaning antique barometers
For general cleaning and dusting of antique barometers, use a soft lint-free duster.
A soft bristle brush is advisable for more delicate cleaning, or to acccess hard to reach areas.
Avoid using metal polish for cleaning parts on antique wood-mounted barometers. 
Stray drips or spillages can permanently damage your wood's patina. 
Major cleaning work should always be undertaken by a specialist.
A BADA clock dealer will be able to recommend a suitable professional.
 

To find dealers who specialise in barometers click here
To browse barometers online click here
For advice on caring for antique clocks click here
For BADA recommended specialists in packing and shipping antiques and fine art click here