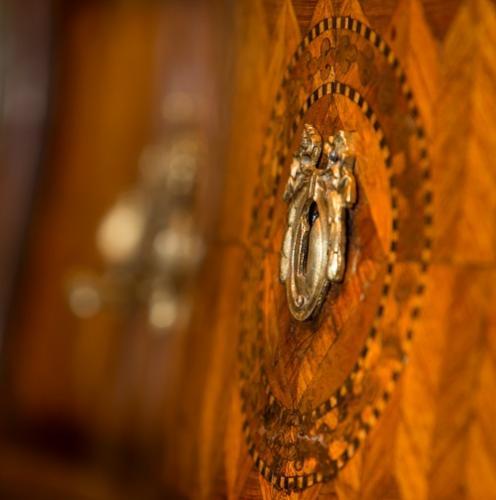 BADA is the leading trade association for the fine art, design and antiques community. Read our guide to caring for antique furniture.
Positioning antique furniture
Antique furniture should never be placed directly in front of a radiator or heater.
Ideally, furniture should be positioned at least two feet from any heat source.
An insulated or reflective barrier can help reduce the risk of damage caused by a heat source.
 
Dusting and polishing
Dust your furniture frequently with a soft cloth. Rub the surface up to encourage a hard skin to form.
This will help to build up a good surface colour. This is known in the trade as patina.
Twice a year, polish furniture thoroughly using a good beeswax-based polish.
Polish sparingly, and preferably leave overnight, before rubbing well.
Avoid spray polishes as they can create a sticky surface and will erode the natural oils in the timber.
 
Central heating
Antique furniture can be particularly susceptible to central heating.
Fluctuations in temperature and humidity are likely to cause significant and costly damage.
Antique furniture is constructed from air-dried timber.
Consequently it has a far higher water content than modern furniture.
Typical problems caused by central heating include cracking, lifting veneers and loosening joints.
Central heating can also cause drawers to stick and doors to warp so that they no longer close properly.
A good humidifier can prevent these issues and will help maintain a constant level of humidity.
BADA recommend aiming to maintain 50-55% relative humidity.
 
Direct sunlight
Avoid exposing your antique furniture to direct sunlight.
Direct sunlight can dry out the wood and lead to uneven fading.
Where possible, turn furniture around occasionally to even the fading process.
Keep curtains drawn on sunny days when rooms are not in use.
Inspect your furniture regularly for lifting mouldings or veneer, which will sound hollow if lightly tapped.
Check for loose joints, water damage or fresh furniture beetle (woodworm) holes, particularly during the months of May and June.
 
Use professionals
If repair is required, always use a reputable restorer. 
A BADA dealer will be happy to recommend a suitable specialist.
Good restoration takes time and is unlikely to be cheap. 
However, a botched repair will not last and could reduce the value of your antique.
To view items of furniture available to buy online click here
To find BADA members who specialise in furniture click here
For advice on insuring furniture click here
For advice on valuing furniture click here
For BADA recommended specialists in packing and shipping antiques and fine art click here