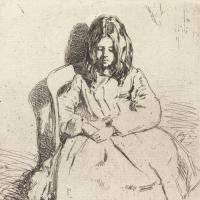 BADA is the leading trade association for the fine art, design and antiques community. Read our guide to caring for antique drawings.
Damage prevention
Antique drawings in crayon, pastel, chalk and charcoal should be stabilised to prevent accidental smudging, or crumbling if touched.
This process is best carried out by an experienced picture restorer.
Contact your local BADA drawings specialist for a suitable recommendation.

Drawings on vellum
Depending on changes in humidity, vellum can absorb water from, and release water to the atmosphere.
This means vellum is susceptable to shrinking which can cause ink and paint to flake off.
If you experience either of these issues, seek advice from a professional restorer.
 
Framing advice
When framing antique drawings, the glass should be kept apart from the paper with the aid of an acid-free mount or a slip.
BADA recommend using Museum Board as a mount, which is made of 100% cotton fibre.
Ultraviolet filtering glass can also be fitted to reduce the risk of damage from UV light.

Hanging advice
Light causes irreversable damage to drawings. You should never hang drawings in direct sunlight.
Fluctuations in temperature and humidity can also have adverse effects on both the paper and the media.
Avoid hanging drawings above a radiator, a working fireplace, or any other heat source.
 
Storing antique drawings
Drawings should not be stored in damp areas. This causes brown discolouration, known as 'foxing', to occur.
In some cases, a specialist conservator may be able to reduce the effect of foxing.
Sadly, in many cases the damage is irreversible.
To browse a selection of available Drawings click here
For a list of dealers specialising in Drawings click here
For advice on caring for antique Oil Paintings click here
For advice on caring for antique Watercolours click here
For BADA recommended specialists in packing and shipping antiques and fine art click here