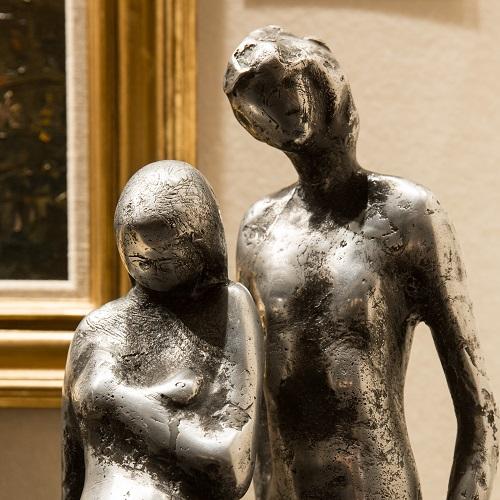 Advice on caring for antique bronzes from the British Antique Dealers' Association.
 
Patina
The brown or green patina that forms on antique bronzes over time is key to your objects value.
Never use metal polish or solvents to clean bronzes as they will seriously damage the surface patina.
A dull patina can be enlivened with a light coating of microcrystalline wax.
It is always advisable to test the wax on the base of a bronze to make sure you are happy with the outcome, before applying to visible areas.
 
Cleaning antique bronzes
Most antique bronzes only require occasional dusting.
To remove dirt or dust from awkward crevices we would recommend a toothbrush and a tin of good furniture polish.
Dip the brush in the wax and apply to the bronze working the wax around the detailed areas to lift the dirt.
Over larger, smoother areas the wax can be applied with a cloth.
Leave the wax to harden for an hour or two then polish with a clean duster, a soft shoe polish brush can be used for detailed areas.
Finally, if in doubt, consult a BADA Bronze specialist who will be happy to recommend an experienced restorer.

Bronze disease
Antiquarian bronzes can be susceptible to bronze disease which is a corrosive process caused when clorides come into contact with bronze.
Bronze disease can be identified by the appearance of small green powdery blemishes which appear on the surface of a bronze.
If you believe your item may have bronze disease it is best to consult a professional conservator at your earliest convenience.
To browse dealers who specialise in bronzes click here
To browse a selection of bronzes on line click here
For advice on caring for antique Stone and Marble click here
For BADA recommended specialists in packing and shipping antiques and fine art click here