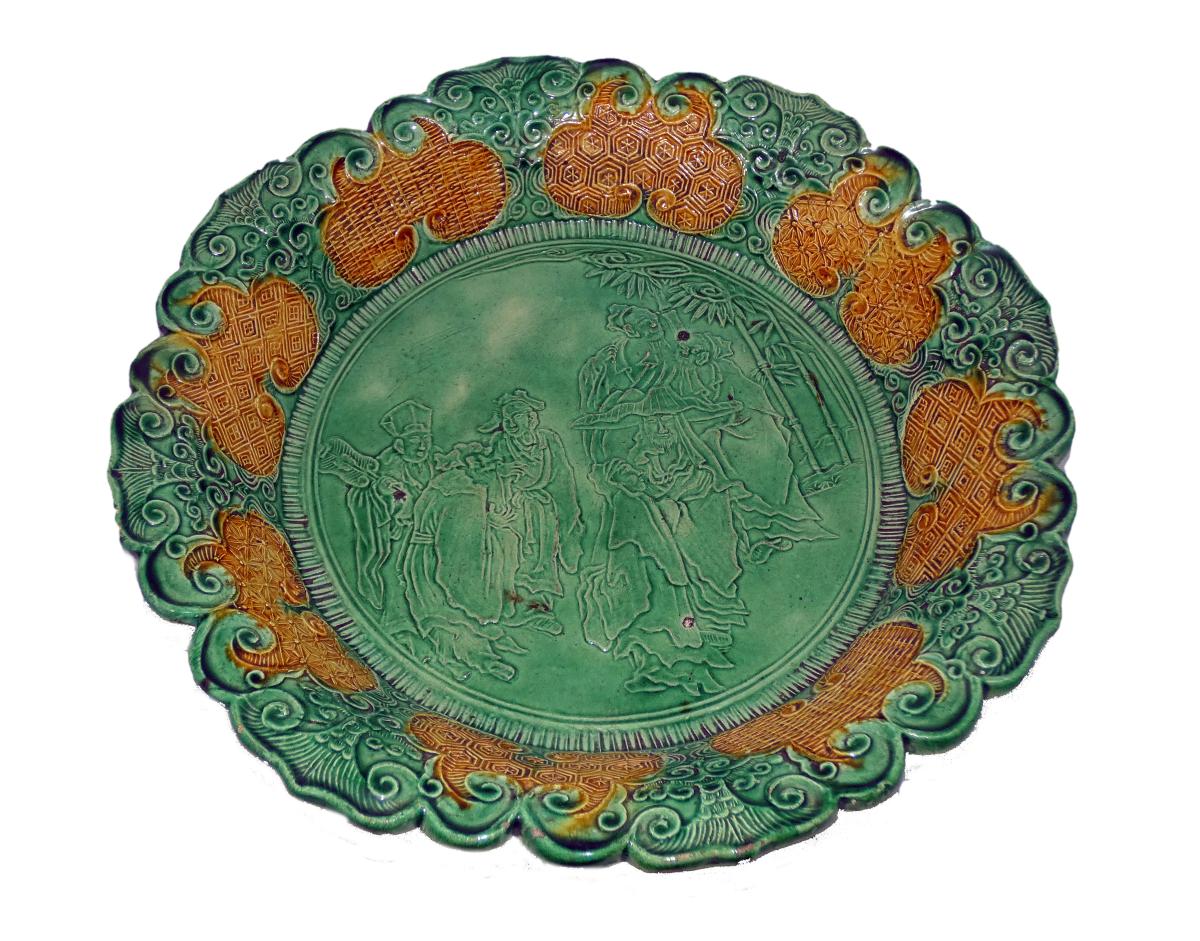 Price
£5750.00
The BADA Standard
Since 1918, BADA has been the leading association for the antiques and fine art trade
Members are elected for their knowledge, integrity and quality of stock
Our clients are protected by BADA's code of conduct
Our dealers' membership is reviewed and renewed annually
Bada.org is a non-profit site: clients deal directly with members and they pay no hidden fees
Click here for more information on the BADA Standard
Late Shunzhi early Kangxi egg and spinach glazed carved carved and molded biscuit porcelain plate. Made in the 17th century in China at the Jingdezhen kilns circa 1662.
The colour being green and yellow are often referred to as egg and spinach but the body is biscuit porcelain where one one firing process is missed out.
The centre is carved with a figural scene representing 'The seven Sages in the Bamboo Grove', some sages is replaced by the term 'worthies'. Like much folklore the telling often changes and embellishes the truth.
The story has it that during the third century - Jin Dynasty - seven sages found that they were in danger. The sages were Daoists and the Sima clan who were at that time power were strong Confucian followers and didn't want followers of Daoism. These scholars were poets artists and musicians and some used their talents to criticize the Imperial court especially in poetry. Some pretended to be drunks and eccentrics to avoid government control. These sages gathered in a bamboo grove near one of their homes and where they praised the rustic life, simple living, alcohol and personal freedom.
The sides are molded with ruyi head shaped mushrooms and clouds with and geometric patterns glazed in yellow.
Very unusual piece.
Condition report
Crack to the edge as shown in photo
The BADA Standard
Since 1918, BADA has been the leading association for the antiques and fine art trade
Members are elected for their knowledge, integrity and quality of stock
Our clients are protected by BADA's code of conduct
Our dealers' membership is reviewed and renewed annually
Bada.org is a non-profit site: clients deal directly with members and they pay no hidden fees
Click here for more information on the BADA Standard