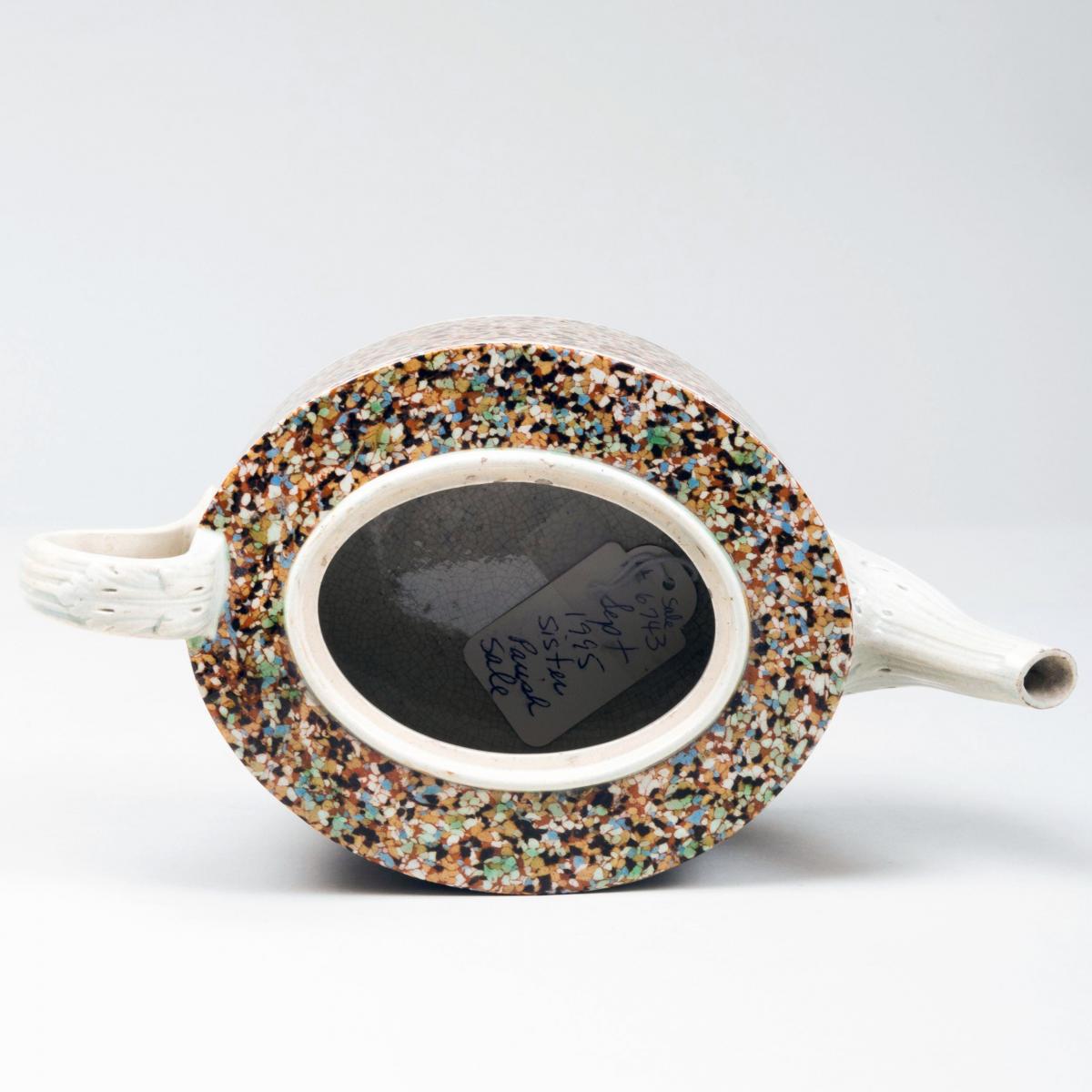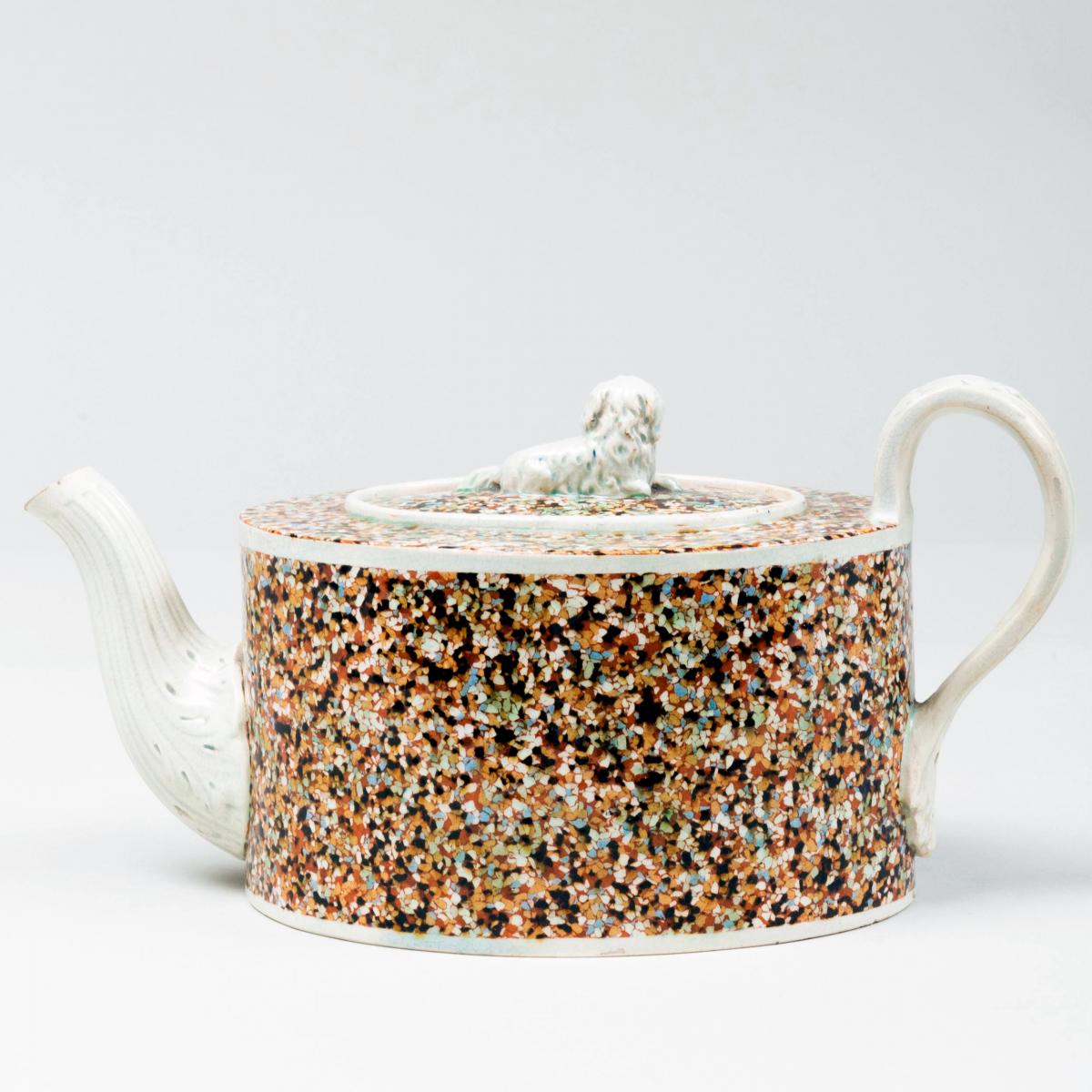 Price
£3000.00
The BADA Standard
Since 1918, BADA has been the leading association for the antiques and fine art trade
Members are elected for their knowledge, integrity and quality of stock
Our clients are protected by BADA's code of conduct
Our dealers' membership is reviewed and renewed annually
Bada.org is a non-profit site: clients deal directly with members and they pay no hidden fees
Click here for more information on the BADA Standard
Staffordshire Pearlware Teapot and Cover with Inlaid Agate Surface.
Attributed to the Ralph Wood Family, Circa 1780.
The squat oval pearlware pottery teapot has a recumbent Spaniel as the finial. The Teapot body with an inlaid agate surface and the spout with moulded leaves. The handle is reeded and with a large moulded leaf to the top and bottom.
While the teapot is not marked, Jonathan Richard (see below) mentions that a marked example is known with the impressed mark R A Wood, Burslem. Richard mentions that this surface was possibly what was referred to as " Terra Tersia" in an auction notice in 1794 of the contents of Ralph Wedgwood's London warehouse. It was also referred to as tessellated, granite, mosaic, and other terms depending on the maker.
Dimensions: 5 inches high x 9 inches wide x 4 3/4 inches deep.
Provenance: Sotheby's New York, Property from the Collection of the Late Sister Parish, September 29, 1995, Lot 40.
Reference: "Mocha and Related dipped wares, 1770-1939", Jonathan Rickard, page 30, Fig 41, for a very similar teapot with spaniel dog finial but without moulded spout.
See " An English Pottery Heritage, Part Two, The Troy Dawson Chappell Collection of Earthenware & Stoneware 1630-1800", Page 837, # 375, a coffee pot with similar decoration. See also Donald Carpentier and Jonathan Rickard, " Slip Decoration in the Age of Industrialization", Figure 8, a coffee pot and cover, Great Britain, ca. 1785. Pearlware. H. 10 5/8 ".
The baluster-form body and cover having vertical reeding created on an engine-turning lathe, along with inlaid agate—tiny bits of different-coloured clay adhered to the body with slip and turned smooth. (http://www.chipstone.org/article.php/9/Ceramics-in-America-2001/Slip-Decoration-in-the-Age-of-Industrialization).
Dimensions
12.7cm x 22.86cm x 12.07cm
Condition report
Good condition
The BADA Standard
Since 1918, BADA has been the leading association for the antiques and fine art trade
Members are elected for their knowledge, integrity and quality of stock
Our clients are protected by BADA's code of conduct
Our dealers' membership is reviewed and renewed annually
Bada.org is a non-profit site: clients deal directly with members and they pay no hidden fees
Click here for more information on the BADA Standard