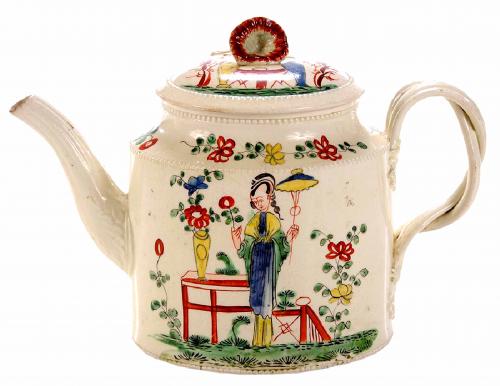 About
Earle D Vandekar of Knightsbridge
Earle D Vandekar of Knightsbridge, Inc. is owned and run by Paul Vandekar and his wife, Deidre Healy.
While Earle Vandekar of Knightsbridge, Inc. has historically been known for its outstanding antique ceramics, the type of objects that we sell has grown over the years.
Thus, in addition to Chinese Export, English and European antique porcelain, and pottery, we have created one of the most extensive collections of 19th-century British sailors' woolworks (known as woolies) in the world, and feature other specialized antique textiles such as Georgian silkworks.
I have also expanded the company, which still bears my father's name, to offer an exquisite selection of 19th-century Chinese watercolours and hand-coloured engravings of various subjects from the 18th and 19th centuries from across the world, as well as other period decorative arts. We are also well know for our selection of 20th-century ceramics, in particular those created by Piero Fornasetti.
Clients
My mission is to offer our clients pieces that reflect my passion and the keen eye I have developed for the world of antiques.
My commitment to excellence has made it my privilege to delight collectors and designers as well as museum curators for the last forty years.
Fairs & Website
Earle D. Vandekar of Knightsbridge, Inc. has a very active antique show schedule across the United States, so be sure to check the exhibition schedule to see when my collection will be nearby.
My website vandekar.com is easy to navigate and full of wonderful information on the treasures it contains.
I look forward to meeting you at a show or I can arrange a private showing of items that are of interest.
If you have any questions please do not hesitate to call or email me.
History
The Vandekar family has been in the antiques business for over a hundred and twenty years.
Our legacy began in the 19th century when my great-grandfather opened his shop in Amsterdam, and subsequent generations of the Vandekar family-Joseph, Earle and Paul have set up shop in London, Los Angeles, and now, New York.
My father was at the helm of the business for more than 40 years at our location on Brompton Road in London.
Under his proprietorship, the gallery became respected worldwide for being one of the finest dealers in antique porcelain & pottery anywhere, carrying high-quality, 18th and 19th-century British, European and Chinese Export ceramics and other decorative arts.
In 1982, I opened in New York where I continue my family's tradition of excellence today.
Location
Earle D Vandekar of Knightsbridge, Inc
English and European ceramics including Piero Fornasetti ceramics; Chinese export ceramics and watercolours; sailors' woolwork pictures; valuations
Address

PO Box 586
Downingtown
PA
19335
Opening hours
Open by appointment
Contact(s)
Paul Vandekar
Deidre Healy
Fairs
The Music Centyer
Nashville
TN
USA. February 11-13. IN PERSON