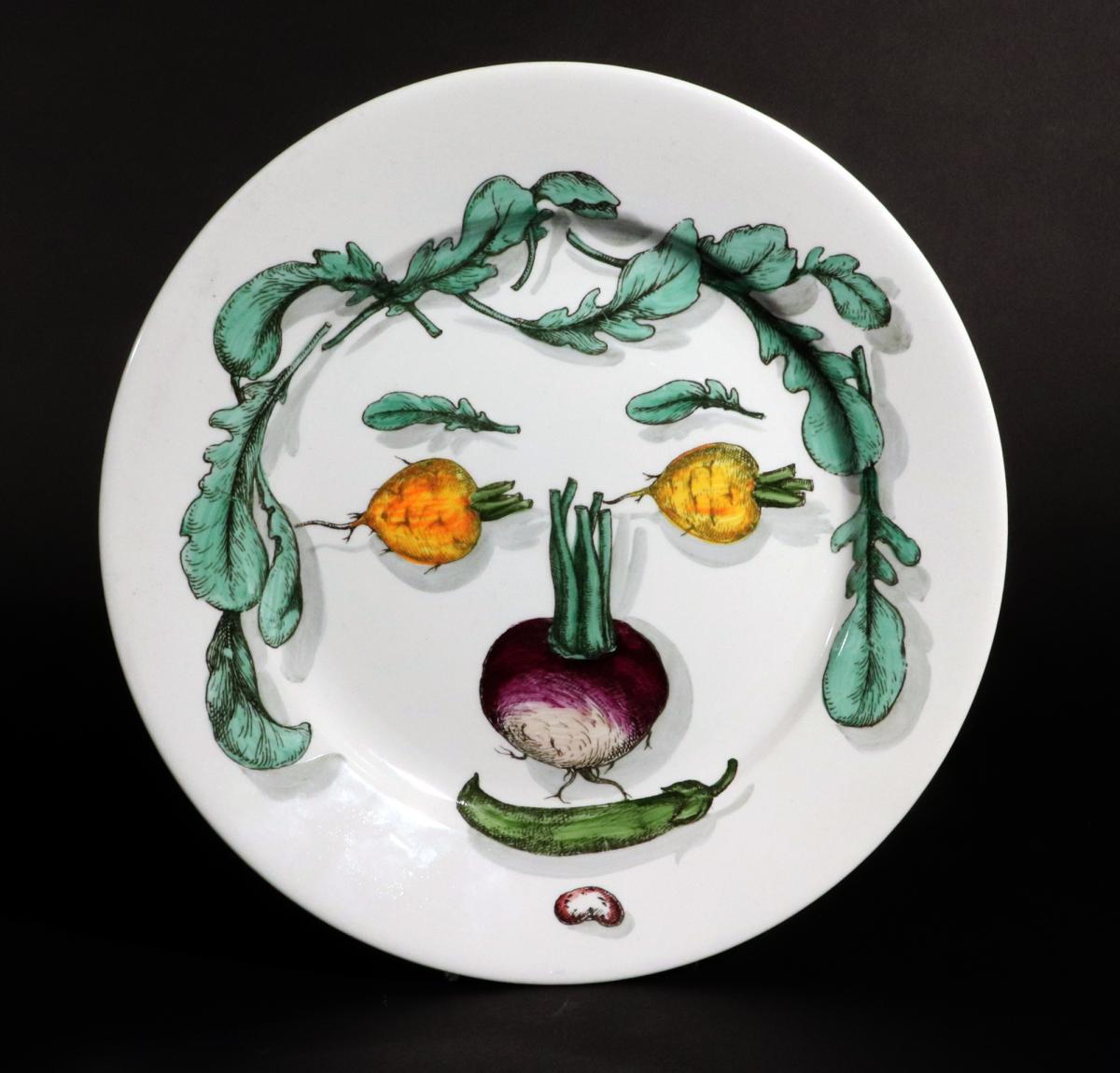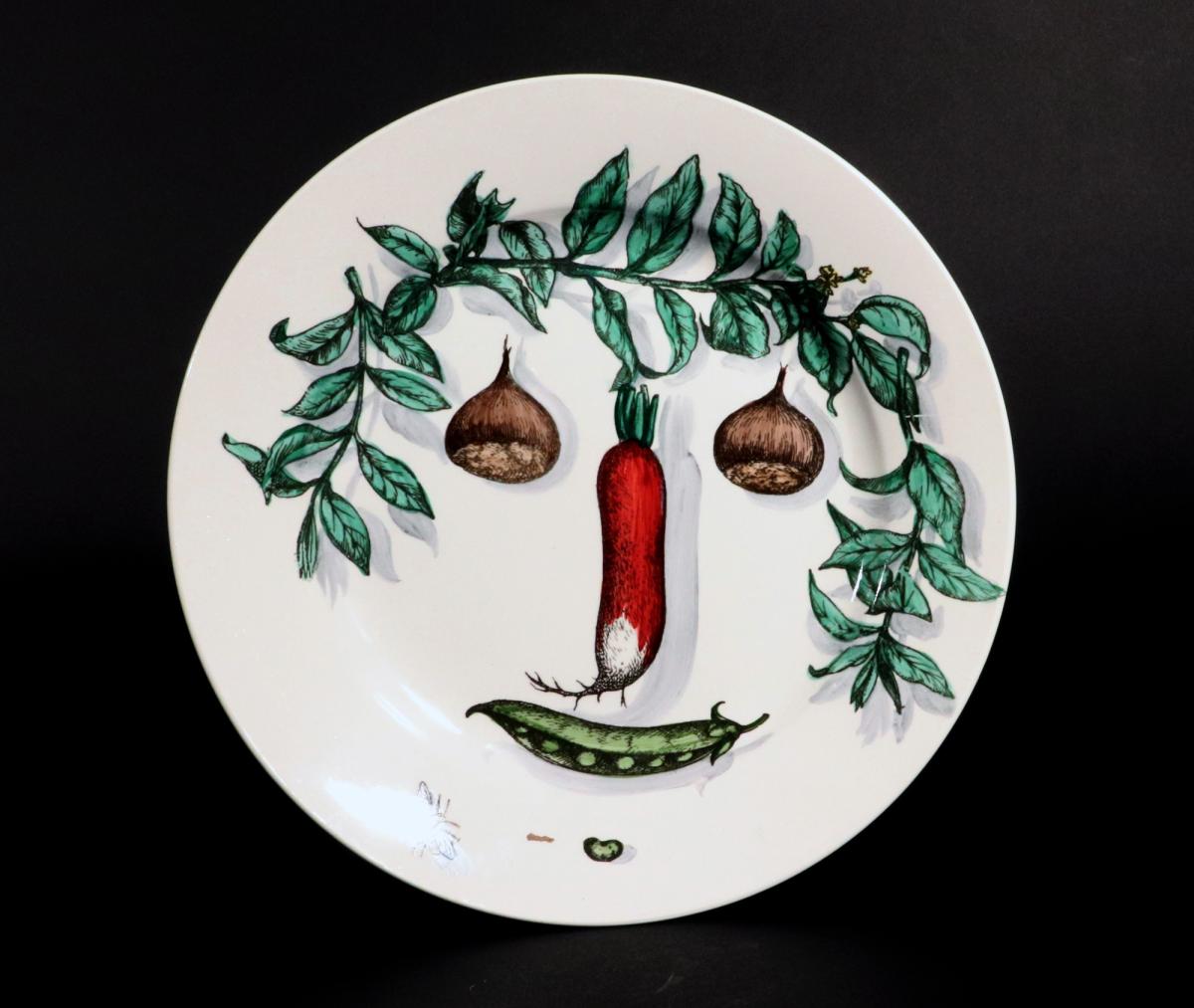 Price
£6220.00
This object includes complimentary, Insured Shipping / Delivery within the UK
This object includes complimentary, International Insured Shipping
The BADA Standard
Since 1918, BADA has been the leading association for the antiques and fine art trade
Members are elected for their knowledge, integrity and quality of stock
Our clients are protected by BADA's code of conduct
Our dealers' membership is reviewed and renewed annually
Bada.org is a non-profit site: clients deal directly with members and they pay no hidden fees
Click here for more information on the BADA Standard
To be exhibited at
The BADA Christmas Gift List
Piero Fornasetti Pottery Arcimboldesca-Motif Vegetable Face Plates.
After Giuseppe Arcimboldo.
Arcimboldesca Pattern.
Set of Twelve, Circa 1955.
The 1950s pottery plates with a wide border are after Giuseppe Arcimboldo- the design of a face creatively designed with the use of various vegetables and plants with the face facing forward towards the viewer. They are hand painted in color over a printed design. There are eleven different designs. We also have additional plates from the series to increase the number of plates-please inquire.
Dimensions: 9 1/4 inches diameter x 1 1/4 inches high.
Arcimboldo who died in Milan, the city of Piero Fornasetti's birth, was a Renaissance artist whose work was revisited in the 20th century by artists such as Dali and Max Ernst. In On Ugliness, which was published under Umberto Eco's edition, Arcimboldo also admitted belonging to manneristic tradition for which "...the preference for aspiration to strange, extravagant and shapeless over expressional fine" is peculiar.
Marks: Green central stand to reverse with mark of the Italian maker Societa Ceramica/ Italiana/ Laveno/ Made in Italy in green with Eagle above. Each plate with a combination of printed numbers below.
Also in black the traditional Fornasetti mark of a hand with brush and Fornasetti-Milano & "Printed Exclusively for Saks Firth Avenue".
Reference: Fornasetti: The Complete Universe, Barnaba Fornasetti, Illustrated: p 616, #168 for a 10 1/4 inch example.
Fornasetti: Designer of Dreams, Patrick Mauries, Page 259, top of page for a set of these plates.
Giuseppe Arcimboldo (Italian: also spelled Arcimboldi) (1526 or 1527 - July 11, 1593) was an Italian painter best known for creating imaginative portrait heads made entirely of objects such as fruits, vegetables, flowers, fish, and books.
(Ref: NY10394-inau)
Dimensions
23.50 cm diameter
Price
£6220.00
This object includes complimentary, Insured Shipping / Delivery within the UK
This object includes complimentary, International Insured Shipping
Stock number
NY10394-inau
The BADA Standard
Since 1918, BADA has been the leading association for the antiques and fine art trade
Members are elected for their knowledge, integrity and quality of stock
Our clients are protected by BADA's code of conduct
Our dealers' membership is reviewed and renewed annually
Bada.org is a non-profit site: clients deal directly with members and they pay no hidden fees
Click here for more information on the BADA Standard