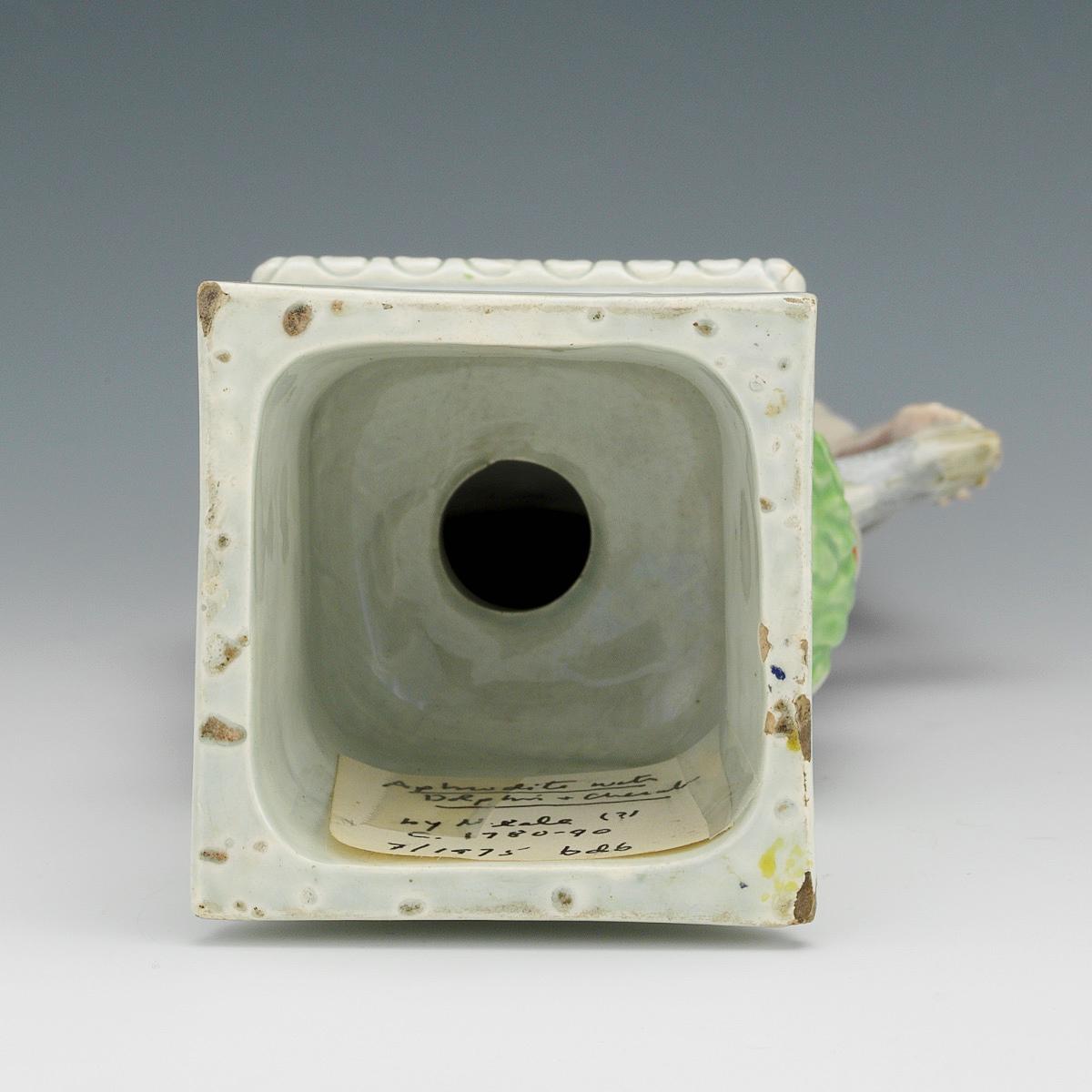 Price
£2250.00
This object includes complimentary, Insured Shipping / Delivery within the UK
This object includes complimentary, International Insured Shipping
The BADA Standard
Since 1918, BADA has been the leading association for the antiques and fine art trade
Members are elected for their knowledge, integrity and quality of stock
Our clients are protected by BADA's code of conduct
Our dealers' membership is reviewed and renewed annually
Bada.org is a non-profit site: clients deal directly with members and they pay no hidden fees
Click here for more information on the BADA Standard
To be exhibited at
The BADA Christmas Gift List
Pearlware Figure of Aphrodite & Eros, also known as Venus and Cupid.
Attributed to Neale & Co.
Circa 1790.
The large pearlware early English pearlware figure of Venus or Aphrodite rests her left hand on a dolphin and her right hand holding the open part of her gown to cover Cupid, who rests next to his bow and quiver of arrows. They stand on a raised, grassy mound above a tall square base decorated with urns and hanging swags.
Dimensions: 10 3/4 inches high x 2 5/16 inches x 2 5/16 inches.
Reference: Staffordshire Figures, 1780-1840, Myrna Schkolne, Volume 4, Page 189, Figure 195.2 for the same base.
APHRODITE was the Olympian goddess of love, beauty, pleasure and procreation. She was depicted as a beautiful woman often accompanied by the winged godling Eros (Love). Her attributes included a dove, apple, scallop shell and mirror. In classical sculpture and fresco she was usually depicted nude. (http://www.theoi.com/Olympios/Aphrodite.html)
(Ref: ny8404-lir)
Dimensions
27.32cm high x 5.87cm square base
Price
£2250.00
This object includes complimentary, Insured Shipping / Delivery within the UK
This object includes complimentary, International Insured Shipping
The BADA Standard
Since 1918, BADA has been the leading association for the antiques and fine art trade
Members are elected for their knowledge, integrity and quality of stock
Our clients are protected by BADA's code of conduct
Our dealers' membership is reviewed and renewed annually
Bada.org is a non-profit site: clients deal directly with members and they pay no hidden fees
Click here for more information on the BADA Standard