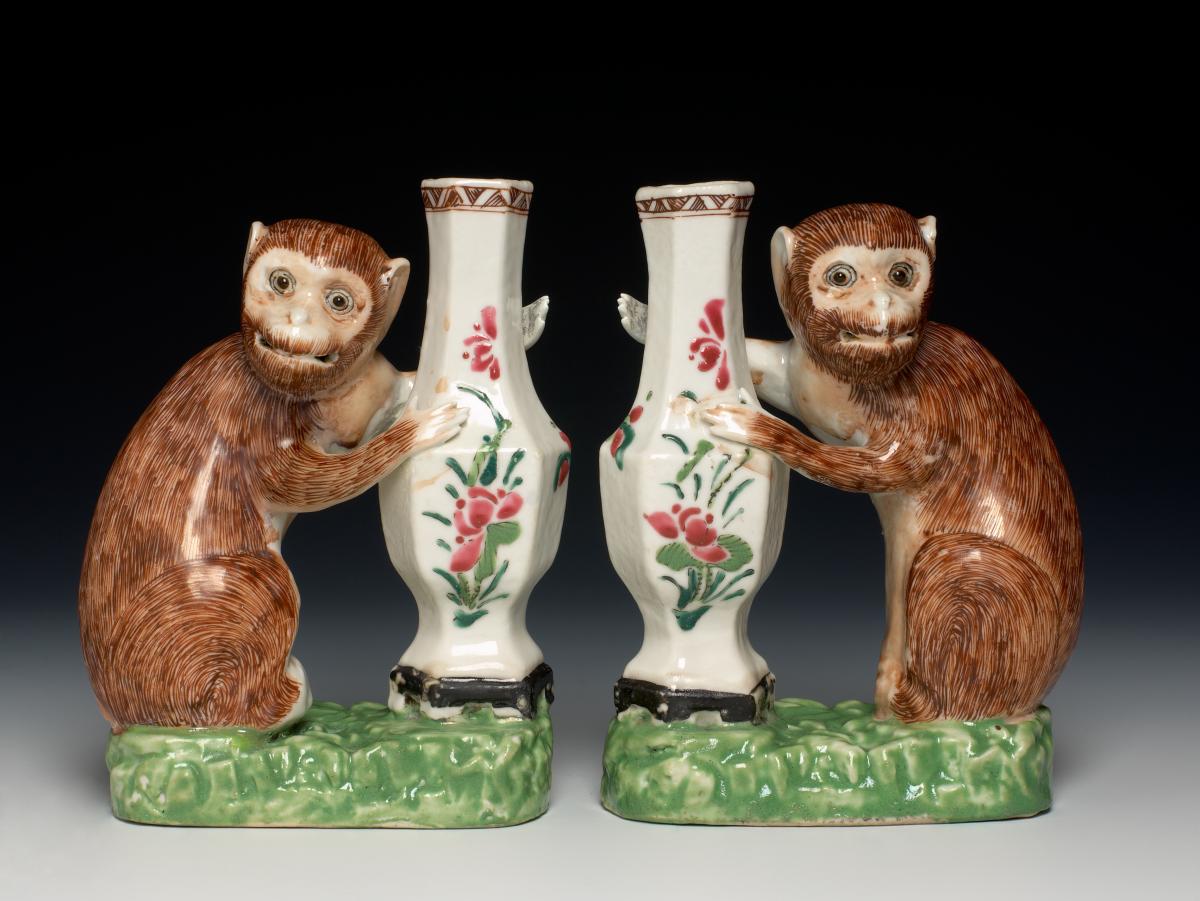 Price on application
The BADA Standard
Since 1918, BADA has been the leading association for the antiques and fine art trade
Members are elected for their knowledge, integrity and quality of stock
Our clients are protected by BADA's code of conduct
Our dealers' membership is reviewed and renewed annually
Bada.org is a non-profit site: clients deal directly with members and they pay no hidden fees
Click here for more information on the BADA Standard
Pair of Chinese export porcelain models of monkeys holding a vase on a green base, decorated in opaque enamels from the famille rose (fencai) palette, c. 1760, Qianlong reign, Qing dynasty, h. 13,5 cm, 5 3/8 in.
Literature:
• Christie's Pictorial History of Chinese Ceramics, by A. du Boulay, p. 297 for a similar pair;
• The Copeland Collection, Chinese and Japanese Ceramic Figures, by W.R. Sargent, Salem, MA 1991, pp. 176/177, cat 82/83 for two single figures;
• Chinese Mythology, by A. Christie, 1968, p. 123 for a similar pair;
• Nellie Ionides Collection, Sotheby's sale catalogue, 2nd July 1963, cat. 138 for a similar figure with an enamel splashed base.
中國外銷瓷粉彩瓷猴一對,猴子手執瓶子立於綠色底座上,約1760年,清乾隆,高13.5釐米,5 3/8英吋。
參考文獻:
•《佳士得中國陶瓷史畫報》,作者A. du Boulay,參見第297頁一對近器;
•《Copeland收藏中國及日本陶瓷塑像》,作者W.R. Sargent,1991年馬瑟諸塞州塞勒姆市出版,參見 第176-177頁,編號82-83兩件塑像;
•《中國神話故事》,作者A. Christie,1968年出版,參見第123頁一對近器;
• 參見1963年7月2日蘇富比拍賣品目錄Nellie Ionides類似塑像,帶有斑紋釉瓷底座。
The BADA Standard
Since 1918, BADA has been the leading association for the antiques and fine art trade
Members are elected for their knowledge, integrity and quality of stock
Our clients are protected by BADA's code of conduct
Our dealers' membership is reviewed and renewed annually
Bada.org is a non-profit site: clients deal directly with members and they pay no hidden fees
Click here for more information on the BADA Standard