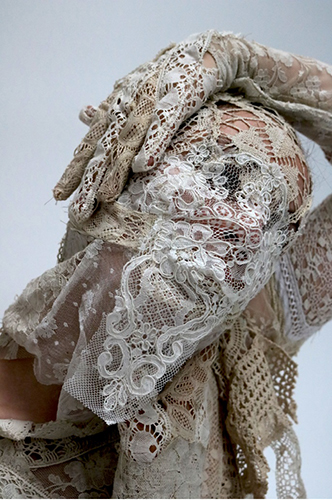 We are proud to present the three finalists for the BADA Art Prize 2022, as selected by our distinguished panel of judges.
The prize seeks to promote "the antiques of tomorrow" by awarding a grant to an emerging contemporary artist whose work exemplifies the enduring ingenuity and quality illustrated by our members objects.

BADA Art Prize Winner 2022
 
Le prix d'être une femme
2022
Rosalie Oakman
Offcuts of lace and crochet
Both the physical components and message behind my piece span countless generations. The piece represents the past, and the present. Through the use of inherited antique lace, it holds both meaning and memories. This lace womxn exists today, as an antique of yesterday. However, my hope is that we have a brighter future, where the message behind this piece becomes redundant – an antique of tomorrow.
A textile sculpture representing the female body.  A lot of womxn artists, such as Louise Bourgeois or Freddie Robbins for example, have used the medium of textile bodies to express stories. By bringing old and new lace together, to represent the union of the memories and experiences from the past and the present. The story told is one of the fragilities and inviting beauty of worn out lace combined with the tactility of its knurls. It speaks of non-consensual touch, the male gaze, the beauty and elegance held through aging.
The whole process of making the piece almost turns it into an archetypal structure, of womxns' trauma.
I aim to trigger something in people that see the piece. Whether that's the instinct to save, protect, pity or feel shocked. It should enable discussion and raise awareness, to help people to understand guilt or shame and find a means to cope, and deal with a traumatic response. This piece is a 'memento' from the story of many, when will the story end?
The body is made from offcuts of lace and crochet that were collected by my grandmother and her stepmother over the years. In that time, it was current to save everything for further use. I believe that this practice is one that we should try to maintain and apply nowadays, as it is very sustainable. 
Runner Up 2022
Log Book
2022
Si Sapsford
Engraving on glass - 5 litre Demijohn
This work embodies both its own past history (as a found, used object) my past history (it records my journey sailing through the Suez Canal and on to the Maldives) which has been transformed through the process of engraving on to glass bottle (used for carrying water). And through use a possible future history.
When I first found my old sailing log book and began to read the remarks, written hourly along with exact times, location wind direction and my own direction of travel, I was struck by the fact that I could pin point my exact location to a particular time and place, and that as an ordinary person, we so rarely know these exact details in relation to ourselves. I could replot every step of my journey on to a map.
By transcribing the hourly entries on to the Demijohn, I felt I was reliving that journey through the slow process of etching, and that I was giving it a contemporary context, and a new place in the world.
I see the work as capturing thoughts and memories from the past, but as the object itself can still have a useful function, and as the text, in certain light might almost go unnoticed, it also serves to remind me of how memory comes unbidden, and that sometime in the future, in the act of lifting a simple glass jar, the memory of that time is triggered along with the feel of the wind, sun and salt.
Runner Up 2022
Popping Good Child
2022
Sae Ri Seo
Porcelain, 1280°C
Celadon glaze, Reduction
Korea has a long history of pottery. Moon jar boasts its reputation throughout the world, but it was a demanding task for women to make pottery during the Joseon Dynasty when pottery was booming. Women were not allowed to produce and access the studio. Because people believed women brought bad luck.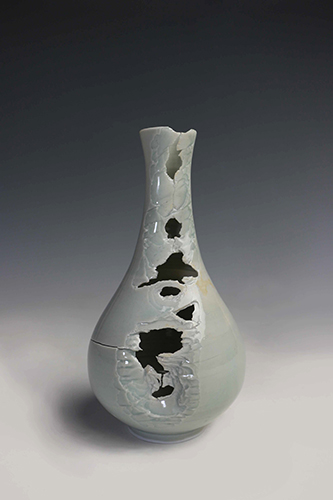 My mother, who had only three daughters, had to be abused by my father's parents. Also, I had heard when I was young that "This should have been born as a son." Even if it is not my fault that I am not a boy, I feel like I did something wrong. That was the starting point of my good child syndrome. I was forced to be kind and polite while I was growing up. It was a natural culture in Korea, where honorifics and Confucian ideas exist. The decisive reason was bullying, which was a trend at that time. The bullying, which began for no reason, remained a big scar in my adolescence, and the compulsion had arisen, 'If I were a good person, I would be loved by others without any hatred.'
In order not to be hated for no reason, I have to be a good person and the desire to be loved by everyone eventually became ill in the heart and suppressed. My good child syndrome has emerged for these reasons. I always cared about others more than my feeling, so I did not notice my heart hurting. So to overcome that, I started to express myself through pottery that I could do best. If cultural and social backgrounds caused my trauma, I thought I could escape oppression when I destroyed it. So I brought the shapes of the works from Korean representative ceramics because I thought my complex was influenced by cultural background. However, while exploding them, I needed a way to escape the oppression without pretence, and that was to use fire that I could not control in destroying. However, it was strangely double-minded. At the same time, I feel like I have to think about myself before others, and I want to remain a good person. Destroying one side is an effort and an act to overcome oppression; the other that maintains its form is the desire to stay a good child. 
Nevertheless, I believe that I can exist because we have history. Antique is an art which contains history. To become the Antique of tomorrow, I think we should not forget and ignore legacy, but to interpret it in my way and create a new path.