We are proud to present the three finalists for the BADA Art Prize 2021, as selected by our distinguished panel of judges.
The prize seeks to promote "the antiques of tomorrow" by awarding a grant to an emerging contemporary artist whose work exemplifies the enduring ingenuity and quality illustrated by our members objects.
From Emptiness
A vessel inspired by Moon jar
2021
Yusun Won
(images above right, and detail below)
We are in relationships with everything around us, but things are so familiar that we tend to take them for granted. Impressed by the philosophical phrase, I explore
emptiness in things. What I do is reveal an invisible emptiness by dividing a vessel form into two forms. Through a small space, my work crosses a boundary between daily objects and art objects.
Not only do antiques have artistic and historical values but arouse new interpretations and ideas. My work has started from the antique made by combining two different forms in 18th century Korea. Looking at the joint part of the antique, I thought that opening a closed space could be a way to reveal an invisible emptiness. That idea led to creating a small space by dividing a vessel into two forms, and antiques with vessel forms become the main media of my artwork.
Will you still love me tomorrow?
Cast bronze takeaway container
2020 edition
Katie Surridge
(image right)
Fast food made a lot of people happy and during the pandemic. Delivery was encouraged as eating out was banned, and as a result take away food is now more popular than ever. I feel it has become almost symbolic of our current way of living and existing which seems , faster , more instant, and disposable.
In this work the iconic clamshell polystyrene fast food box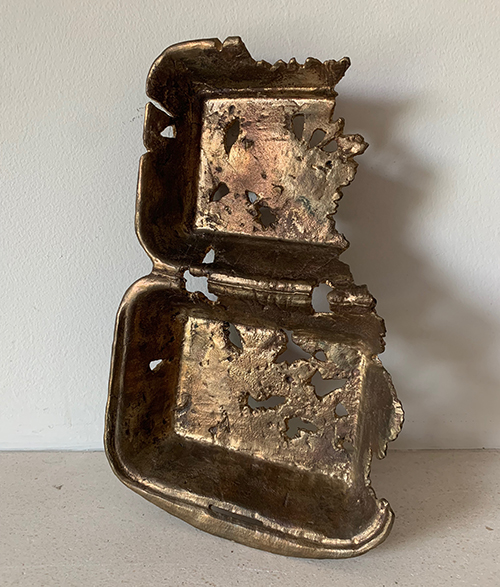 becomes immortalised and is cast in bronze. Not only this but when I found the original item on a the beach in Margate, it had been 'sculpted' by hungry seagulls desperate to get the left over chips it once housed.
So for the BADA art prize I would like people to try and imagine a future where plastic will have been banned and more sustainable materials are used. The longevity of bronze ensures this objects survival, making it the perfect material for an object that one day may become an antique.
Hopefully by this time Humans will be living in harmony with the planet and all that will be left from the challenges faced by covid 19 and the mass of fast food containers used will be this one cast bronze box.
Ruin 2021
Knitted dress made with shredded diary pages
120 x 50 x 10cms
Lynn Dennison
(image right)
This sculpture was made by knitting together the shredded pages of my teenage diaries. Through the nature of the construction, a history of the writer and their way of life could attempt to be constructed, echoing the way objects from the past are 'read' for clues as to their origins and the lives of the people who lived with them.
Made with diary entries written over the course of my
teenage years from the age of 13 to 17, the experiences of a teenage girl could be deciphered by a close investigation of the materials and marks contained within the work.
The winner of the inaugural BADA Art Prize will be announced at the BADA Week reception in London on 15th October 2021.