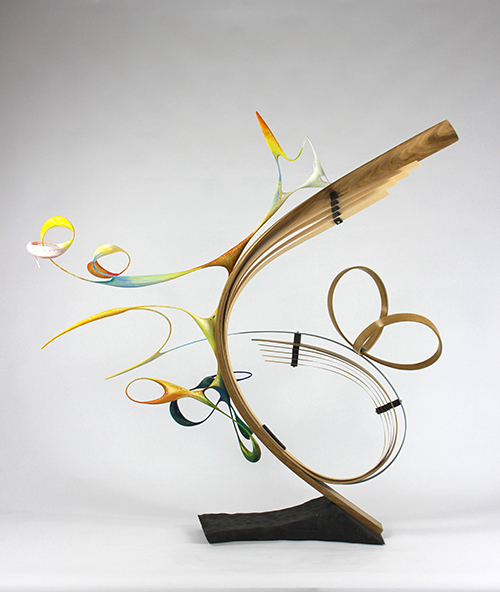 We are proud to present the three finalists for the BADA Art Prize 2023, as selected by our distinguished panel of judges.
The prize seeks to promote "the antiques of tomorrow" by awarding a grant to an emerging contemporary artist whose work exemplifies the enduring ingenuity and quality illustrated by our members objects.
Freedom - Oil Painting in Sculpture, 2023
Carved and steam bent English Oak, finished with wax, with maple veneer, ebony and brass details, with sculpted forms finished in oil paints and sealed, on a burnt oiled oak base.
130cm wide x 120cm tall x 70cm deep
Mark Purllant
"My sculptures have been described in many ways, but I particularly like this small exert from a follower; 'it is a mix of joy, dancing and being free, in a time full of anxiety'. The world is a complex place, our individual positions are constantly changing through our conscious and subconscious responses. How we respond and connect has considerable implications. I think generally we navigate this with a balanced approach, learning to be adventurous and careful in equilibrium that is comfortable to us individually, within our specific environment. Of course, that is different depending on our cultural, physical and social situation, but that equilibrium can be changed dramatically without our consent.
This piece demonstrates my artistic practice well. It is constructed in the same way a Jazz musician will play in a band. Intuitively creating their individual sound, whilst ultimately uniting other processes for an innovative richness. Responding to how I place forms, materials and processes this piece considers craftsmanship, and a unique set of values and experiences that have allowed me to create a piece that exudes a freedom from the mainstream. For me it is this that demonstrates its ability to be an antique of tomorrow."
Myriapoda, 2023
PLA & marble,
30 x 80 x 30cm
Kazuya Tsuji
"I believe many art historical periods are a response to the previous movement - Baroque was a response to Renaissance, which in turn was influenced by ancient art – and so my practice seeks to respond to Old Masters. When creating my work, I combine my knowledge of traditional techniques with contemporary methods such as digital technologies.
"Myriapoda" is an assemblage of ornaments which he has sculpted. The main parts of the work are made of plastic, and a marble slab used as a pedestal. Through this playful switch, the expensive material is used, not to show splendor, but to serve as a plinth.
Although I sculpt digitally, my works are made by hand, leading me to still consider myself a classical sculptor. However, since the emergence of many new technologies like 3D scanning, photogrammetry, and AI, I am interested in where our classic sculpture techniques will go in the future: will they still be needed? For me, it is a very interesting time to see what we can leave as an antique of tomorrow."
The Party business, 2023
Acrylic and oil on canvas
183 x 152 x 3.8cm
Le Liu
Liu's dramatic canvases, adorned with vibrant acrylics and impasto oils in a myriad of hues, exude lavishness that echoes the fantastical mythologies inspiring their subjects. Drawing inspiration from classical mythology, Liu pays homage to artistic traditions while reimagining these classical themes through a contemporary lens. Departing from strict realism, his daring twist in colour and vibrancy uncovers overlooked elements, deviating from the expected focal points. Notably, his artistic choice to remove the heads of figures in these scenes adds a thought-provoking dimension. Liu's work invites us to reconsider the timeless narratives with a fresh perspective, embracing the interplay between tradition and innovation.
"I believe my painting has the potential to become the antique of tomorrow, My artwork draws inspiration from both classical masters and contemporary figure painting. These paintings are unique and deeply influenced by my personal life experiences. I have had a lifelong appreciation for fables, finding them to be both prophetic and guiding. I hold a great admiration for the works of classical masters. Simultaneously, I have a strong affinity for passionate brushwork and vibrant colors. I am particularly drawn to depicting the human form, embracing the sculptural qualities reminiscent of Rubens and the vivid palettes akin to De Kooning. Consequently, I merge classical mythology with contemporary forms in my work, creating a visual representation of this fusion."