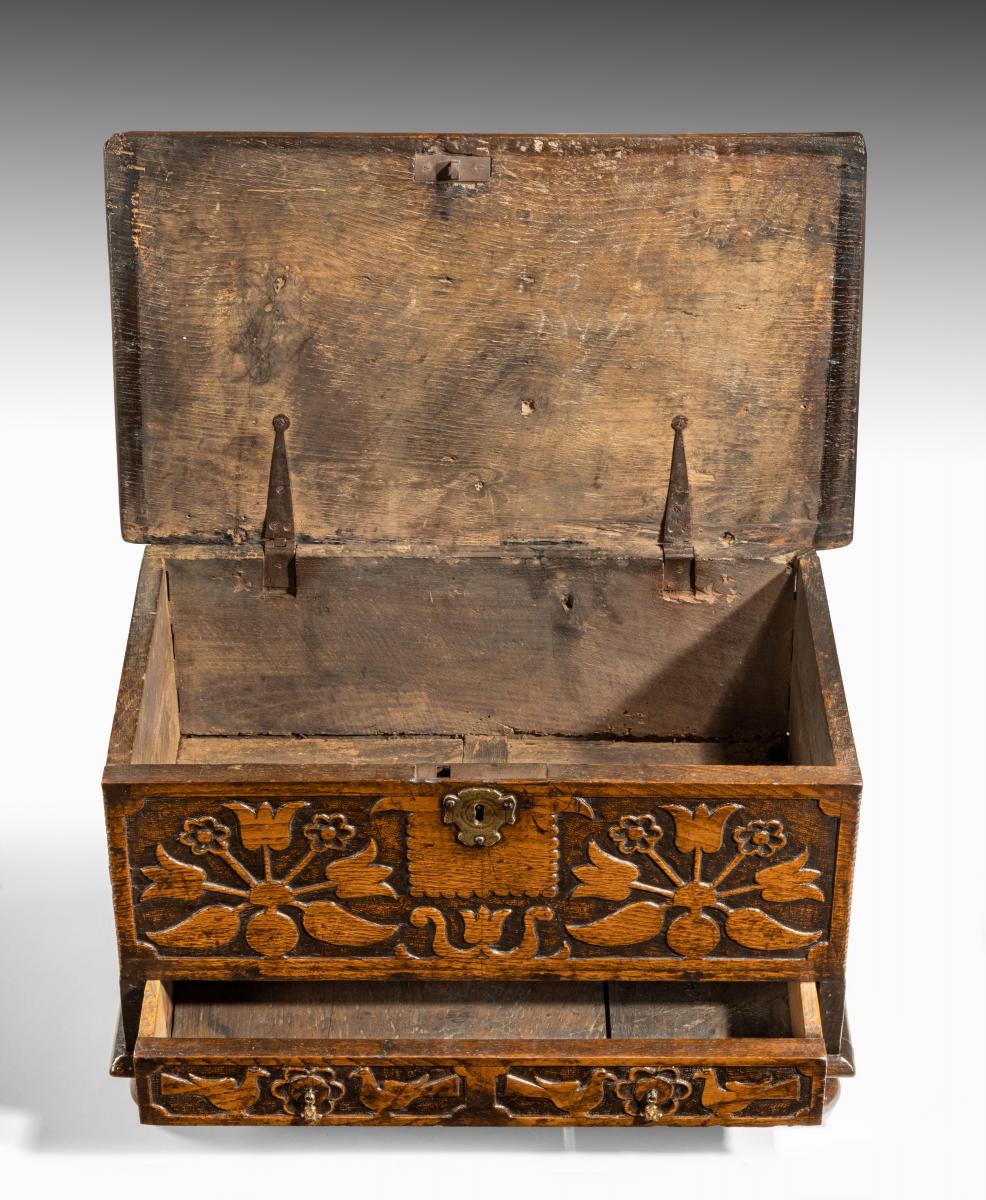 Price on application
The BADA Standard
Since 1918, BADA has been the leading association for the antiques and fine art trade
Members are elected for their knowledge, integrity and quality of stock
Our clients are protected by BADA's code of conduct
Our dealers' membership is reviewed and renewed annually
Bada.org is a non-profit site: clients deal directly with members and they pay no hidden fees
Click here for more information on the BADA Standard
WALES, CIRCA 1740
A small, oak coffor bach with a moulded edge to the hinged lid and front base with decorative notched edges. The centre panel carved with tulips and flower heads of daisies or possibly roses and tear-shaped foliage on a punched and matted ground, with an engraved brass escutcheon, over a base drawer carved with stylised birds and flower heads. On later bun feet.
A 'Coffor (or Coffer) Bach' is a Welsh term meaning a small chest or trunk, used to describe a small chest with a lift-up top revealing open storage space, with a single drawer (although occasionally with two or three drawers) below. Made only in Wales, a 'Coffor Bach' is traditionally associated with marriages – a dowry or love chest which was held in high esteem and handed down through the female line. Often given to the bride at her wedding, it was used to store her most personal and prized possessions, such as a bible, sewing implements, linen, wool, embroidery, etc.
This form was produced from the 1730s–1780s. The construction utilizing coarse dovetails and the original engraved escutcheon indicate that this is an early example. The decoration is particular to the Gower region of Wales. 'The common pattern, with variation in detail and craftsmanship, suggests that the original chest was commissioned to a set design, and that afterwards it was copied fairly closely by other carvers, all working in the Gower peninsula.'(Iorwerth Hughes Jones, 'The Gower Dower Chest – A Speculation on Its Origin', Gower, The Gower Society, Swansea, Vol. IV, 1950 p. 41-45).
Elaborating on the decoration, Bebb writes 'A workshop, or perhaps a single individual, in Gower produced a number of small boxes decorated with these themes. The carving was precise but extremely shallow, and in some cases part of the design had no depth at all and was only delineated by the punched background, which provided two contrasting surfaces…the slight variations imply that, although a template might have been used, the pattern was drawn directly onto the box on each occasion.' (Richard Bebb, Welsh Furniture 1250-1950 – A Cultural History of Craftsmanship and Design Vol. II p. 73, pl. 767).
Havard illustrates another example with this pattern and outlines the features particular to coffor bachs from this region: 'Gower coffers are substantially different from the 'traditional' Coffor Bach which is rarely, if ever, carved and usually has a projecting base containing drawers.' (Philip M. Havard, 'The Gower Coffor Bach', Regional Furniture, Vol VI, 1992 p 86-9).
Bibliography:
Richard Bebb, Welsh Furniture 1250-1950 – A Cultural History of Craftsmanship and Design Vol. II, Saer Books, 2007
Iorwerth Hughes Jones, 'The Gower Dower Chest – A Speculation on Its Origin', Gower, The Gower Society, Swansea, Vol. IV, 1950
Philip M. Havard, 'The Gower Coffor Bach', Regional Furniture, Vol VI, 1992 p. 86-91
Dimensions
Height: 36cm Width: 57cm Depth: 32cm
Open Monday-Friday 9.30-1, 2-5.30; Please telephone for weekend and evening opening
The BADA Standard
Since 1918, BADA has been the leading association for the antiques and fine art trade
Members are elected for their knowledge, integrity and quality of stock
Our clients are protected by BADA's code of conduct
Our dealers' membership is reviewed and renewed annually
Bada.org is a non-profit site: clients deal directly with members and they pay no hidden fees
Click here for more information on the BADA Standard