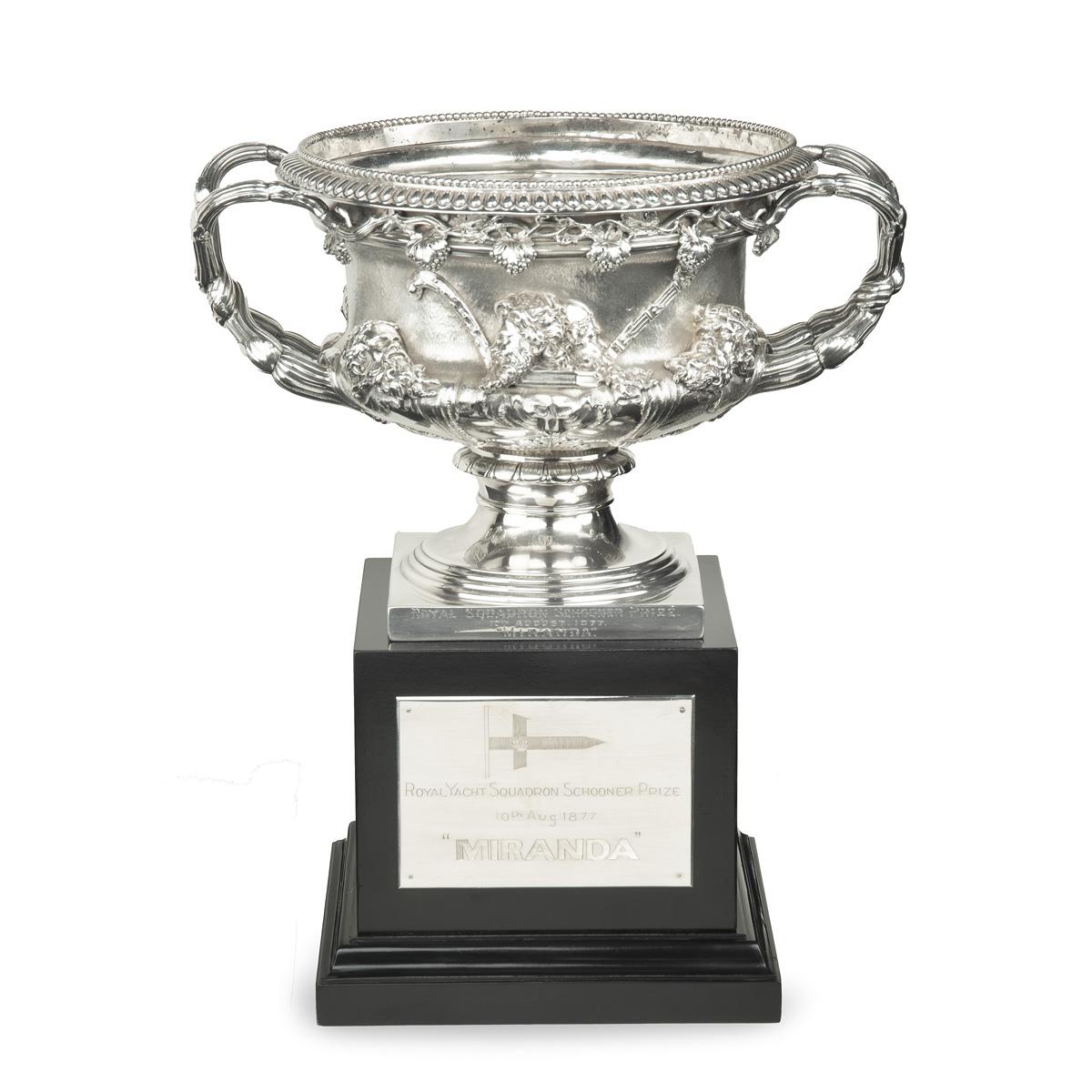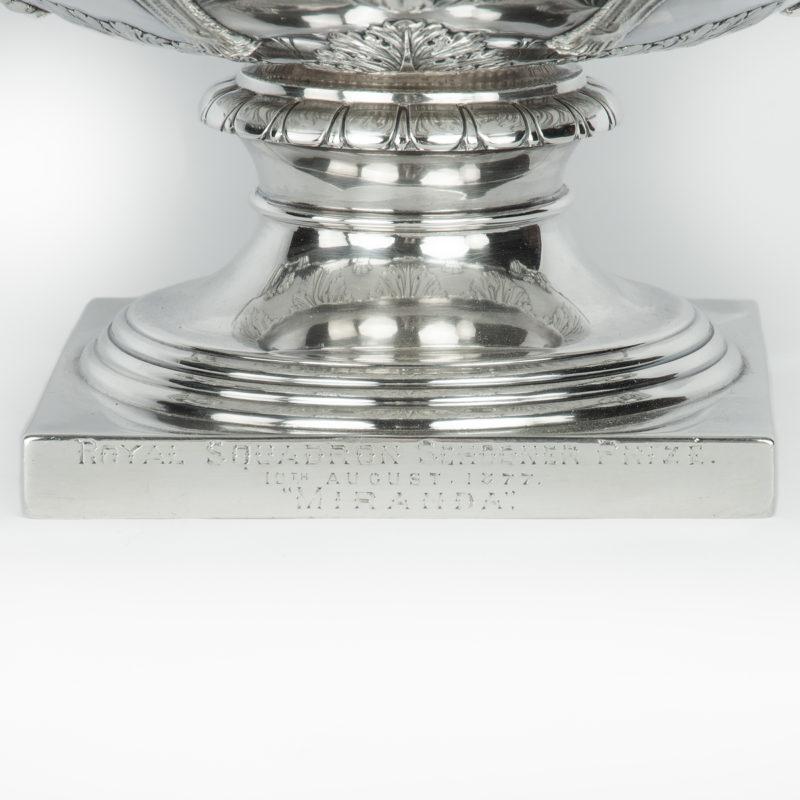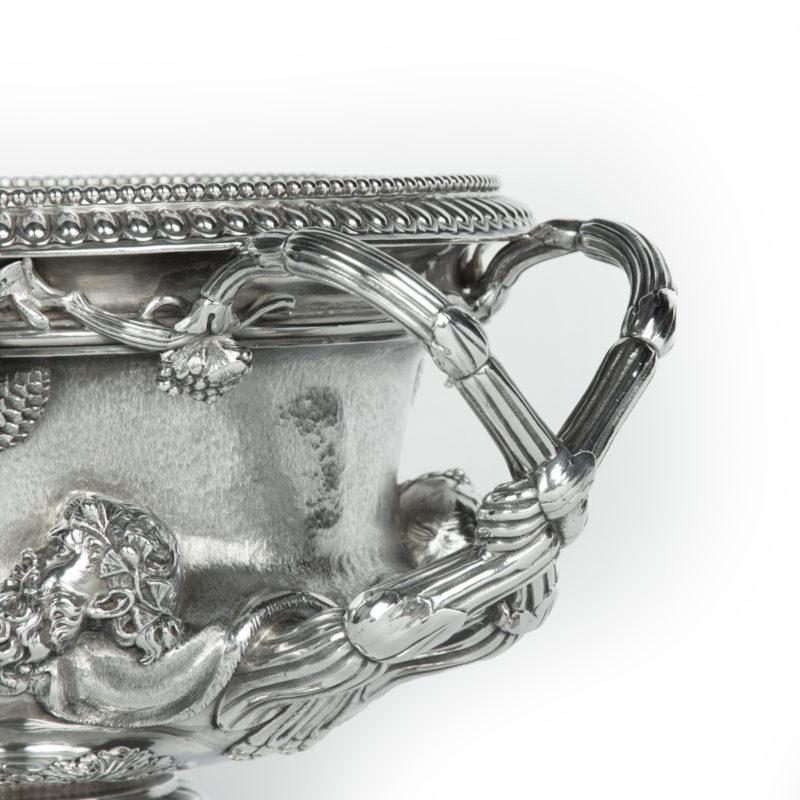 Price
£28500.00
The BADA Standard
Since 1918, BADA has been the leading association for the antiques and fine art trade
Members are elected for their knowledge, integrity and quality of stock
Our clients are protected by BADA's code of conduct
Our dealers' membership is reviewed and renewed annually
Bada.org is a non-profit site: clients deal directly with members and they pay no hidden fees
Click here for more information on the BADA Standard
The Royal Squadron Schooner Prize won by Miranda, 1877. This impressive trophy is a small replica of the classical Roman 'Warwick Vase'. The body is cast and chased with fruiting vines below the rim. The central field has a continuous band with bearded Bacchic heads floating above a lion's mask and pelt. The applied handles comprise gnarled twisted vine stems. The spreading stem is set on a square foot which is incised 'Royal Squadron Schooner Prize 10th August 1877 "Miranda"'. Raised on a later black wooden plinth. Assay stamps for Stephen Smith and Son, London, 1977.
Height: 9in (23cm) Diameter: 10 ¼ (26cm) Width: 13in (34.3cm) Weight: 92w oz. (2dwt) (2865 gr) Height overall: 16in (41cm)
Provenance: Presented to George C. Lampson, 1877
Built in Wivenhoe, Essex, Miranda was owned by George C. Lampson, the son of the deputy-chairman of the Atlantic Telegraph Company. His passion was for sailing and Miranda was a success on an almost unprecedented scale. In the four years between 1880 and 1884, Lampson and skipper Lemon Cranfield, won over 100 prizes, leading to widespread celebrity.
When presented on the 10th of August 1877, this trophy was said to have a value of £100. Five yachts started the race with Miranda by far the lightest, giving over 30 tons in weight to her nearest competitor Corinne. According to the race report in the Shipping and Mercantile Gazette published on 11th August 1877 Miranda finished second, 43 seconds behind Corinne, but won the race by virtue of her time allowance'. A week later Miranda won the Vice Commodore's prize at the Royal Victoria Regatta.
The Warwick Vase, a colossal Roman marble vase measuring nearly six feet high, dating from the 2nd century A.D, was found in fragments in 1770 at the bottom of a lake at Hadrian's Villa near Rome and acquired by Sir William Hamilton, at the time Ambassador to Naples and married to Emma, future mistress of Admiral Lord Nelson. Hamilton in turn sold it, now restored, to his kinsman, Charles (Greville), 2nd Earl of Warwick, who set it up in the grounds of Warwick Castle. The vase had been engraved by Piranesi in 1778, and these prints provided the inspiration for versions of the vase in silver and silver-gilt during the Regency period.
Dimensions
Height: 9 inches (23cm) Diameter: 10 ¼ inches (26cm) Width: 13 inches (34.3cm) Weight: 92w oz. (2dwt) (2865 gr) Height overall: 16 inches (41cm)
The BADA Standard
Since 1918, BADA has been the leading association for the antiques and fine art trade
Members are elected for their knowledge, integrity and quality of stock
Our clients are protected by BADA's code of conduct
Our dealers' membership is reviewed and renewed annually
Bada.org is a non-profit site: clients deal directly with members and they pay no hidden fees
Click here for more information on the BADA Standard