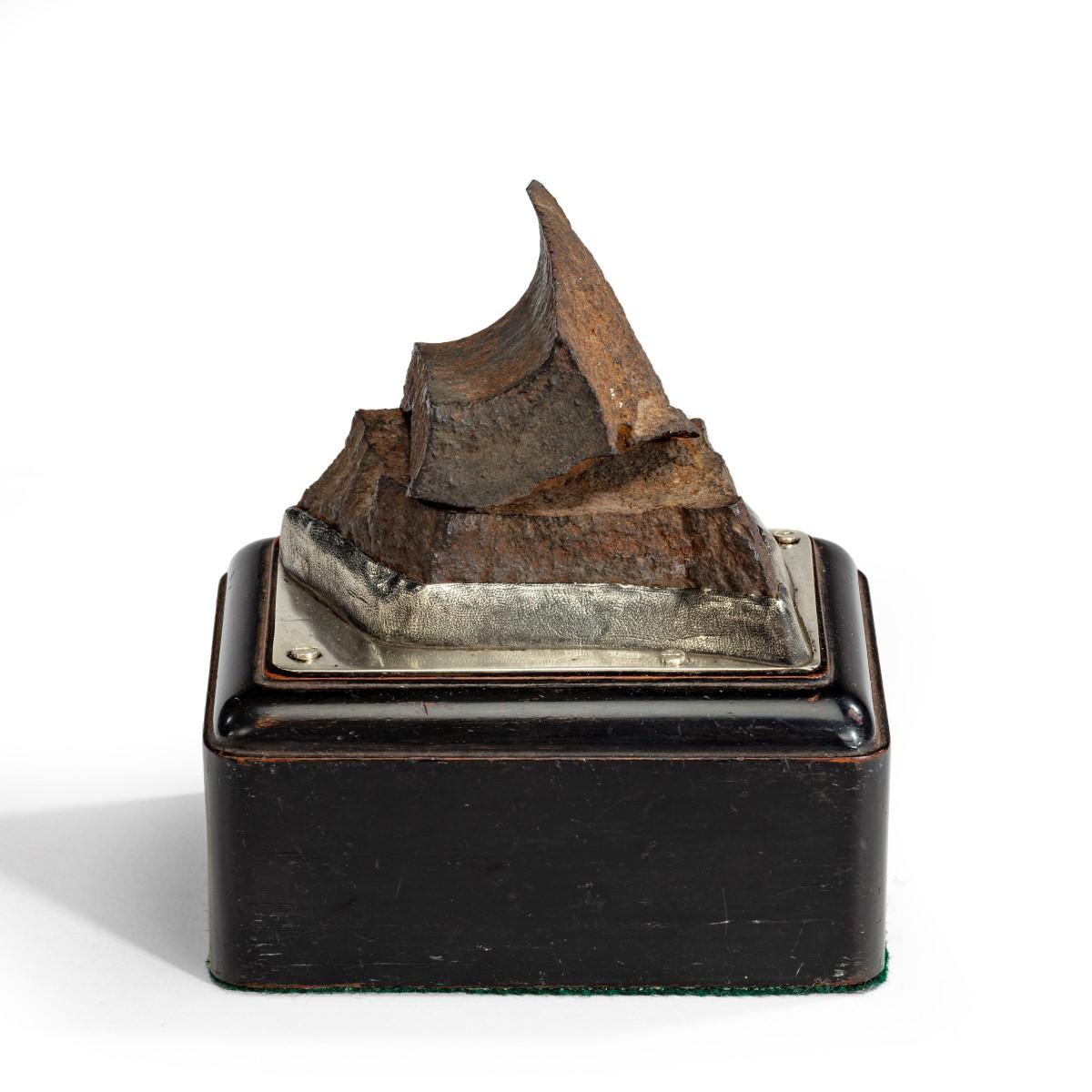 Price
£2450.00
The BADA Standard
Since 1918, BADA has been the leading association for the antiques and fine art trade
Members are elected for their knowledge, integrity and quality of stock
Our clients are protected by BADA's code of conduct
Our dealers' membership is reviewed and renewed annually
Bada.org is a non-profit site: clients deal directly with members and they pay no hidden fees
Click here for more information on the BADA Standard
Count Gleichen's shrapnel paperweight. Russian and English, 1854.
Count Gleichen's Russian shell paperweight, the tooth shaped fragment of a Russian armament shell set above another of rectangular form both raised on a silver mount on an ebonized rectangular plinth, applied with a plaque reading 'Two fragments of a Russian shell fired at Mr Fred Burne assist.t paymaster and Mr Henry Crave St John midshipman of H.M.S. Cumberland in Aug.t 1854 from Tsee Fort Bonarsund whilst conveying refreshments to the English camp – for their messmate – H.S.H. Prince Victor of Hohenlohe Midshipman landed with the Naval Brigade in 1854'. With a framed caricature of Count Gleichen inscribed Vanity Fair, London, July 5, 1884. Vice Admiral H.S.H Count Gleichen – the Queen's Nephew.Russian and English, 1854.
The print has the following biography on the reverse and on the mount 'His Serene Highness Prince Victor …. of Hohenlohe-Langenburg, is better known in England as Count Gleichen and as the Queen's nephew. Born fifty years ago, he was sent to school at Dresden; but at the age of fourteen he conceived ideas not to be bounded within the confines of the small life of a German principality. So he ran away from school to go to sea, and his aunt the Queen of England, being informed of the fact, proposed to her sister to let her adventurous nephew become naturalised as an Englishman and enter the English Navy. This was accordingly done, and Prince Victor, as he was then called, was appointed to the Powerful on the Mediterranean Station, in 1848. He served in the Crimean War and in the operations in China he proved a popular officer and a good sailor-man, and was three times wounded in battle. In 1861 he married the daughter of Admiral Sir George Seymour, sister of the fifth Marquis of Hertford on which occasion it was that he put down his title of Prince and took up for future use that of Count. He became, in due course a Vice-Admiral, and in the meantime he also became a sculptor. It is in the latter art that he now mainly busies himself, and he has created many pleasing busts of his royal relatives and some works of greater pretensions than family portraits. An Alfred the Great, a Beaconsfield, and a Prince Imperial have issued from his studio, and he is now engaged on a bust of Miss Mary Anderson. The Count is, as becomes a sailor, frank and outspoken; he is well-known and popular, and the Governor of Windsor Castle'. By Jehu Junior.
Dimensions
Height 5 inches 4 ½ inches Depth 3 ¼ inches
The BADA Standard
Since 1918, BADA has been the leading association for the antiques and fine art trade
Members are elected for their knowledge, integrity and quality of stock
Our clients are protected by BADA's code of conduct
Our dealers' membership is reviewed and renewed annually
Bada.org is a non-profit site: clients deal directly with members and they pay no hidden fees
Click here for more information on the BADA Standard