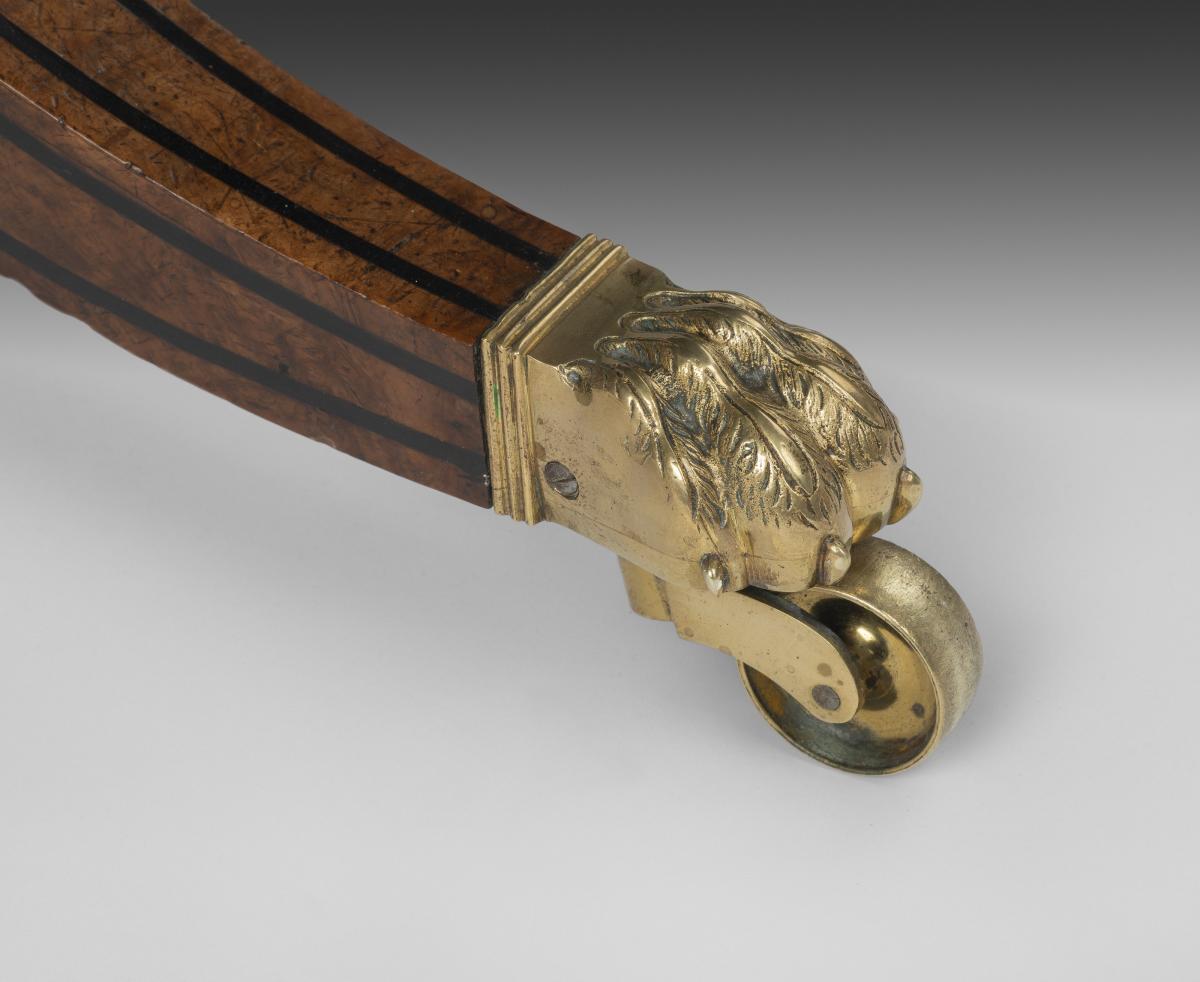 Price on application
This object includes complimentary, Insured Shipping / Delivery within the UK
The BADA Standard
Since 1918, BADA has been the leading association for the antiques and fine art trade
Members are elected for their knowledge, integrity and quality of stock
Our clients are protected by BADA's code of conduct
Our dealers' membership is reviewed and renewed annually
Bada.org is a non-profit site: clients deal directly with members and they pay no hidden fees
Click here for more information on the BADA Standard
Provenance: Noble Collection, UK
The hinged circular top with an ebonized border and edge detail raised on a ring turned parcel ebonized column and quadripartite base with four sabre legs headed by applied ebony roundels; terminating with brass lion paw cappings and castors.
This table is similar to the suite of furniture which The Prince Regent commissioned George Bullock to make for Longwood House, home to Napoleon Bonaparte during his exile on St. Helena from 10th December 1815 until his death on 5th May 1821. The bold column base and the shallow, sweeping sabre legs are almost identical to those illustrated on the octagonal table illustrated in George Bullock Cabinet Maker, Introduction by Clive Wainwright (H. Blairman & Sons), 1988 no. 19.
Another ebony inlaid mahogany pedestal table similar to this one and which was part of the furnishings at Longwood House is now in the National Trust collection at Anglesey Abbey, Cambridgeshire (NT 514486). It bears a brass plaque to the underside of the table, stating 'This is the table of which Napoleon made constant use during his captivity at St Helena'. The tables share the characteristics of the four played legs and a single robust stem and the roundels at the top of the legs.
Similar but smaller round tables made for Longwood House can be seen in Bullock's room plans and elevations for the Drawing Room and also in an engraving after Louis Marchand depicting Napoleon on his deathbed, both illustrated by Martin Levy in his 'Houses and Furniture for Napoleon on St. Helena', Furniture History, 1998 p. 11, fig. 5 and p. 58, fig. 41. Another circular example of a table by Bullock was part of the collection at Tew Park, which sold at Christie's on 27-9th May 1987 and again on 27th November 2003. Tew Park was owned from 1815 by Matthew Robinson Boulton, son of the industrialist Matthew. George Bullock was commissioned to create a number of items for the house. The table dates from 1817. All of these tables share Bullock's very distinctive form of swept leg emanating from a shaped platform below the column.

George Bullock (c. 1782-1818) was an influential furniture designer, modeller, sculptor and cabinetmaker based in Liverpool and later Tenterdon Street, London. Bullock had a prestigious clientele including the Duke of Atholl at Blair Castle, the Earl of Mansfield at Scone Castle, Duke of Buccleuch, Sir Walter Scott at Abbotsford as well as the commission for the Prince Regent to furnish Longwood House on St. Helena.
Dimensions
Height: 72cm Diameter: 150cm
Price on application
This object includes complimentary, Insured Shipping / Delivery within the UK
Open Monday-Friday 9.30-1, 2-5.30; Please telephone for weekend and evening opening
The BADA Standard
Since 1918, BADA has been the leading association for the antiques and fine art trade
Members are elected for their knowledge, integrity and quality of stock
Our clients are protected by BADA's code of conduct
Our dealers' membership is reviewed and renewed annually
Bada.org is a non-profit site: clients deal directly with members and they pay no hidden fees
Click here for more information on the BADA Standard