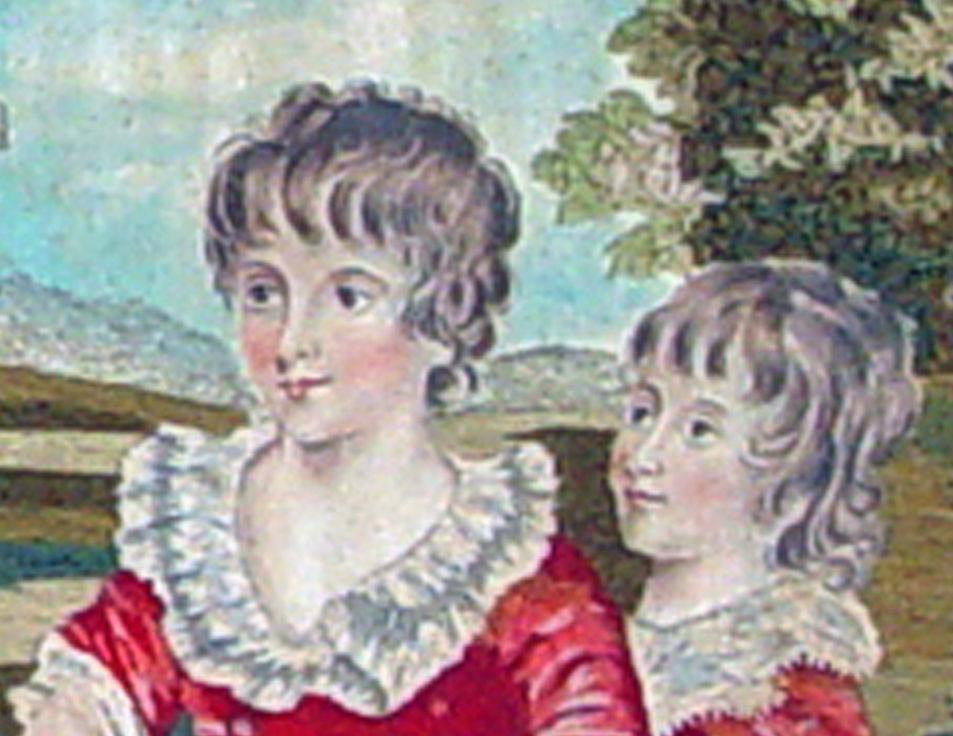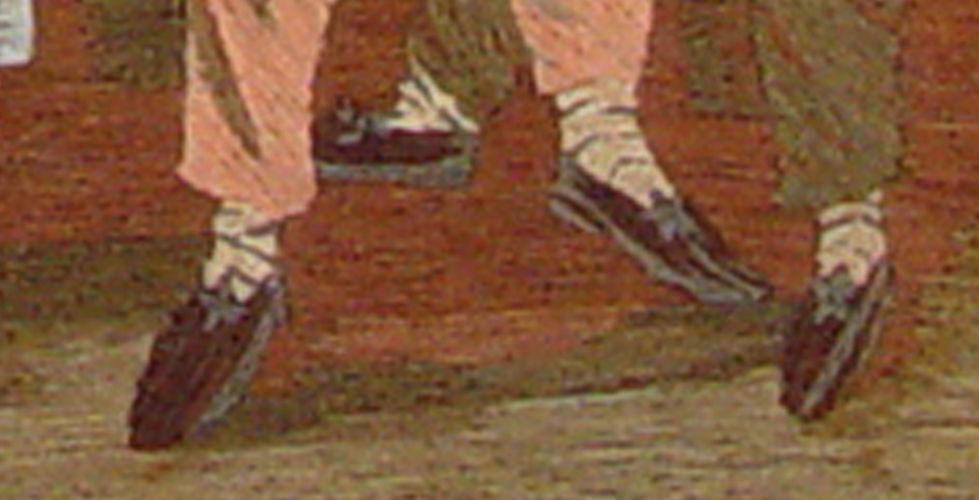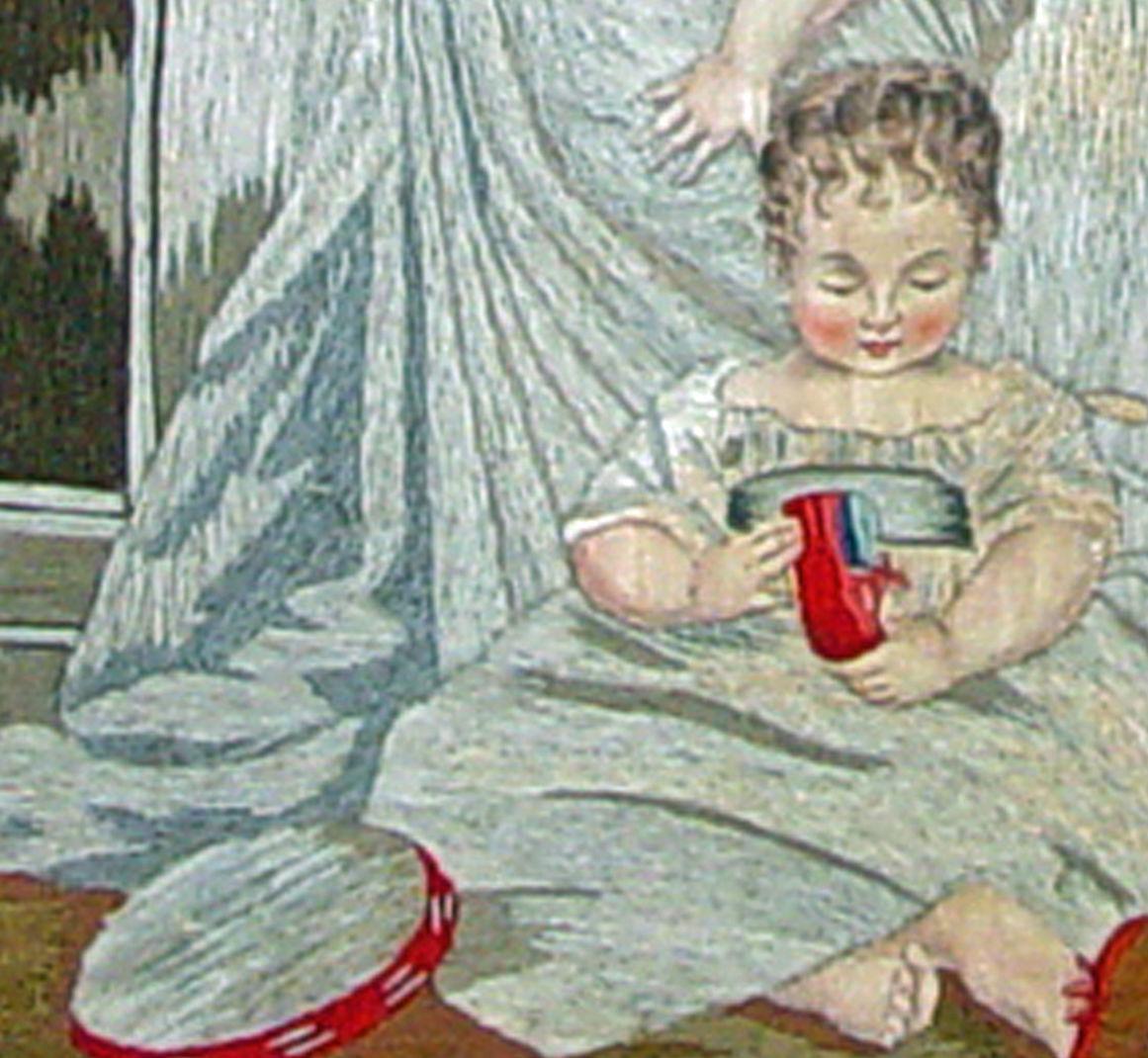 Price
£6500.00
The BADA Standard
Since 1918, BADA has been the leading association for the antiques and fine art trade
Members are elected for their knowledge, integrity and quality of stock
Our clients are protected by BADA's code of conduct
Our dealers' membership is reviewed and renewed annually
Bada.org is a non-profit site: clients deal directly with members and they pay no hidden fees
Click here for more information on the BADA Standard
Superb Large English Silk and Wool Portrait,
A Mother & Her Four Children,
after John Hoppner R.A.,
Early 19th Century,
(VM98122)
Silk over linen fabric ground, silk floss, worsted wool yarn, Merino wool yarn and oil paint.
Dimensions: 31 inches x 24 1/2 inches
A remarkable silk picture with a painted sky background and each figure with a painted face and hands with the remaining portions of the picture finished in wool. The design comes from a mezzotint after John Hoppner made in the 1790s. John Hoppner specialised in painting mothers and children.
The picture depicts a large standing female figure dressed in a white dress and wearing a turban. She stands by two classical columns with her four children in front of her.
The youngest child is sitting on the ground playing with her red shoe in her hands with a tambourine by her side. Her elder sister stands behind her. Both girls are dressed in Empire-style muslin dresses with a low neckline and puffed sleeves and high waist.
Her two brothers stand to one side, each dressed in a skeleton suit with red shirts with wide white frilly collars. Wrapped around the columns is a wide red fabric tied to them by a cord. The branches of a large leafy tree fill in behind.
See: ( http://janeaustensworld.wordpress.com/tag/john-hoppner/ )
Once upon a time children wore miniature versions of their parent's clothing styles. Then, in 1780 or 1790, depending on the source you read, children began to be dressed differently, wearing fashions designed just for them.
Not that small boys, left to their own devices, would have worn high-waisted, ankle length trousers made of heavy cotton or linen and white cambric shirts with ruffled trim, but these "skeleton suits" as they were called were popular for at least fifty years. The pants had high waists, because they were buttoned onto the long sleeved jacket.
Although these long-sleeved, trousered suits were meant to be comfortable, they had three layers at the waist, not including underwear. Heaven knows how hot the boys must have felt in the summer or during active play! Or how quickly the white ruffled shirts soiled! Completing the outfit were white stocking, flat-soled strap slippers, and a military-style cap. The strapped slippers can best be seen in the 1841 fashion plate image at the bottom of this post.
John Hoppner R.A. (1758 - 1810) (http://en.wikipedia.org/wiki/John_Hoppner)
Early life
Hoppner was born in Whitechapel, London, the son of German parents - his mother was one of the German attendants at the royal palace. King George's fatherly interest and patronage of the young boy gave rise to rumours, quite unfounded, that he may have been his illegitimate son. Hoppner became a chorister at the royal chapel, but, showing a strong inclination for art, in 1775 he entered the Royal Academy. In 1778 he took a silver medal for drawing from life and in 1782 the Academy's highest award, the gold medal for historical painting, his subject being King Lear.
Career
He first exhibited at the Royal Academy In 1780. His earliest love was for landscape, but necessity obliged him to turn to the more lucrative business of portrait painting. At once successful, he had throughout life the most fashionable and wealthy sitters and was the greatest rival to the growing attraction of Thomas Lawrence. Ideal subjects were very rarely attempted by Hoppner, though a "Sleeping Venus," "Belisarius," "Jupiter and Io," a "Bacchante" and "Cupid and Psyche" are mentioned among his works. The prince of Wales visited him especially often, and many of his finest portraits are in the state apartments at St. James's Palace, the best perhaps being those of the prince, the duke and duchess of York, of Lord Rodney and of Lord Nelson, Among his other sitters were Sir Walter Scott, the Duke of Wellington, Frere and Sir George Beaumont.
Competent judges have deemed his most successful works to be his portraits of women and children. A Series of Portraits of Ladies was published by him in 1803, and a volume of translations of Eastern tales into English verse in 1805. The verse is of but mediocre quality. In his later years, Hoppner suffered from a chronic disease of the liver. He was confessedly an imitator of Reynolds. When first painted, his works were much admired for the brilliancy and harmony of their colouring, but the injury due to destructive mediums and lapse of time which many of them suffered caused a great depreciation in his reputation. The appearance, however, of some of his pictures in good condition has shown that his fame as a brilliant colourist was well-founded. His drawing is faulty, but his touch has qualities of breadth and freedom that give to his paintings a faint reflection of the charm of Reynolds.
Unusually Hoppner painted the background and perhaps more of a full-length portrait of Charlotte, Countess Talbot by Thomas Gainsborough in 1788, the year in which Gainsborough died. It is now in the Dunedin Public Art Gallery.
Personal life
Hoppner was a man of great social power and had the knowledge and accomplishments of a man of the world.
He married Phoebe Wright, the daughter of American-born sculptor Patience Wright. Though they had five children, little is known about the youngest—
Catherine Hampden Hoppner (1784–1828), Magistrate, East India Company
Richard Belgrave Hoppner (1786–1872), British Consul general, Venice,[1]
Wilson (sometimes known as William) Lascelles Hoppner (1788-?), artist
Henry Parkyns Hoppner (1795–1833), officer of the Royal Navy, Arctic explorer, draughtsman/artist
youngest unknown Hoppner
Notes
Wikimedia Commons has media related to: John Hoppner
The Gentleman's Magazine. 1834. pp. 445.
This article incorporates text from a publication now in the public domain: Chisholm, Hugh, ed. (1911). "John Hoppner". Encyclopædia Britannica (11th ed.). Cambridge University Press.
Bibliography
Hoppner, John. Oriental Tales (London: J. Hatchard, 1805).
Lee, Sidney. Dictionary of national biography, Volume 27 (London: Smith, Elder & Co., 1891).
Cole, Timothy. Old English Masters (New York: The Century Co., 1902) p. 91 ff.
Skipton, H. P. K. John Hoppner (Methuen & Co, 1905)
McKay, William & Roberts, William. John Hoppner (John Lane, The Bodley Head, 1909)
Dimensions
78.74cm high x 62.23 cm wide
Condition report
Excellent
The BADA Standard
Since 1918, BADA has been the leading association for the antiques and fine art trade
Members are elected for their knowledge, integrity and quality of stock
Our clients are protected by BADA's code of conduct
Our dealers' membership is reviewed and renewed annually
Bada.org is a non-profit site: clients deal directly with members and they pay no hidden fees
Click here for more information on the BADA Standard