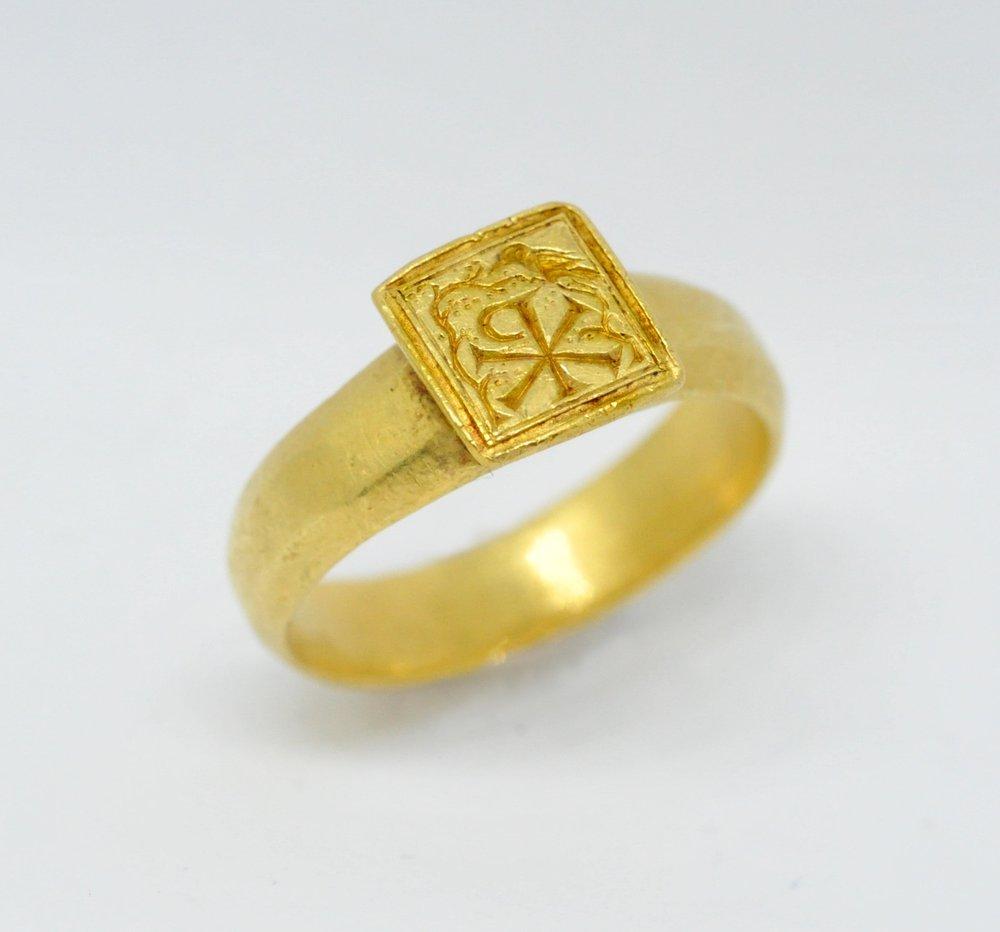 Price on application
The BADA Standard
Since 1918, BADA has been the leading association for the antiques and fine art trade
Members are elected for their knowledge, integrity and quality of stock
Our clients are protected by BADA's code of conduct
Our dealers' membership is reviewed and renewed annually
Bada.org is a non-profit site: clients deal directly with members and they pay no hidden fees
Click here for more information on the BADA Standard
An extremely rare and fine Romano-British early Christian gold ring, dating from the 4th century AD. The raised square bezel intaglio is engraved with a Chi-Rho and a bird within a fruiting branch.
The rise and fall of Christianity during the Roman occupation is a fascinating subject. Prior to the invasion, the Celts were pagan, as were the Romans themselves, which led to the worship of both indigenous and imported deities in Roman Britain. Christianity arrived around 200AD, but only as a minor religion, and Christians were widely persecuted throughout the Roman empire. It is thought that Aaron and Julius, two Romano-British Christian martyrs mentioned in early medieval sources, were killed at this time. Nonetheless, Emperor Gallienus decriminalised Christianity in 260AD.
The following century, in the year 313, the Western Roman Emperor Constantine and Eastern Roman Emperor Licinius issued the Edict of Milan, putting an end to the persecution of Christians in the Empire. In 314, three British Bishops were known to have been in attendance at the Council of Arles, showing that the British Isles had a distinct and organised Christian community and episcopal hierarchy. By 391AD, Christianity had become the official religion of the Roman Empire, with pagan religions banned by Emperor Theodosius.
Then, in 410AD, the Romans withdrew, and everything changed. The void left by the departing Roman administration led to a collapse of conventional society, known as the Dark Ages. The British Isles were left open to Saxon invasion, which signalled the decline of Christianity in the region and the return of the popularity of Paganism.
It wasn't until Pope Gregory's Augustinian mission of 596AD, to convert Britain's Anglo-Saxons, that Christianity was substantially restored.
This ring, bearing as it does the solely Christian symbol of the Chi-Rho, therefore comes from a relatively short period during which a member of Romano-British society could openly declare their Christian beliefs. As such it is extremely rare. I am aware of only one other example of a ring of this kind - a very similar ring, though with a cut-cornered rather than a square bezel - which can be found in the British Museum #1983,1003.1
https://www.britishmuseum.org/collection/object/H_1983-1003-1_1
My example also has an excellent provenance: from the collection of Prince Auguste Jules Armand Marie de Polignac.
Finger size (leading edge) UK - T, US - 9 5/8
Weight - 12g
POA
Condition report
Overall excellent, commensurate to age
The BADA Standard
Since 1918, BADA has been the leading association for the antiques and fine art trade
Members are elected for their knowledge, integrity and quality of stock
Our clients are protected by BADA's code of conduct
Our dealers' membership is reviewed and renewed annually
Bada.org is a non-profit site: clients deal directly with members and they pay no hidden fees
Click here for more information on the BADA Standard