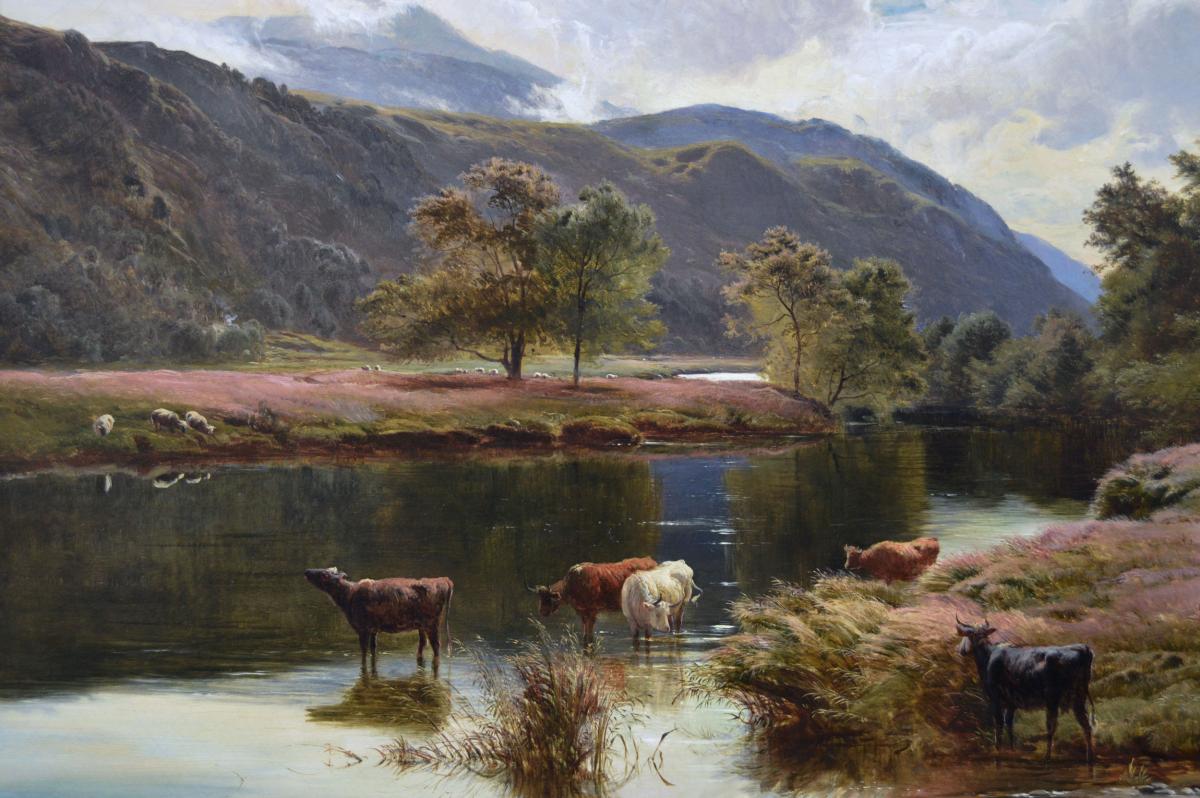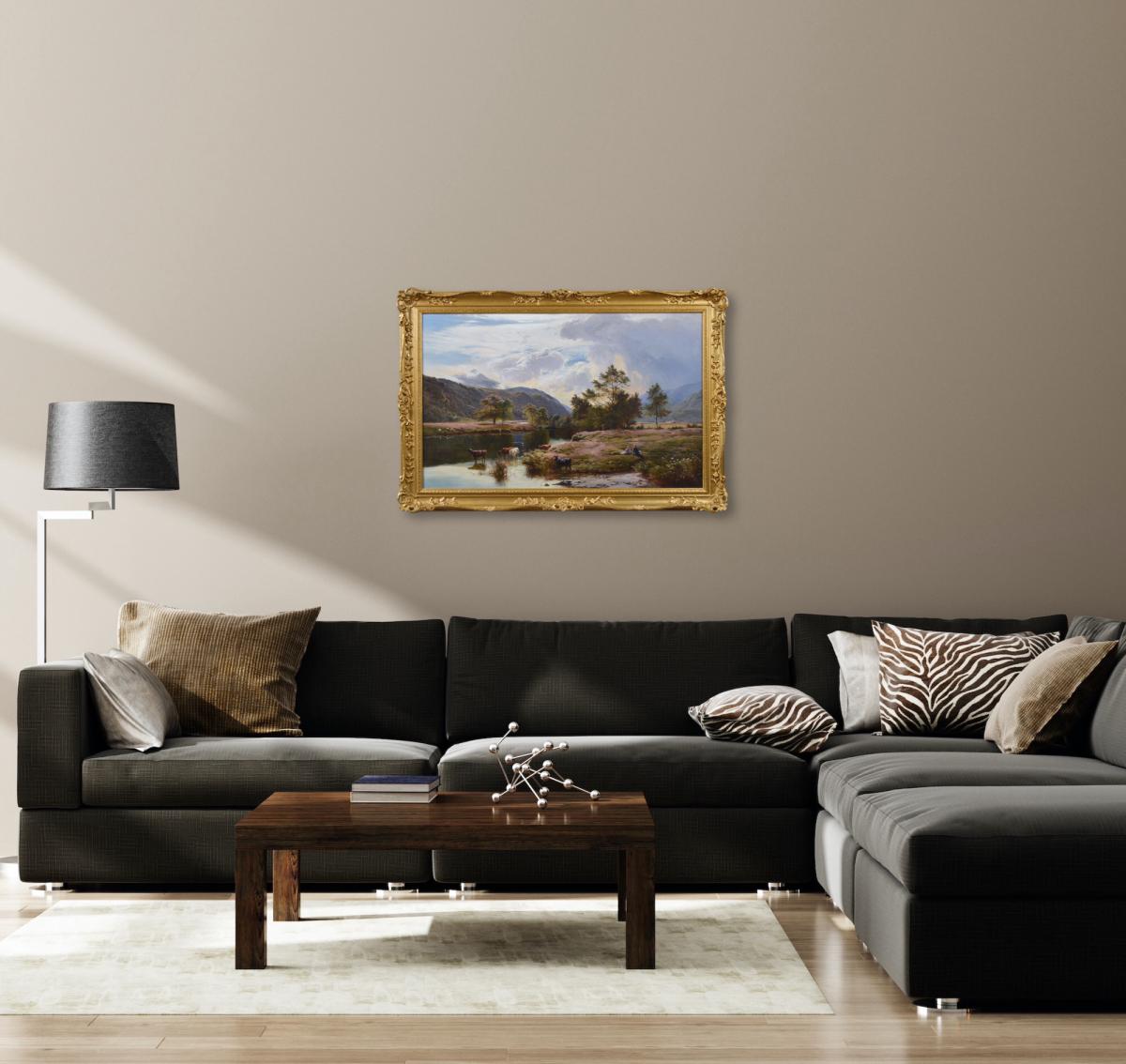 Price
£29000.00
The BADA Standard
Since 1918, BADA has been the leading association for the antiques and fine art trade
Members are elected for their knowledge, integrity and quality of stock
Our clients are protected by BADA's code of conduct
Our dealers' membership is reviewed and renewed annually
Bada.org is a non-profit site: clients deal directly with members and they pay no hidden fees
Click here for more information on the BADA Standard
Sidney Richard Percy.
British, (1821-1886).
Glen Falloch.
Oil on canvas, signed & dated (18)69.
Provenance: MacConnal-Mason & Son Ltd.
Sidney Richard Percy was born Sidney Richard Williams, on the 22 March, 1822 the fifth son of the artist Edward Williams Snr (1781–1855) and Ann Hildebrandt. His brothers Edward Charles (1807–1881), Henry John Boddington (1811–1865), George Augustus (1814–1901), Arthur Gilbert (1819–1895) and Alfred Walter Williams (1824–1905) were all artists. He was taught by his father and was also influenced by his brother Henry John Boddington. Initially signing his works Sidney Williams, he changed his name to Percy around the age of 20 to distinguish himself from his family, just as his older brothers Arthur and Henry John had done.
At the age of 21 he made his debut at the Royal Academy becoming a regular and prolific contributor throughout his life. He also exhibited at the Royal Society of British Artists from 1842 and at the British Institute from 1843. He lived at a number of addresses including 45 Fleet Street and 89 King Street, Camden. In 1846, he moved to 32 Castlenau Villas, where he lived and worked with his father and brothers in a communal artist setting. By 1857, he had established himself as a successful artist, helping to found the Barnes School and attracting the patronage of Prince Albert. One of his works was given to Queen Victoria by the Prince Consort as a gift and is still in the Royal Collection. His success enabled him to marry Emily Charlotte Fairlam on 30 June 1857. The couple started married life at Florence Villa in Wimbledon Park where their first two children were born. Their son Herbert Sidney Percy also became an artist. Around 1863, the family moved to Hill House in Great Missenden, Buckinghamshire which allowed Percy to take advantage of the nearby views of Misbourne Valley.
Although he did go abroad to visit Venice in 1865, returning home via Switzerland and Paris, Percy spent most of his time travelling around England and walking to remote areas of Scotland and Wales to paint the dramatic scenery there. In 1872, he moved to Bickley Lodge, Mead Vale in Redhill and from 1875 lived at Woodseat, Sutton in Surrey where he remained until his death on 13 April, 1886.
Percy was renowned for the thought and care with which he applied his technique, and for the accuracy of his brushwork, showing a clarity of vision and detail. His paintings are as sought after today as they were in his lifetime, ranking him amongst England's foremost landscape painters. Examples of his works can be found in the Ferens Art Gallery, Hertford Museum, Leicester Museum, National Trust, Paisley Museum, Royal Collection, Salford Museum, Sheffield Museum, the Tate Gallery, Victoria Art Gallery, Bath and the York Art Gallery.

Presentation: The painting is housed in a new, English made gilt frame which is in excellent condition.
Condition: As with all of our original antique oil paintings, this work is offered in ready to hang gallery condition, having been professionally cleaned, restored and revarnished.
© Benton Fine Art
Dimensions
Image Size: 23.5 inches x 37.5 inches (59.5cm x 95cm) - / Framed Size: 29.5 inches x 43.5 inches (75cm x 110.5cm)
The BADA Standard
Since 1918, BADA has been the leading association for the antiques and fine art trade
Members are elected for their knowledge, integrity and quality of stock
Our clients are protected by BADA's code of conduct
Our dealers' membership is reviewed and renewed annually
Bada.org is a non-profit site: clients deal directly with members and they pay no hidden fees
Click here for more information on the BADA Standard