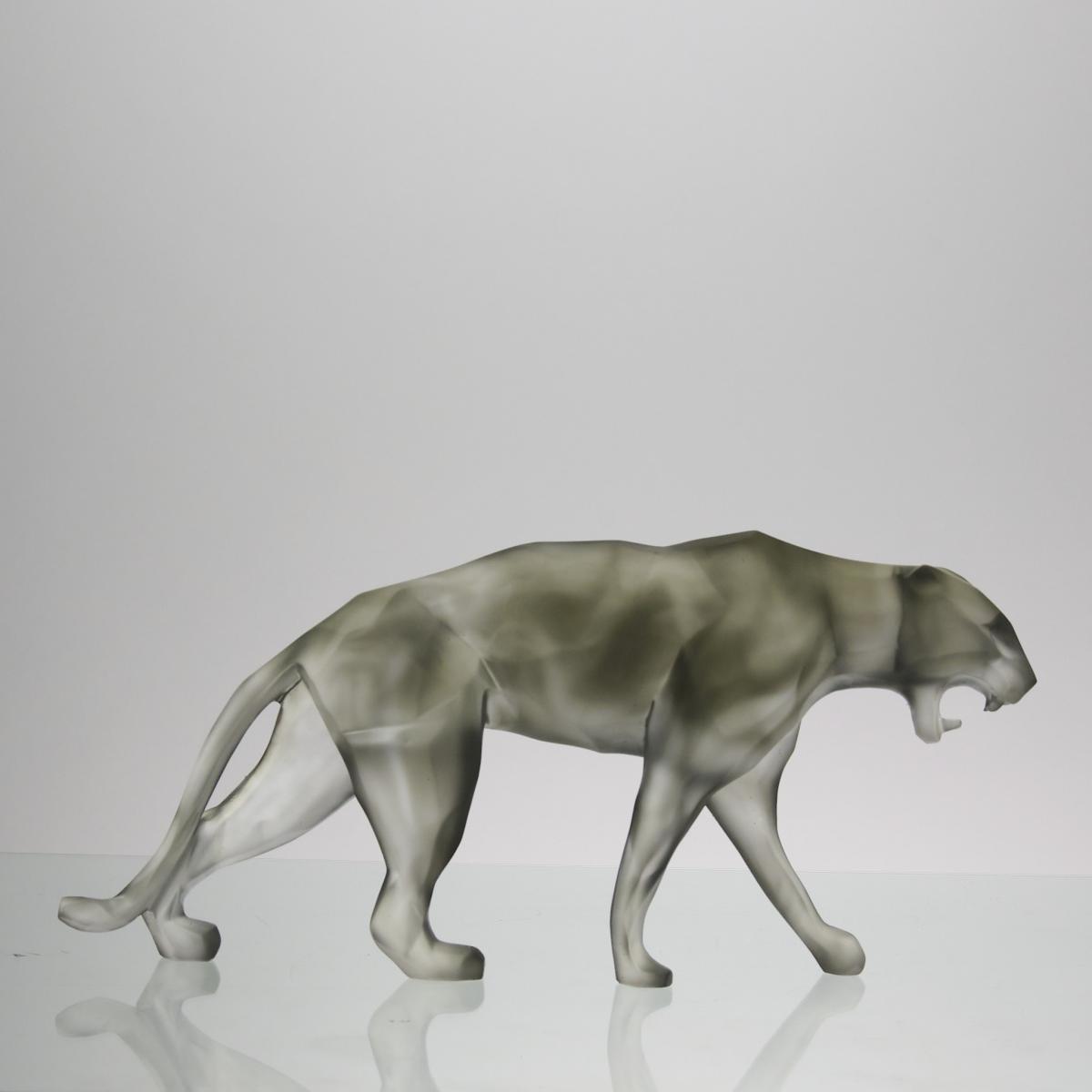 Price
£3850.00
The BADA Standard
Since 1918, BADA has been the leading association for the antiques and fine art trade
Members are elected for their knowledge, integrity and quality of stock
Our clients are protected by BADA's code of conduct
Our dealers' membership is reviewed and renewed annually
Bada.org is a non-profit site: clients deal directly with members and they pay no hidden fees
Click here for more information on the BADA Standard
A stunning limited edition coloured pate de verre glass study of a majestic prowling panther excellent hand finished detail and fine colour, signed Richard Orlinski, Daum France & numbered 175/375.
ADDITIONAL INFORMATION
Height: 15 cm.
Length: 33 cm.
Width: 7 cm.
Condition: Excellent Original Condition.
Circa: Modern.
Materials: Pate de Verre Glass.
SKU: 6564.
ABOUT
Richard Orlinski
Richard Orlinski is a French sculptor and visual neo-pop artist. Born in Paris in 1966, Richard Orlinski started his artistic career in the early 2000s. He also produces music, premiering Heartbeat featuring Dutch pop singer Eva Simons in 2016 in Cannes.
Cut in facets as a diamond, these sculptures according to him, express wild power, speed and ferocity, all aspects of the "Born Wild" concept.
Daum Glass
Pâte de Verre is a rare and ancient glassmaking technique, which dates back to 5000 bc (pieces have been found in the tombs of pharaohs).in 1900 Daum rediscovered this technique that had been long forgotten, then further developed it in 1968.
The process of melting glass coupled with the lost wax technique that Daum has developed, ensures a perfect reproduction of the original piece just as the artist had imagined it. today, Daum is the only glass maker in the world able to produce this exceptional material so perfectly. Pâte de Verre is a mutable substance, which has translated every whim of the imagination of the master glassmakers for over a century, in this way, no two pieces are identical, because the fragments of groisil blend and merge at will as the glass melts.
This mastery and constant research have resulted in world renowned masterpieces.
The BADA Standard
Since 1918, BADA has been the leading association for the antiques and fine art trade
Members are elected for their knowledge, integrity and quality of stock
Our clients are protected by BADA's code of conduct
Our dealers' membership is reviewed and renewed annually
Bada.org is a non-profit site: clients deal directly with members and they pay no hidden fees
Click here for more information on the BADA Standard