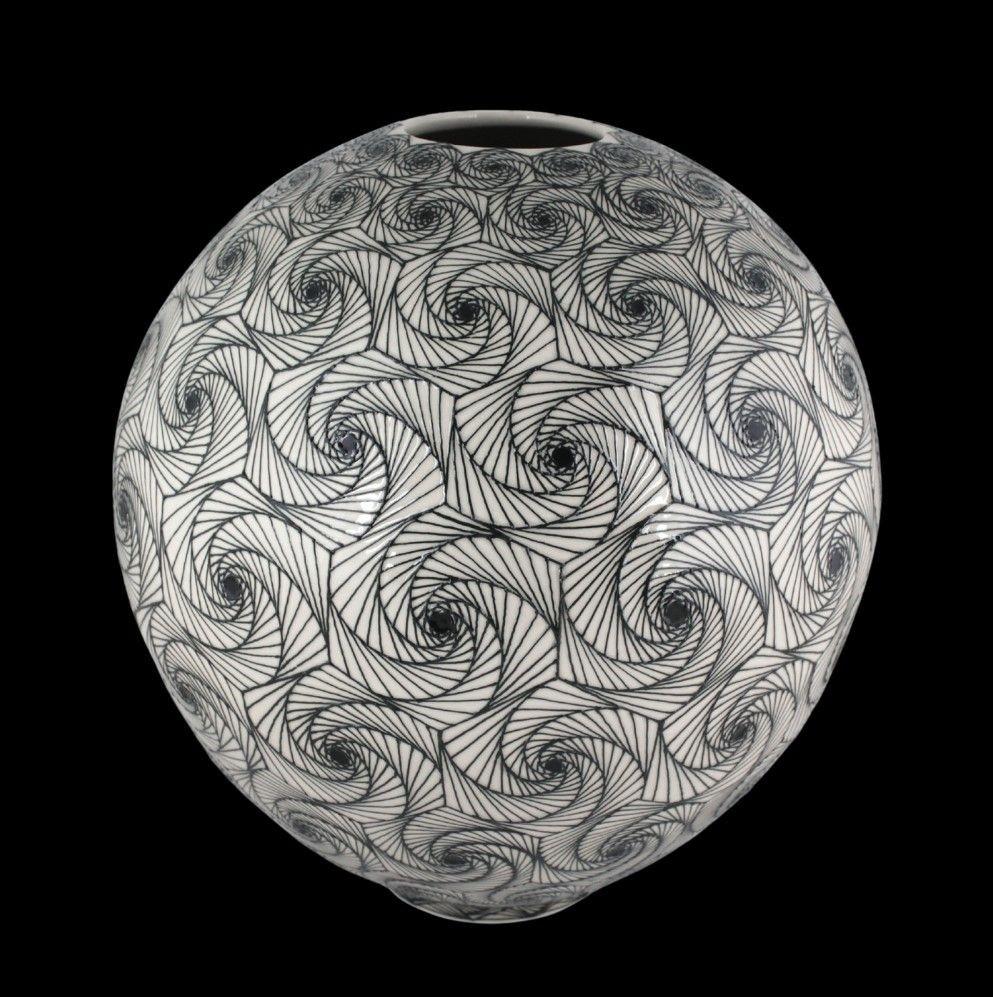 Price
£1800.00
The BADA Standard
Since 1918, BADA has been the leading association for the antiques and fine art trade
Members are elected for their knowledge, integrity and quality of stock
Our clients are protected by BADA's code of conduct
Our dealers' membership is reviewed and renewed annually
Bada.org is a non-profit site: clients deal directly with members and they pay no hidden fees
Click here for more information on the BADA Standard
Heidi Warr Vase.
Heidi Warr "Geometric Webb".
Hand Thrown Globe Vases in 3 sizes:
Large 12" Sphere, edition of 1 £1800.
Medium 7" Sphere, edition of 9, £700.
Small 5" Sphere, edition of 9 £292.
Heidi Writes:
I am very pleased to introduce my design: Geometric Web. The Geometric Web is a hand thrown spherical vase with the application of extremely detailed slip-trailing to create an undulating spider's web.
The inspiration for this design evolved as I walked around our garden at home in our sleepy Somerset town. It was early in the morning and the sun was just beginning to show its hand for a new day and all around the garden were spider's webs encased with the morning dew. They glistened in the early sunlight of the new day and the dew accentuated the amazing workmanship that those busy spiders had been engaging in.
I was intrigued to learn that spider webs have an interesting significance, they can symbolise how we weave our life together. It reminded me that we all have choices in the life that we construct.
One of the challenges in this design was achieving the fine intricacy of the slip-trailing. Slip-trailing is not easy, as some of you may be aware, but prefect execution was necessary to ensure the design looked faultless when inspected closely.
A further design challenge was to create a sense of movement within the design, like the spider webs we see in nature, gently rising and falling on the breeze. I thought carefully how to create the sense of movement I was seeking and an interlocking design seemed to work perfectly.
The BADA Standard
Since 1918, BADA has been the leading association for the antiques and fine art trade
Members are elected for their knowledge, integrity and quality of stock
Our clients are protected by BADA's code of conduct
Our dealers' membership is reviewed and renewed annually
Bada.org is a non-profit site: clients deal directly with members and they pay no hidden fees
Click here for more information on the BADA Standard