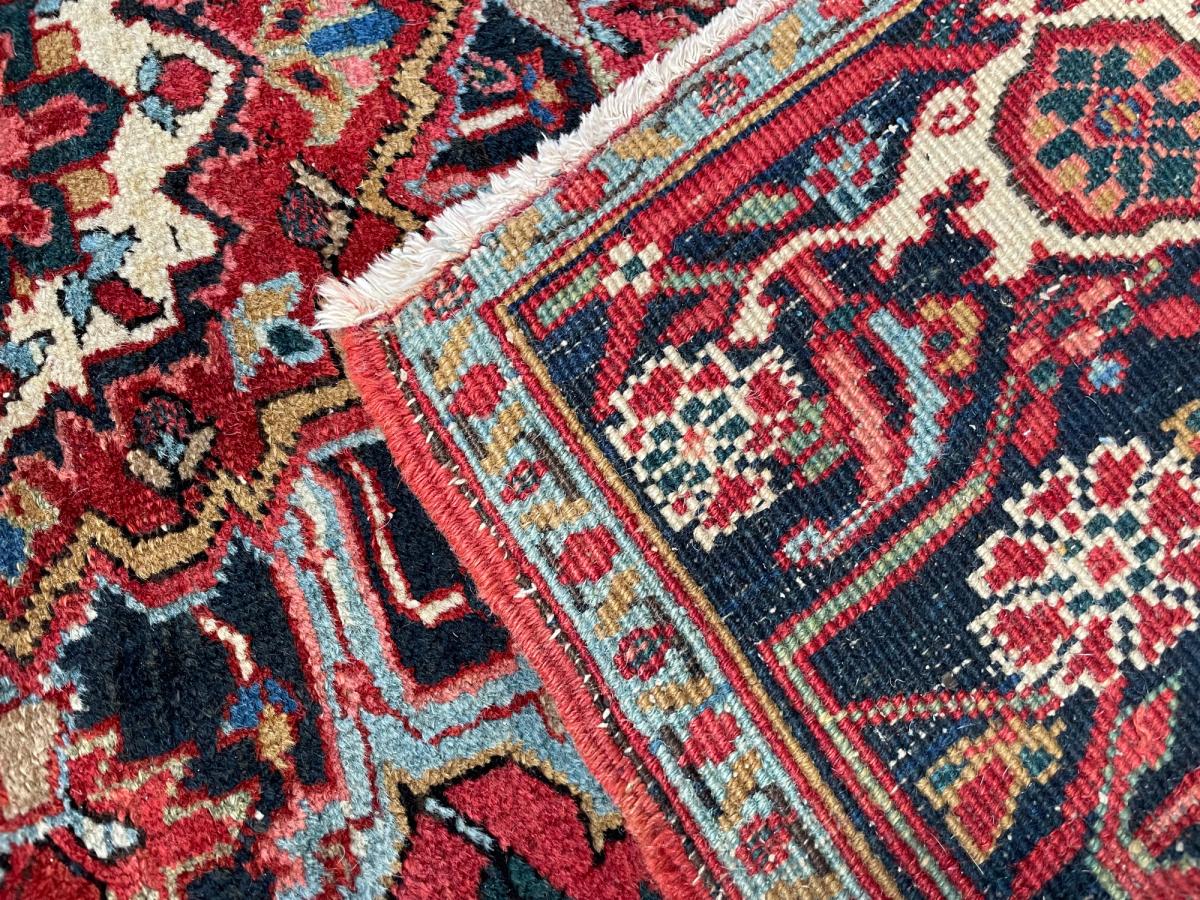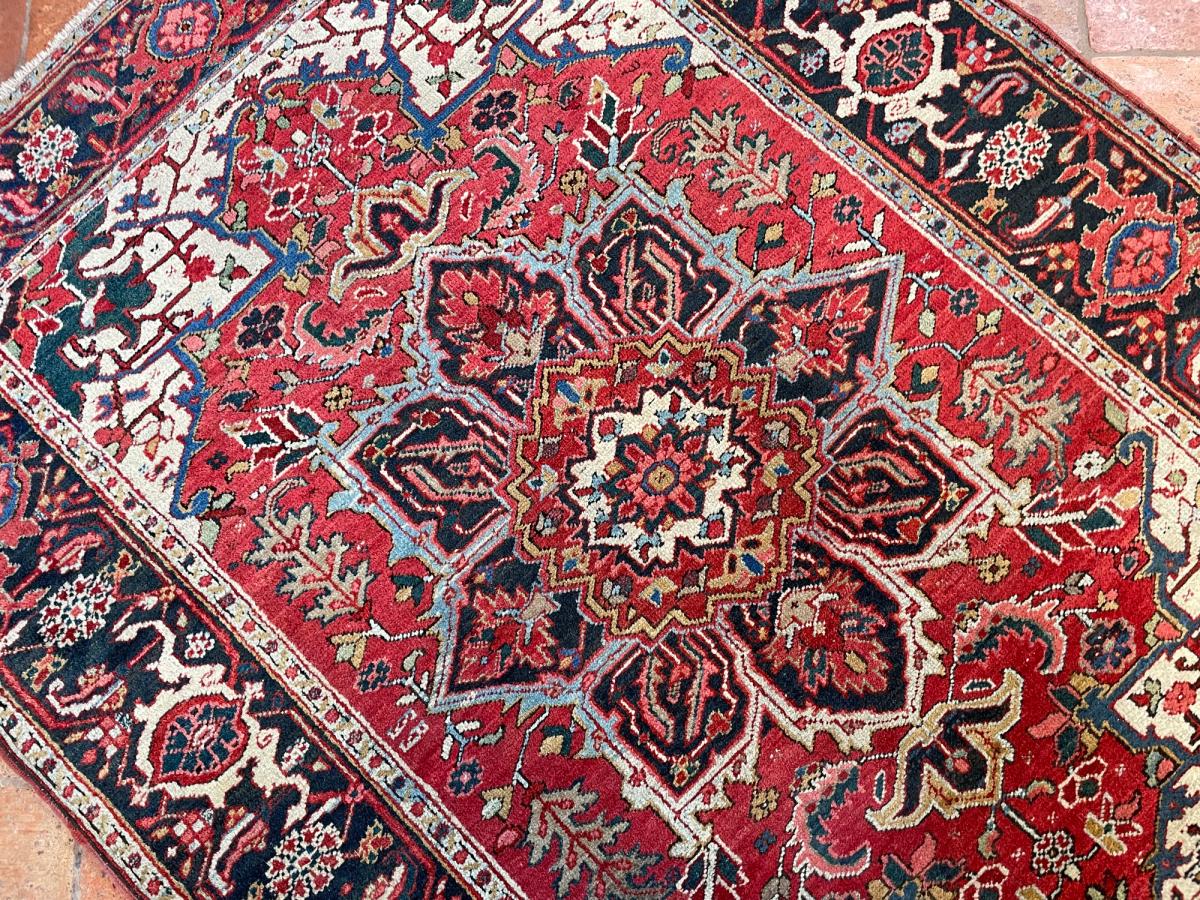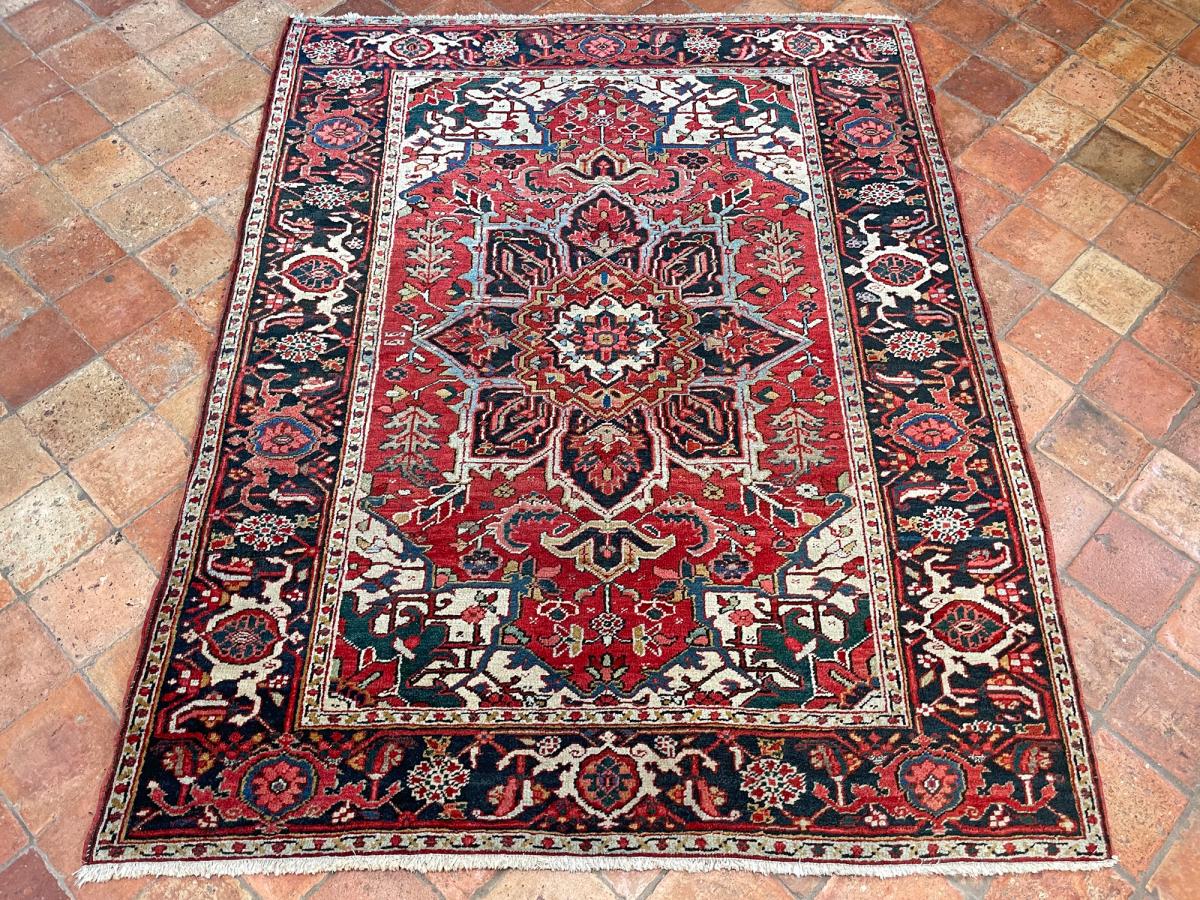 The BADA Standard
Since 1918, BADA has been the leading association for the antiques and fine art trade
Members are elected for their knowledge, integrity and quality of stock
Our clients are protected by BADA's code of conduct
Our dealers' membership is reviewed and renewed annually
Bada.org is a non-profit site: clients deal directly with members and they pay no hidden fees
Click here for more information on the BADA Standard
As near to being in perfect condition as an antique rug can be! An antique Heriz rug of the highest order, very rare to find one in perfect pile, with no repairs. Symmetry is not always on a weavers mind, but the artistry of weaver is exceptional. The four ivory corner spandrels are really beautiful with amazing greens, they sit wonderfully in proportion with the star medallion, with subtle vines and leaf designs at either end. With stunning early dyes from the late 19th century, the deep reds tones with pinks and
The larger border design is often known as the so-called "turtle" pattern, which has probably been derived from the interlacing arabesques that appeared in rugs at least as early as the beginning of the 15th Century. The rosette and attendant leaves between adjacent "turtles" show the other ancient 'Herati' pattern. Which has been stylised from two fish swimming around a water-lily over the centuries. A rare deep sage green border as well, more often a border would be dark blue or red.
A wonderful antique rug, full of charm and depth of colour. Purchased from a private collector, used on the floor for many many years but very much loved and looked after. It is ready to be used again for another 100 years.
Please request a home visit below to arrange a convenient day and time for us to visit you with this special antique Heriz rug. We have 30 years experience helping customers and interior designers find the ideal carpet or rug.
Dimensions
185 x 145 cm / 6'1" x 4'9"
Condition report
Very good indeed, with an exceptional high pile and glossy wool.
Open Monday-Friday 9.30-5.30; Saturday 10-5; other times by appointment only
The BADA Standard
Since 1918, BADA has been the leading association for the antiques and fine art trade
Members are elected for their knowledge, integrity and quality of stock
Our clients are protected by BADA's code of conduct
Our dealers' membership is reviewed and renewed annually
Bada.org is a non-profit site: clients deal directly with members and they pay no hidden fees
Click here for more information on the BADA Standard