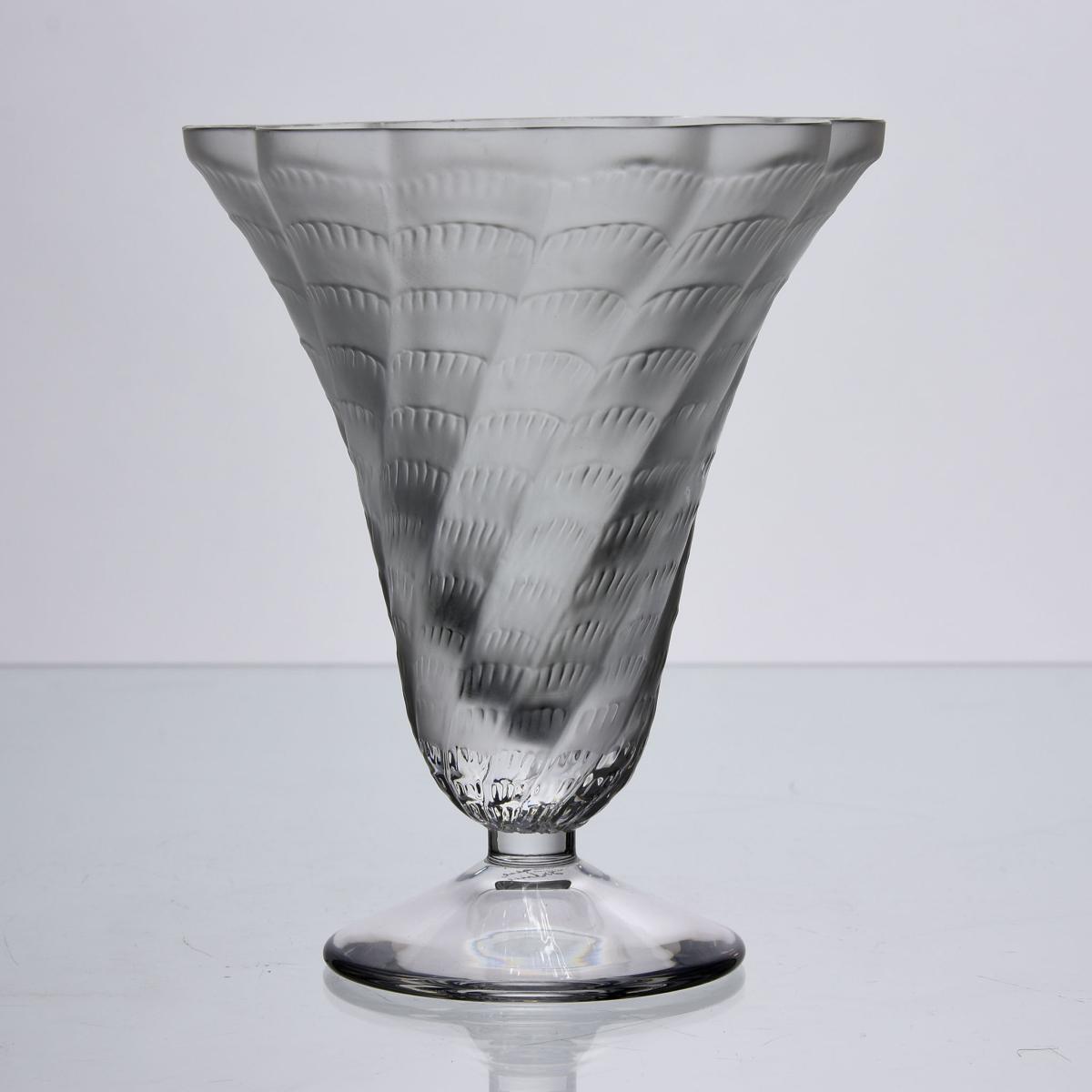 Price
£285.00
This object includes complimentary, Insured Shipping / Delivery within the UK
The BADA Standard
Since 1918, BADA has been the leading association for the antiques and fine art trade
Members are elected for their knowledge, integrity and quality of stock
Our clients are protected by BADA's code of conduct
Our dealers' membership is reviewed and renewed annually
Bada.org is a non-profit site: clients deal directly with members and they pay no hidden fees
Click here for more information on the BADA Standard
To be exhibited at
BADA Gift List - Under £1000 The BADA Christmas Gift List
An attractive clear and frosted glass vase decorated with a tornado effect complete with scalloped edge rim. Exhibiting very fine hand finished detail, signed Lalique France.
ADDITIONAL INFORMATION
Height: 15 cm
Condition: Excellent Condition.
Circa: 1970.
Materials: Frosted Glass.
SKU: 6339.
ABOUT
Lalique Glass
René Lalique (1860-1945) began his career as a jewellery apprentice at the age of 16, and by 1881 he was a freelance designer for many of the best-known Parisian jewellers. In 1885, he opened his own workshop on Place Gaillon in Paris, the former workshop of Jules Destape. In 1887, Lalique opened a business on Rue du Quatre-Septembre, and registered the "RL" mark the following year. In 1890, he opened a shop in the Opera District of Paris. Within a decade, Lalique was amongst the best-known Parisian jewellers.
In 1905, Lalique opened a new shop at Place Vendôme which exhibited not only jewellery, but glass works as well. It was close to the shop of renowned perfumer François Coty; in 1907, Lalique began producing ornate perfume bottles for Coty. The production of glass objects began at his country villa in 1902, and continued there until at least 1912. The first Lalique glassworks opened in 1909 in a rented facility in Combs-la-Ville, which Lalique later purchased in 1913. In December 1912, Lalique hosted an exhibition of Lalique Glass—as his glass would come to be known—at the Place Vendôme shop. During the First World War, the glassworks produced mundane items in support of the war effort. In 1919, work began on a new production facility in Wingen-sur-Moder, which opened in 1921. From 1925-1931, Lalique produced 29 models of hood ornaments; a mermaid statuette first produced in 1920 was also later sold as a hood ornament. During the 1920s and 1930s, Lalique was amongst the world's most renowned glassmakers.
René Lalique died in 1945. His son Marc Lalique took over the business, operating initially as "M.Lalique" and later as "Cristal Lalique". Under Marc's leadership, the company transitioned from producing its famous Lalique Glass to producing lead glass, commonly known as crystal. Marie-Claude Lalique took control of the company following Marc's death in 1977. It was sold to Pochet in 1994 and to a partnership of Art & Fragrance and the holding company Financière Saint-Germain in 2008. Since 2010, Cristal Lalique has been wholly owned by Art & Fragrance.
Price
£285.00
This object includes complimentary, Insured Shipping / Delivery within the UK
Condition report
Excellent original condition
The BADA Standard
Since 1918, BADA has been the leading association for the antiques and fine art trade
Members are elected for their knowledge, integrity and quality of stock
Our clients are protected by BADA's code of conduct
Our dealers' membership is reviewed and renewed annually
Bada.org is a non-profit site: clients deal directly with members and they pay no hidden fees
Click here for more information on the BADA Standard