The cartel clock is a magnificent wall-mounted timepiece originating from the early Rococo movement in 1730s France. Traditionally cartouche shaped in design, the elaborate cartel clock represented a rejection of the geometric symmetry of Louis Quatorze style, or French classicism as it is also known.
The cartel differs from the traditional bracket clock in that the bracket clock was designed in two parts, the first a freestanding timepiece and the second a matching bracket shelf on which it stood. By contrast the innovative cartel clock's mounting is integral to the clock case and not visible to the naked eye, giving an impression of floating.
Wonderfully ornate in their execution, cartel clocks combined the precision and horological expertise of Paris' leading clock makers with the artistic creativity of the city's foremost ébénistes. The resplendent cases, usually fashioned in ormolu or gilt bronze, are commonly decorated with an abundance of flower heads, putti, and foliate scrollwork.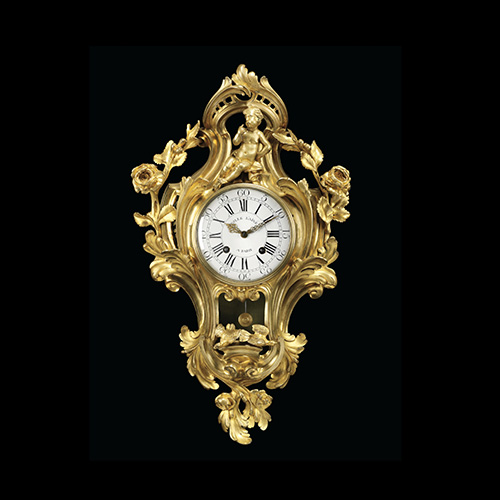 Curiously, the cartel clock's popularity lasted less than half a century as the reign of Louis XVI brought a return to Neo-Classical tastes. Consequently, the mantel clock was soon adopted as the timepiece of choice in fashionable Parisian homes.
Although no longer popular in Paris, the cartel clock continued to be made in the French Provinces and across Europe throughout the 19th century. Many of these later examples were based heavily on original designs drawn up by the masters of the Rococo movement.
One key difference of cartel clocks of the later period, particularly those produced in Austria and Switzerland, was the use of wood, rather than ormolu, as a base material for the casework. Once carved, the wood was finished with a decoration of fine gold leaf, with equally eye-catching effect.
Click here to browse a collection of cartel clocks currently available from BADA members.