A truly remarkable individual, René Lalique is not only recognised as the most gifted jewellery designer of the Art Nouveau movement but was able to reinvent his craft to become the finest glass maker of the Art Deco period.
Lalique was born in the rural village of Aÿ in North-eastern France, an area better known as the heart of the Champagne producing region. Although his family moved to Paris when René was only two years old, the natural beauty encountered on his summer holidays to Aÿ would be a continuing influence throughout his career.
At the age of 12, Lalique enrolled at the Lycée Turgot in Paris, where he showed an enthusiasm for sketching and drawing. He also undertook evening classes at the École des Arts Décoratifs to hone his emerging talent.
Following the death of his father in 1876, René was apprenticed to the goldsmith Louis Aucoc, one of the leading Parisian jewellers of the time. The apprenticeship allowed Lalique the opportunity to learn every aspect of the craft of jewellery making, skills that would soon propel him to the very top of his profession.
Two years later, his pursuit of learning brought René to London, where he spent two years studying at the Crystal Palace School of Art in Sydenham. The school was one of a number of new ventures opened at the former home of the Great Exhibition of 1851, following its relocation from Hyde Park to the suburbs of South East London.
He returned to Paris in 1880 and immediately established himself as a freelance jewellery designer, accepting commissions from many private clients as well as celebrated jewellery houses such as Cartier and Boucheron.
Success came so quickly to Lalique that he was able to take his own workshop in 1885, located in Paris' fashionable Place Gaillon. His notable clients included French actress Sarah Bernhardt and the British-Armenian businessman and philanthropist Calouste Gulbenkian. Over a 30-year period, Calouste commissioned more than 140 pieces from René, many of which can now be seen in the Gulbenkian Museum collection in Lisbon.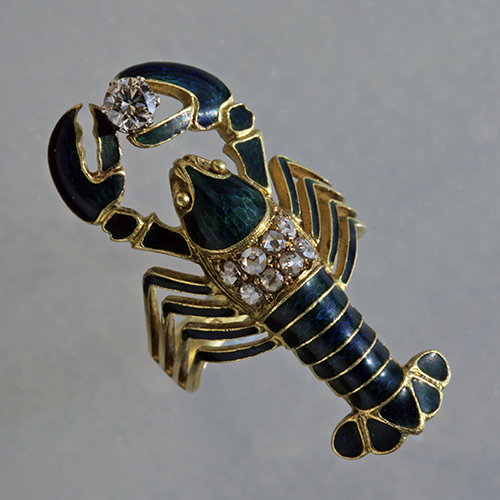 René's naturalistic Art Nouveau creations were influenced by the plants and flowers of the French countryside of his youth. He also took inspiration from the Japonism movement of the late 19th century, which became highly fashionable as the artists of the Japanese Meiji era introduced their wares to the West.
Lalique's great success came from the sensitivity of his designs. Unlike many of his contemporaries, René's pieces were not simply settings for precious stones. In fact, Lalique only used precious stones if he felt they would compliment the balance and theme of his works. 
Instead of precious stones, Lalique championed the use of materials such as glass, ivory, horn and enamel, or semi-precious stones, all of which had been largely overlooked by his peers. He carefully chose each material based on the power, light or colour they could bring to a design.
As a consequence, each of his creations becomes a work of art in its own right. This revolutionary approach to design was so influential that Lalique was described by legendary French glass maker Emile Gallé as the "inventor of modern jewellery".
In 1890 René opened a new shop at 20 Rue Therese in Paris' fashionable Opera district. It was here that he would develop his experiments and growing interest in glass making. Meanwhile his jewellery business continued to flourish with Lalique being awarded the Croix de la Legion d'Honneur for his display at the Brussels World's Fair in 1897. A fine example of René's work from this time is this majestic necklace, made for his second wife Augustine-Alice Ledru, currently in the collection of the Metropolitan Museum, New York.
He would cause sensation again with his exceptional jewellery collection at the Paris Exposition Universelle of 1900. Significantly, his display also included objet d'arts, fashioned in bronze, ivory and glass, a hint to the change of direction his business would take in the years ahead.
As early as 1902, René had begun manufacturing glass at a workshop in Clairefontaine but it was the opening of new retail premises in Place Vendome in 1905 that triggered a new chapter in his life. By coincidence, this new shop was situated close to the premises of the perfumier Francois Coty. The pair entered into a partnership that would soon change the perfume industry forever.
Up to this point, perfume had been sold in simple, functional containers and Lalique saw an opportunity to transform the simple perfume bottle into a work of art. Overnight, René all but abandoned jewellery making and devoted every available hour to the design and manufacture of perfume bottles, initially for Coty, but soon for many other leading perfumers.
Unlike jewellery, Lalique realised that his glass creations could be mass produced to a fine quality, opening his designs to a wider audience at an affordable price. He acquired the Combs-la-Ville Glassworks in the Southern suburbs of Paris and was soon producing a variety of Lalique Glass objects, which he began promoting with an Exposition at the Place Vendome store in 1912.
The outbreak of war in 1914 meant a change in production for the business, with the glassworks focussing their output primarily on bottles and containers designed for hospitals and medical supplies to aid the war effort.
As the conflict ended, René refocussed his ambition on reducing the cost of glass manufacture so that he could introduce his art into every home at an available price. To achieve this end, he founded the Verrerie d'Alsace glassworks at Wingen-sur-Moder in Alsace, a region already steeped in the traditions of fine glassmaking.
Over the next two decades the company would produce more than 1500 different designs, ranging from plates, bowls, glasses and decanters to the more ornate vases, lamps, clocks and even car mascots and hood ornaments for which Lalique remains so well known.
Although René embraced the growing industrialisation of the era, he demanded that his works be completed to an exacting standard, with finishing touches such as polishing, patinating, frosting and enamelling often applied after manufacture. These high standards brought the public flocking to purchase his products and is a major reason why his work remains much in demand to this day.
Lalique's glasswork was not merely confined to decorative homeware with the company undertaking many ambitious large-scale projects as well. These include the Lalique windows designed for the Coty Building in New York, which can still be seen at 712 Fifth Avenue, and the design and delivery of Art Deco interiors for three Transat luxury ocean liners The Paris, The Ile de France and The Normandie.
Perhaps his finest grand scale achievement was a monumental glass fountain created for the International Exhibition of Modern Decorative and Industrial Arts of Paris, 1925. Standing 15 metres high and illuminated from within, the fountain, named Les Sources de France, was one of the highlights of the exhibition and confirmed Lalique's status as the finest Art Deco glass maker of his generation.
Click here to view a selection of Lalique works currently available from BADA members.