The sons of a wholesale stationers' clerk, the four Martin Brothers, Robert Wallace, Walter, Edwin and Charles are amongst the most important names in British art pottery, creating some of the weirdest and most wonderful studio pottery pieces of the late Victorian and early 20th century.
Parents Robert Thomas Martin and Margaret Fraser moved from Suffolk in the early 19th century, making a home for their nine children in London. Eldest son Robert Wallace Martin (1843-1923) showed early artistic promise and was apprenticed to the architectural sculptor J.B. Phillips.
He enrolled in drawing classes, first at the Lambeth School of Art and later at the Royal Academy School from 1864, before opening his first studio in the late 1860s, where he made terracotta sculpture. 
In the meantime, younger brothers Walter Fraser Martin (1857-1912) and Edwin Bruce Martin (1860-1915) had also begun studying at Lambeth School of Art and were apprenticed to the British ceramics manufacturer Doulton & Co in Lambeth, where they made stoneware pottery.
The three joined forces in 1873, opening their first studio in Fulham, and were joined by a fourth brother Charles Douglas Martin (1846-1910) in the role of company manager. As business blossomed, the brothers moved to larger studios at a disused soap works on the canal side at Haverlock Road, Southall. This also gave them access to an inexhaustible source of clay from the nearby Southall Brick Company.
They worked predominantly in saltglaze stoneware, a technique which requires firing the clay at high temperature with salt thrown into the kiln to create a shiny glass-like glaze or rough orange peel type matt glaze, dependent on variations in the process. Their commitment to a distinctive colour palette of subdued browns, greens, greys, and blues helped make Martinware instantly recognisable and highly collectible.
Each brother held a distinct but equally important role within the family business, with Robert Wallace acting as company figurehead and principal modeller, Walter specialising in the potter's wheel and glazes, Edwin working as principal thrower and decorator, and Charles managing the shop, which opened in High Holborn in 1878.
Influenced by English writer and philosopher John Ruskin, the Martin Brothers work tapped into Ruskin's philosophy that "workers could not produce beautiful things if they were enslaved to the mechanical process."
Their unique handmade designs represented a stark contrast to the increasing industrialisation of Victorian England, with mass manufacture viewed as the enemy of artistic interpretation. The Brothers reliance on traditional techniques and quality craftsmanship, allowed them to offer a unique product in which no two pieces were ever the same.
Consequently, the Martin Brothers are widely credited as pioneers of British studio pottery, bridging the gap between decorative early Victorian ceramics and the vibrant studio pottery movement of the early 20th century.
There are three distinct styles synonymous with Martin Brothers ware, the first of which and arguably the most popular are the Wally Birds (pictured right). These were a series of tobacco jars or vases fashioned in the style of a grotesque bird or owl.
The name Wally Birds is an affectionate nickname taken from the sculptural designs first created by Robert Wallace. The birds were designed to mimic characteristics of key public figures of the time, such as politicians or industrialists and instantly gained huge acclaim.
The second common style of Martinware is the grotesque form, another lifelong obsession for Robert Wallace, established during his time working with J.B. Phillips and based on the gargoyles and Gothic features of medieval architecture.
The resulting work includes a panoply of fantastical twisted and occasionally terrifying face jugs (see image two), sinister statuettes in the form of musical imps, and a series of weird and wonderful spoonwarmers that take inspiration from sea creatures.
The final popular category is the gourd vase (image below), which were usually the work of Edwin and Walter Martin and perfectly illustrate their skills as master potters. Nips, veins, and bumps were often added to the clay to mirror decorative effects found in nature. This, coupled with the brothers' trademark muted palette, put their wares at the forefront of the emerging Victorian Arts and Crafts movement.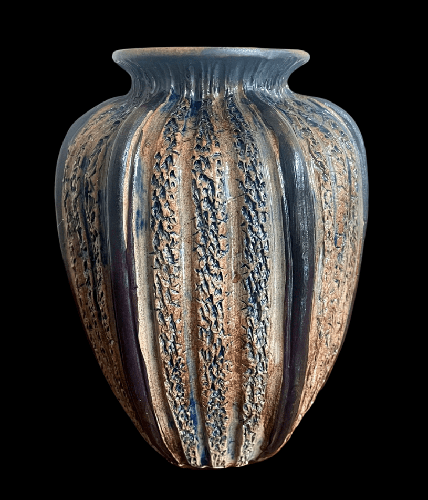 Ironically, given their products broad appeal in fashionable London circles, the brothers made comparatively little profit from their work. Indeed, Robert Wallace admitted in 1910 that, "my brothers and myself never got more than Labourers' wages
This is largely due to the brothers somewhat eccentric method of manufacture. Tight finances meant the kiln at Southall was only fired once or twice a year and since they could not afford protective coverings, every item came in direct contact with the naked flames. On one occasion only one piece from an entire year's work survived the process!
This eccentricity in their business practice, was accentuated still further by business manager Charles who was said to be so fond of his brothers' works that he often hid the best examples under the shop's floorboards. Tragically, many of these fine works were destroyed in a fire at the High Holborn shop in 1903. It is said that the incident dramatically affected Charles' mental health and he was admitted to an asylum before passing in 1910.
Fortunes took a turn for the worse, two years later, when Walter passed away in 1912, and the studio was closed for good after Edwin's death in 1915. Despite being the eldest of the four, Robert Wallace lived on until 1923, when he passed away aged 80. All four are buried at the Havelock Cemetery in Southall, London, a short walk from their studio.
100 years after the opening of their first studio, Martinware experienced a major revival in the 1970s, driven largely by their autumnal colour palette which worked so well with interior design trends of the time.
Martin Brothers popularity continues to grow with important pieces much prized by collectors and curators alike and prices now reaching six figure sums on regular occasions. Notable examples can be seen in the collection of the British Museum, the V & A Museum, the Fitzwilliam Museum, Cambridge and the Metropolitan Museum, New York.
Click here to browse Martinware examples currently available from BADA members