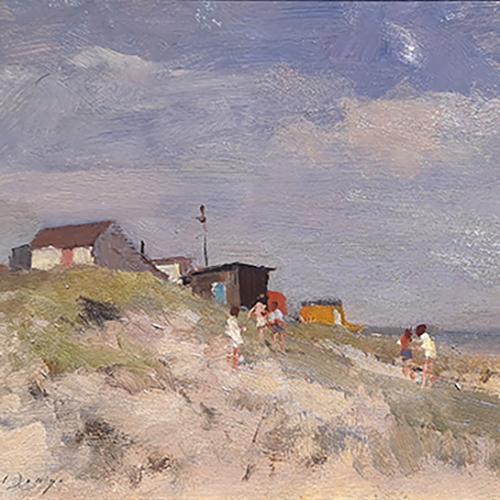 Among the most gifted British landscape painters of the 20th century, Edward Seago (1910-1974) captured the British coastline and countryside with a sense of joy that earned him worldwide admiration.
Born in Norwich, Seago's father was area manager for a Norfolk coal merchant, while his mother was employed as a governess at nearby Raveningham Hall. Young Edward was diagnosed with a heart condition at age eight and as a consequence found himself regularly housebound.
It was during these periods of domestic internment that Seago developed his passion for painting, rendering the natural scenes that unfolded beyond his bedroom window. Remarkably, his beguiling post-impressionist style was almost entirely self-taught, with a short course under Bertram Priestman at the Royal Drawing School representing his only formal artistic education.
Edward's parents were keen for him to pursue a career in business but despite their vehement protests he left home at age 18 to join a travelling circus. Whilst touring throughout Europe and the UK, Seago honed his skills with illustrations of circus life which he was able to publish in two books.
He also supplemented his income by taking commissions for portraits and equestrian paintings from wealthy patrons, including the British politician and influential art connoisseur Henry Mond, 2nd Baron Melchett. The pair formed a strong friendship, and it was with Melchett that Seago first travelled to Venice in 1933, sparking an affection for the city that would rival that of his native Norfolk.
When war broke out in Europe in 1939, Edward opted to keep his heart condition a secret and was able to secure a commission with the Royal Engineers. During his service, Seago worked on developing camouflaging techniques and continued to paint voraciously, often gifting works to fellow servicemen. Sadly, ill heath forced him to relinquish his commission, but he was later granted the honorary rank of Major for his service in 1944.
Despite leaving Norwich 15 years earlier, Edward returned regularly to paint throughout the intervening years. Fittingly therefore, it was in Norfolk that he chose to make his home in 1945, purchasing the idyllic 17th century Dutch House in Ludham on the Norfolk Broads. The coast and countryside of East Anglia became the focus of his work, as Seago strove to capture the artistry and majesty of a fast-disappearing way of life.
Already a close friend of Princess Mary, Seago had met George VI whilst working as an unofficial war artist on the Italian Campaign. He soon became a great favourite of the Royal Family, in particular Queen Elizabeth The Queen Mother, who was amongst his most enthusiastic collectors. Indeed, The Queen Mother purchased so many of Edward's works that he would gift her two paintings a year, one on her birthday and one for Christmas.
Seago also developed a great friendship with the late Duke of Edinburgh, after serving as an official Coronation artist in 1953. He later accompanied Prince Philip on board the Royal Yacht Britannia on his 1956 tour of the Antarctic, the South Atlantic and West Africa. Many of the resulting works, painted on location by Seago, would adorn the walls at Balmoral Castle.
Perhaps one of Edward's least known works for the Royal Family is a solid silver sculpture in the form of St George and the Dragon. Designed as a detachable hood ornament, the sculpture is attached to the monarch's state limousine when travelling on overseas engagements.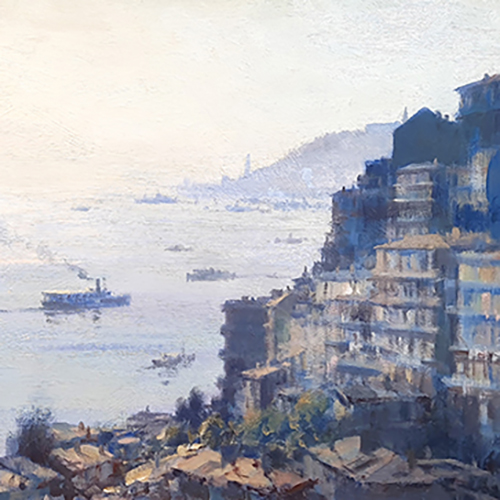 Encouraged to expand his oeuvre, Seago began travelling extensively throughout the 1950s and 60s finding inspiring new locations in Europe, Africa and the Far East. Consequently, his annual exhibitions at Colnaghi were eagerly anticipated events with collectors queuing for hours at the Old Bond Street Gallery for a chance to buy one of his unseen works. Appropriately, the Queen Mother was the only patron permitted to skip the queue!
Tragically, Edward Seago suffered a brain tumour whilst painting in Sardinia, and passed away soon after in London, on January 19, 1974. As a stipulation of his will, a third of the works at his Norfolk gallery were destroyed upon his death.
Fortunately, there are known to be approximately 19,000 watercolours and a further 300 oil paintings by the prolific painter in galleries and private collections. Today his work remains much loved and in great demand amongst collectors throughout the world.
Click here to view a selection of works by Seago currently available from BADA members.