Contrary to popular misconception, the genre of wood carvings known collectively as Black Forest carvings do not emanate from the Black Forest region of Southwest Germany at all. 
They are in fact the work of the master craftsmen of the Swiss region of Brienz, on the northern shore of Lake Brienz, situated in the South East corner of the Canton of Bern.
The confusion probably stems from the fact that the rich darker woods favoured by the carvers of Brienz bear a striking similarity to the dark pines from which the Black Forest region gets its name.
At the end of the Napoleonic Wars, as the continent of Europe reopened to wealthy British travellers, Lake Brienz emerged as a popular stopover for gentlemen undertaking a Grand Tour.
The man credited with founding the tradition of carving in Brienz was a wood turner by the name of Christian Fischer (1790–1848). When the village was struck by famine in 1816, Fischer began adding ornate carvings to ordinary household goods, such as bowls, cups, and boxes to sell as souvenirs to tourists.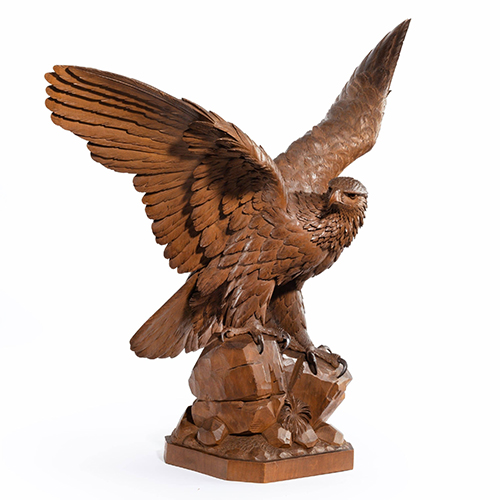 His efforts proved so successful that Christian was soon able to open his own workshop where he trained fellow villagers in his art, in order to meet the growing demand. Most carvings focussed on the flora and fauna of Switzerland, with bears, goats, sheep, and birds of prey much in demand, as well scenes from local life such as shepherds and Swiss cottages.
In addition to purely decorative figures or group carvings, the workshops applied their skill to a wide variety of useful household items. These included ornate and highly desirable clocks, hat stands, inkwells, umbrella stands and even chairs and tables.
As travellers returned home with their Grand Tour souvenirs, so in turn the reputation of the Brienz craftsmen was greatly enhanced, and the town soon became synonymous with fine wood carving. With support from the Swiss government, Brienz artists were encouraged to exhibit their works worldwide, notably winning several medals at the Great Exhibition of 1851 in London.
In 1884 a School of Woodcarving was opened in Brienz, and to this day remains the only institution in Switzerland where young people can train in the art of wood carving. In 2009 the Swiss Woodcarving Museum was also opened in the town, where many of the regions finest works can be seen.
Perhaps the most symbolic example of Brienz carving was the interior decorations produced for the Paris World Fair in 1900. The Swiss were so keen to make an impact at the event that they embellished their pavilion with a recreation of the Swiss Alps using rock imported from the Alps themselves!
The magnificent carved interior reliefs illustrating the life and culture of Switzerland deservedly collected a gold medal at the Fair. They are now installed in Room 7 of the Federal Palace in Bern, known appropriately as the Brienz Room.
Click here to view a selection of carvings currently available from BADA members.