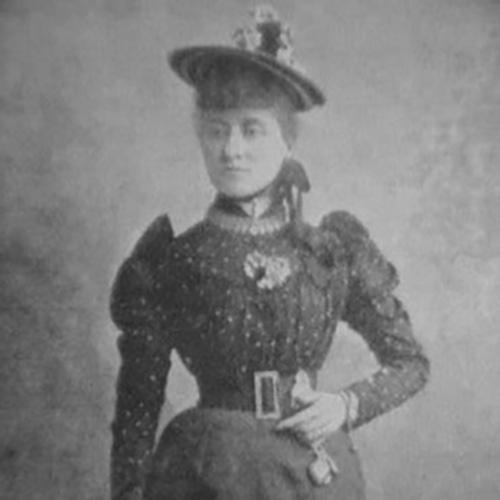 Inherited editor Beth Hodges profiles pioneering antiques entrepreneur Clara Millard.
The Antiques trade, to this day, is a predominantly male dominated industry. The BADA was truly privileged to host a dealer such as Clara Millard, who gained the respect of her male peers, not in spite of her being a woman, but rather because she was an excellent entrepreneur with incredible knowledge and promotional skills. Clara Millard was an early, female member of the BADA who fearlessly took on the Antiques world and the trade of Antiquarian Books, dealing from the 1890s, through to the 1920s, starting in Teddington and later moving to Hampshire. 
She featured in numerous publications, feeding the general public's fascination with this self-made and business minded female dealer. In 1920, when Clara joined the BADA, she was already a well-established dealer. This was an achievement to marvel at, as 1920 was the year that saw a rise in women's unemployed groups, across London, Lancashire, and Yorkshire. The BADA, from its date of establishment to the present day, only enlists reputable dealers with exceptional standards, which only goes to emphasise how Clara grew her own reputation and business expertise, before the BADA was even on her radar. 
It was extremely unusual for a woman to achieve success like Clara did in her time. The period in which Clara was most prolific, was a time of stagnancy in terms of progression being made for women's equality. Women with hope for change, were constantly met with disappointment. For example, women became entitled to stand as MPs for the first time and alongside being permitted to vote. However, despite 17 women running as candidates for MP positions, only one, Constance Markievicz, was nominated and she never made it to parliament. Despite The Sex Disqualification Act of 1919 paving the way for women to go to university and take up 'professional jobs' such as nurses and teachers, Cultural conservatives fretted about women retaining their femininity and returning to their pre-war idylls. Women were no longer seen as multi-tasking saviours, who adapted to wartime emergency, but rather were forced to return to their positions as homemakers. 
By no means, did Clara Millard confine herself to sexist stereotypes and persistence was key to her immeasurable success. She rapidly grew her business, moving into a new premises and show room in 1887, which was expanded the following year. Additionally, her business inhabited 38, 39 and 39a on Teddington Highstreet. Millard created her own monthly catalogue which allowed dealers to advertise their goods anonymously, called 'The Amateur Trader'. 
This catalogue inevitably became a means of advertising her stock and her stock alone, as she monopolised the trade. The 'Publisher's Circular' marvelled at the variety of stock Clara held, noting her collection of "…playing cards and pearls, old-fashioned fire-arms and fans, sun-dials, carriage gates, and lace." She was also known to have sold a set of seven spa diamond buttons worn by the actor-manager David Garrick at the Shakespeare Jubilee in 1769, as well as managing the transaction for a library table used by Napoleon. Furthermore, Clara became notorious as an Antiquarian bookseller, with a particular love of what she described as 'tiny books'.
In her book, published in 1897, "Occupations for Women: A Book of Practical Suggestions for the Material Advancement, the Mental and Physical Development, and the Moral and Spiritual Uplift of Women", Frances Willard emphasises how Clara's work was not something that just anyone could uptake, but rather it required a great deal of knowledge and expertise. She states" …It is true that the work can by no possibility become one in which many may engage, for it requires some qualifications, such as acquaintance with literature and libraries, which cannot be picked up in a moment.".
The abnormality of Clara's success as a woman is further emphasised in an interview published in "The Woman at Home" in 1896. The Interviewer states, "I could scarcely credit that this youthful-looking woman, who certainly cannot be more than twenty-five or twenty-six years of age, can have established as she has done the world-wide reputation she has gained in her particular line of business." 
Clara maintained her individuality and continued to take full ownership of her success, throughout her marriage, which again, was rather unheard of. She married Mr Nathaniel Charles Dance on 11th September 1893, who then became a clerk for Clara's business. She continued to trade under her name-not her husband's- until her passing in the August of 1926, at the age of 64. Her husband was granted probate of £6,541.8s.10d.
It is prudent to mention how the BADA and related associations have continued to lead by Clara's example, in giving a platform to knowledgeable and influential women in the industry. Today, the BADA office at 21 John Street is shared with the Antiquarian Book Dealers Association and Asian Art in London. The ABA is led by Riley Grant as the company secretary and events organiser, with Sophie Kempson as Development director of AAL and our own Ashley Gallant taking on the role of Managing Director of the BADA last year. 
This makes for an environment where the successes of our peers are celebrated, and their challenges are supported. Clegg's Directory in 1891 stated, "Miss Millard has scratched the word 'impossible' out of her dictionary" and the team at the BADA can confirm that this statement still rings true.

The BADA would like to thank Dr Mark Westgarth for all his research in compiling this article.

Receive similar articles straight to your inbox by subscribing to Inherited. below.