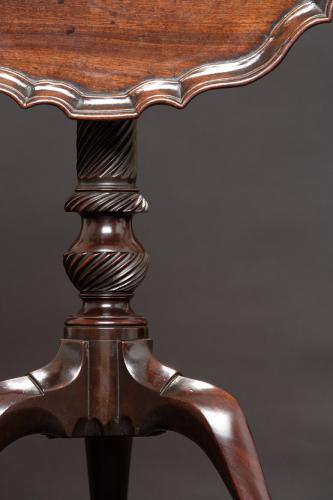 About
For over 35 years, Christopher Buck Antiques have been dealing in English furniture of the Georgian periods.
Christopher Buck Antiques was established in 1983, the second generation of a family business started in 1957. This business we originally founded by Christopher's father William (Billy) Buck, trading as Steppes Hill Farm Antiques.
Christopher remains a partner in his father's business, along with his brother David. However, most of his time is now spent running his own business and shop on the Kent coast, at Sandgate.
Christopher also acts as the South East Regional Representative for BADA, a role previously held by his father for over twenty five years.
Christopher Buck Antiques stock
The business specialises in English furniture of the Georgian periods, from 1700 to 1830. This encompasses styles from Queen Anne through early Georgian, Chippendale, Hepplewhite and Sheraton to Regency.
The period epitomized the height of English furniture making and included a great variety of decorative woods including walnut, rich mahoganies and exotic imported timbers such as satinwood, rosewood and tulipwood.
All their stock is carefully chosen for its originality, colour, patina and desirability.
Additional services
Christopher Buck Antiques provide valuations for insurance, probate or division. They also offer advice on restoration, repair and conservation.
The company are happy to recommend skilled craftsmen in such diverse disciplines as cabinet making, polishing, upholstery, horology, silversmithing and ceramic restoration. They can also assist with the disposal of chattels from deceased estates.
Christopher Buck Antiques exhibit at major antique fairs in London, including the BADA and Lapada fairs. In addition they hold private exhibitions every year, either in the shop or occasionally at a privately owned manor house in Kent.
Location
Christopher Buck Antiques Ltd
18th- and 19th-century English furniture and accessories; restorations; valuations
Address

56-60 Sandgate High Street
Sandgate
Folkestone
Kent
CT20 3AP
Opening hours
Open Monday-Saturday 9.30-5; closed Sunday and sometimes Wednesday
Contact(s)
Christopher Buck
Jane Buck
Fairs
Art Antiques London
LAPADA Fair