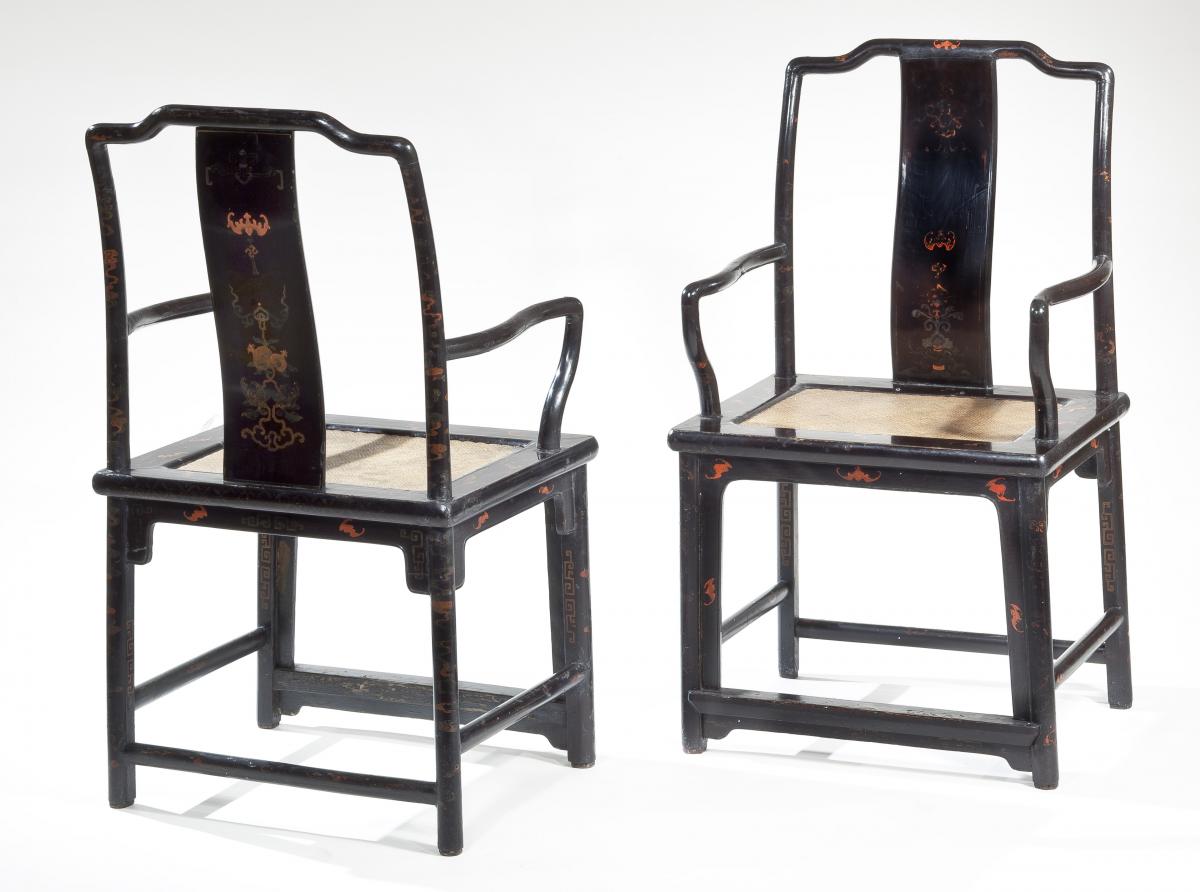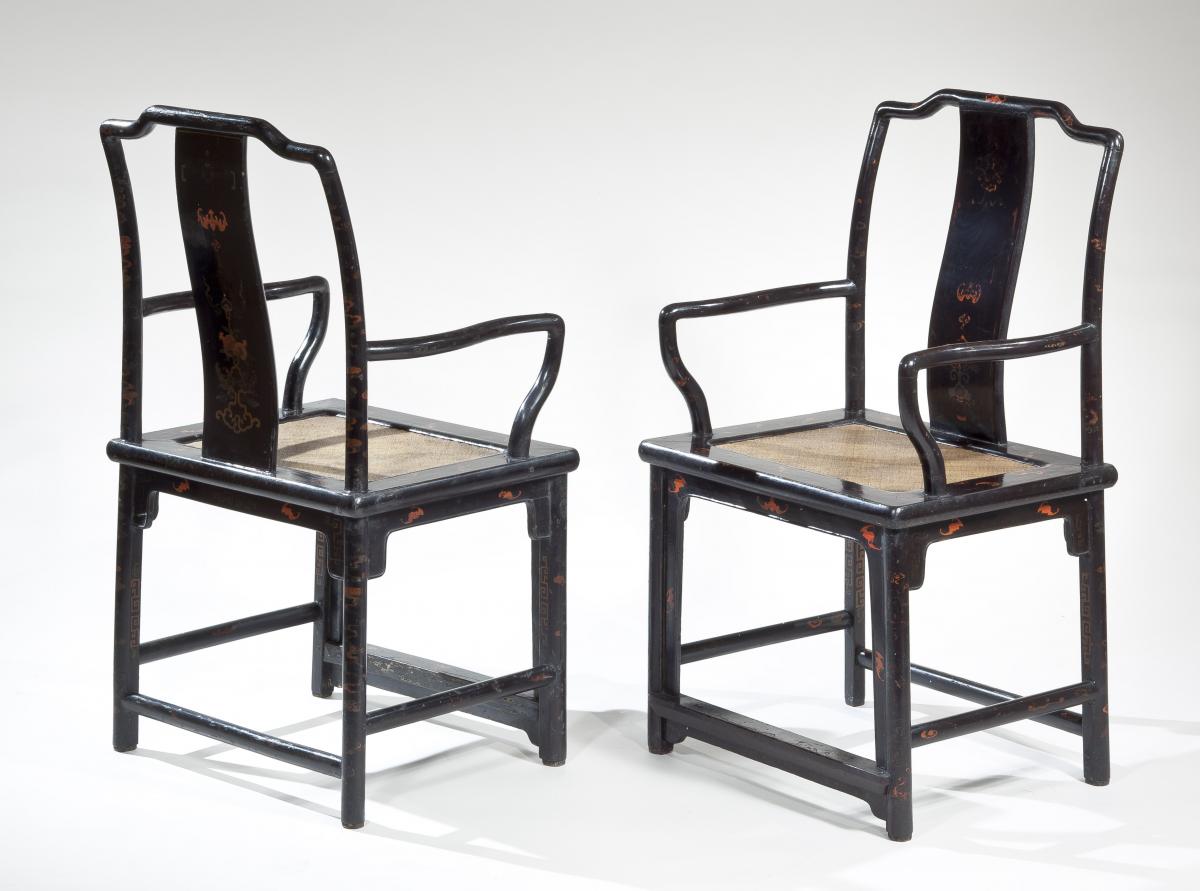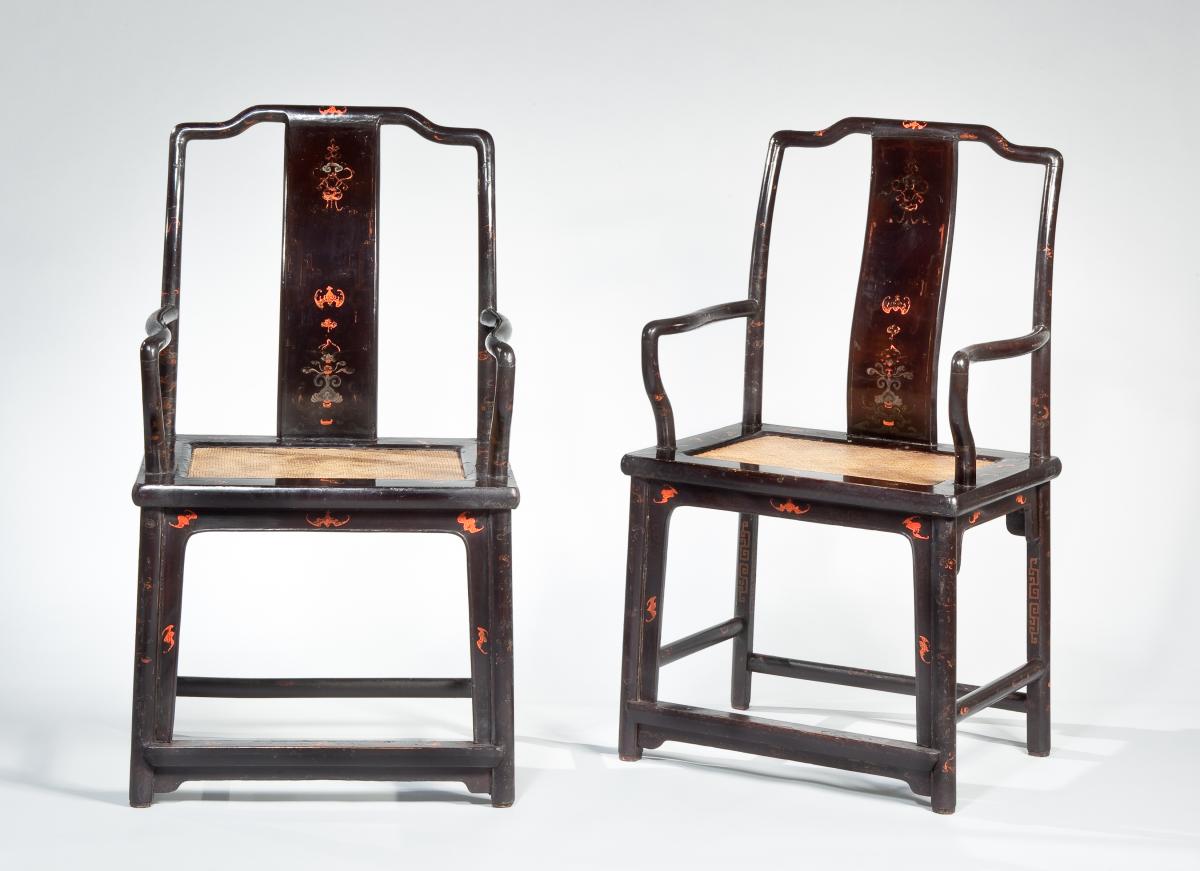 Price on application
The BADA Standard
Since 1918, BADA has been the leading association for the antiques and fine art trade
Members are elected for their knowledge, integrity and quality of stock
Our clients are protected by BADA's code of conduct
Our dealers' membership is reviewed and renewed annually
Bada.org is a non-profit site: clients deal directly with members and they pay no hidden fees
Click here for more information on the BADA Standard
A pair of lacquered continuous yokeback or Southern Official's Hat armchairs. The yoke-shaped top-rail, flattened and with a slight backward slope, curls upwards slightly at the ends before turning down into a "pipe joint" to the slightly backward sloping real posts which continue through the seat frame to form the back legs. The S – shaped splat is tenoned into the underside of the top-rail and into the back rail of the seat frame. The seat is of typical mitred, mortice and tenon frame construction with the tenons probably being exposed in the short rails of the frame. The seat is drilled for soft matting construction and retains the original curved transverse stretchers but also, probably, the original soft matting seat. The vigorously S – shaped arms, everting at the 'handles' are supported on shaped posts with a similar "pipe joint" to the yoke, and continue through the seat frame to form the front legs. The legs have a square shoulder to the inside to support the seat frame. Beneath the seat frame the full front apron, of simple mitred construction, has a raised bead to the inside edge, the side and back aprons are of the short eared type also with a raised bead. The stretchers are of oval section, squared off on the lower face and tenoned into the legs, the back stretcher is lower than the side stretchers. Beneath the foot-rail is a similar "hump-back" apron, shallower but similar in form and construction to the seat aprons.
The chairs are finished throughout with black lacquer with painted gold and red lacquer decoration of bats and peaches among scrolling clouds, with angular borders just still discernable on the front of the splat. The back of the splat, the rear posts and the inside of the legs is, naturally, much better preserved with large amounts of the decoration surviving.
Qing dynasty, first half of the 18th century.
Provenance:
Henry Luce III (1925 - 2005)
The shape of the yoke on these chairs, with its more pronounced "hump-back", rather than the more gently shaped yoke typical of late Ming hardwood continuous yoke back chairs, supports an attribution to the early Qing rather than to the late Ming period.
For a discussion of the derivation of the term 'Southern Official's Hat' where it is applied to chair design see a paper presented to the First International Symposium on Chinese Ming Domestic Furniture in Beijing (11th – 13th November 1991) by Pu Anguo, published in the 'Journal of the Classical Chinese Furniture Society' Autumn 1992, pages 26 – 32.
Dimensions
height 99 cm, width 56 cm, depth 45.7 cm
The BADA Standard
Since 1918, BADA has been the leading association for the antiques and fine art trade
Members are elected for their knowledge, integrity and quality of stock
Our clients are protected by BADA's code of conduct
Our dealers' membership is reviewed and renewed annually
Bada.org is a non-profit site: clients deal directly with members and they pay no hidden fees
Click here for more information on the BADA Standard