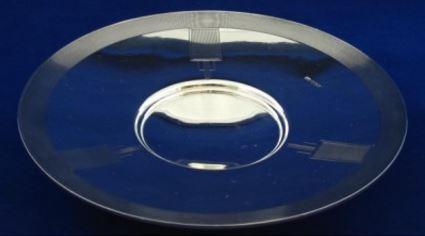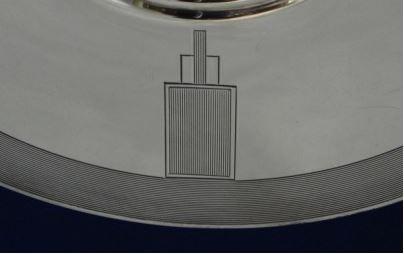 A superb English Art Deco silver Tazza by Walker and Hall of Sheffield. Finely chased hand finished detail makes this a very decorative piece. Hallmarked Walker and Hall Sheffield 1920 and number 64339 H to underside. Excellent condition
History
The origins of the company Walker & Hall began with John Harrison, a Britannia-metal worker who took out the first licence in Sheffield from Elkington on 13 June 1843, to make electroplated items. He hired George Walker to go to Birmingham and learn the electroplating process.
Walker did this, but two years later he decided to leave John Harrison's employment and set up on his own, taking out a licence for him and his business partner, Samuel Coulson.
They did not start manufacturing straight away, but soon after he did he was joined by another partner Henry Hall; the company of Walker & Hall was born.
Two of Henry Hall's nephews joined the business in the 1850's, when Sir John Bingham joined in 1852 they had fewer than 20 workers. Charles Henry Bingham joined later and helped grow the manufacturing side of the business.
By 1894 the company reported 1500 employees in total. The massive central block of the Electro Works of Walker & Hall dominated the central Sheffield skyline from the later 19th century up until the Sheffield Blitz of 1940 when some of the building was destroyed by the German Luftwaffe.
The company liked to boast that the flags on each corner of the building always flew; this is because they were made of metal and were rigid! The company rebuilt and continued production until 1963 and the building was demolished in 1965
Date Hallmarked Walker and Hall Sheffield 1920
Dimensions
Approx height 4 cm and approx. width 21 cm.
Weight
Approx weight 320 gr
Condition report
Excellent condition