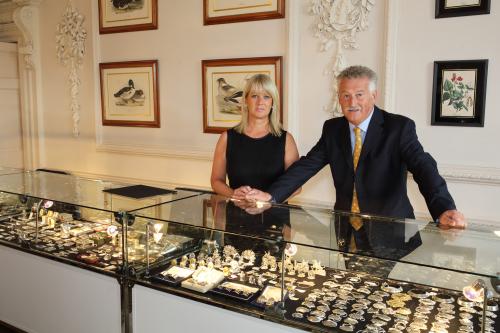 About
Steppes Hill Farm Antiques
Steppes Hill Farm Antiques was founded by William (Billy) Buck over fifty years ago.
Twenty years later he was joined in the business by his eldest son, David.
Although Billy dealt in small collectable silver, early English porcelain was his first love.
Having spent four years working in London for two different silver dealers, one in the Silver Vaults and one in Knightsbridge, David returned to the farm and expanded the silver side of the business.
He was instrumental in giving SHFA an online presence and their first web site went live in early 2008.
Stock
We specialize in small silver collectors' items including wine labels, caddy spoons, snuff boxes, vinaigrettes, vesta cases, card cases, pencils and writing equipment, scent bottles, pin cushions etc etc as well as Flatware, Hollow-ware and Scottish and Irish silver.
Over the years Steppes Hill Farm has been privileged to have formed a number of well-known private collections of both ceramics and silver.
As well as building friendly long term personal relationships with clients, they also regard the academic approach as all important.
We have been members of The British Antique Dealers' Association since 1976.
For further information visit the company website
Location
Steppes Hill Farm Antiques Ltd
Fine Antique & 20th Century Collectable Silver & Object d'art
Address

PO Box 608
Sittingbourne
Kent
ME10 9GT
Opening hours
Open Monday-Saturday 10-6; appointment advisable
Contact(s)
D W A Buck
C A Buck