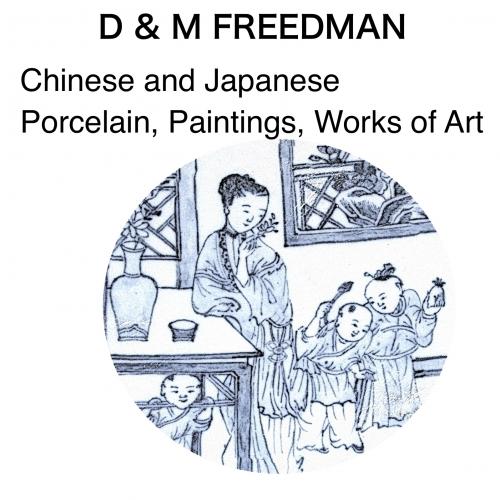 About
D & M Freedman
David Freedman is a London-based dealer who specialises in Chinese and Japanese porcelain and other works of art, including Chinese paintings. The company was founded by David Freedman in 1999 after working for nearly 30 years for fellow BADA member S Marchant & Sons. There he initially received a first-class grounding from Richard and became one of the firm's principal buyers.
In 2012, David Freedman's wife, Mercedes, joined the company. She had been a university lecturer in Psychology for 16 years and her joining the company seemed natural given her long-standing interest in art and her being a painter. She is in charge of the Chinese paintings.
D & M Freedman's selection of Chinese ceramics is extensive, including many examples of Famille Rose, Famille Vert, Yongzheng and Kangxi. David also holds an extensive collection of blue and white porcelain pieces from the 17th century. The paintings are mostly by 20th-century artists.
The company supplies collectors, dealers and museums alike. Some museums the company has sold to are the Museum Fur Ostasiatische Kunst Museum, Cologne, Germany, and the Hong Kong Maritime Museum.
David is considered to be a leading authority, frequently invited to vet at many international antique fairs, including TEFAF in Maastricht, La Biennale des Antiquaires and Salon du Collectionneur in Paris, Antiekbeurs van Belgie, Thurn et Taxis and Salon de la Céramique Ancienne, Enghien in Belgium.
David has also served on the vetting committees of Art Antiques London, BADA Antiques Fair, Masterpiece and the Grosvenor House Art and Antiques Fair in London. He has also been an adviser to the PAN fair, Amsterdam.
D & M Freedman does not have a gallery but has exhibited at the BADA Antiques & Fine Art Fair, the Art Antiques London Fair, and the Olympia Art and Antiques Fair.
Consultation is by appointment (00 44 7976 708 913). For further information on stock and services, visit the company website.
Location
Chinese and Japanese porcelain and works of art; Chinese scroll paintings
Opening hours
Open by appointment only
Contact(s)
David Freedman
Fairs
Art Antiques London
BADA Antiques Fair
Olympia Art and Antiques