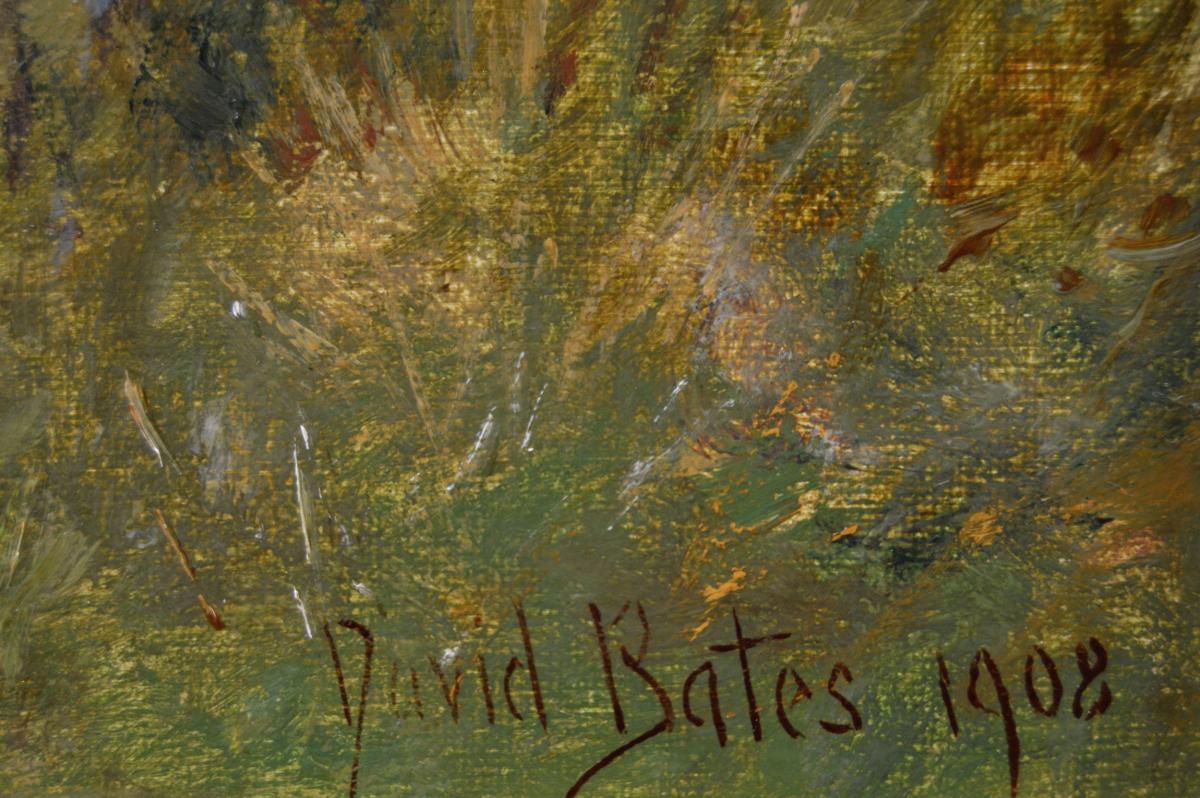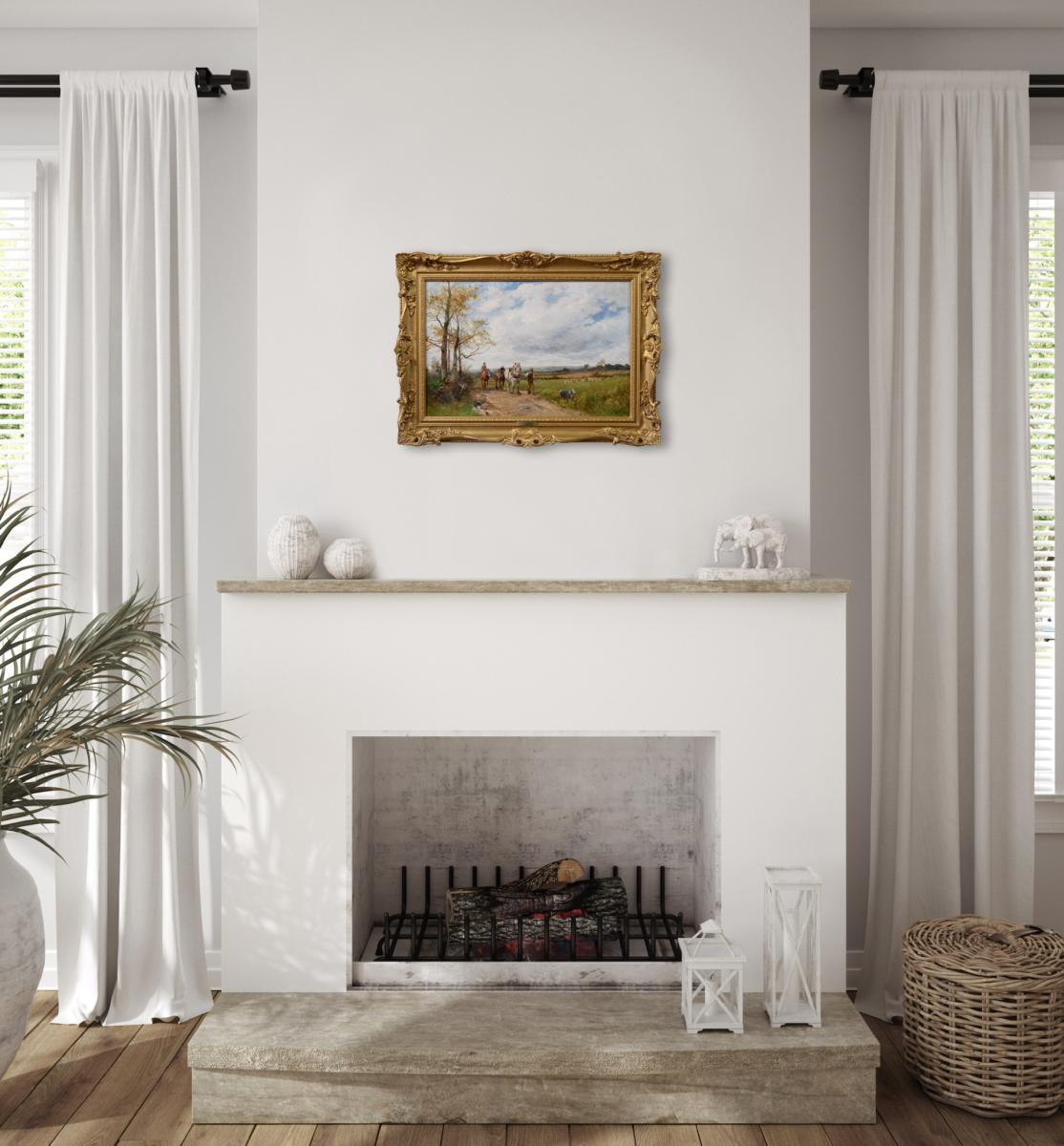 Price
£3200.00
The BADA Standard
Since 1918, BADA has been the leading association for the antiques and fine art trade
Members are elected for their knowledge, integrity and quality of stock
Our clients are protected by BADA's code of conduct
Our dealers' membership is reviewed and renewed annually
Bada.org is a non-profit site: clients deal directly with members and they pay no hidden fees
Click here for more information on the BADA Standard
David Bates
British, (1840-1921)
The Plough Team, Bredon's Norton
Oil on canvas, signed & dated 1908, further inscribed verso.

David Bates was born in March, Cambridge in 1840 to Benjamin Bates a shoe maker and Sarah Bates. By 1851, the family had moved to Upton upon Severn in Worcestershire and from 1855 Bates became an apprentice at the Royal Worcester Porcelain Works in Worcester. There he developed his artistic talent, painting flower decorations onto vases and plates. At some point after 1861, he became a full time artist and made his debut at the Royal Academy in 1863, continuing to exhibit there until 1893. He also exhibited at the Royal Birmingham Society of Artists, Suffolk Street and the Grosvenor Gallery.
He married Elizabeth Higgs from Worcester in 1867 and they lived at Cherry Orchard, Bath Road in Worcester where their children were later born. Their second child John Bates Noel (1870-1927) became a landscape artist and their younger son David Samuel became an art agent. Around 1879 he moved to nearby Great Malvern living at Hollymount Cottage in St Ann's Road and then at Sydenham Villa, Newtown Road. By 1891, the family had moved to Birmingham where they lived at 158 Pershore Road in Edgbaston and later Chantry Road, in Kings Norton. Sometime after 1901, he relocated to Surrey where he lived at Blandford House, Teddington. He died on 21 February 1921 at Teddington and was buried in Kingston-upon-Thames Cemetery.
Bates often travelled around Wales and the Midlands and became known for his open air painting of the area, however, he also visited other beauty spots such as the Lake District. He also spent time in North Africa painting, producing a number of works from his travels. His style and subjects were influenced by Benjamin Williams Leader and were similar to that of other members of the Birmingham School such as Joseph Thors and S.H. Baker.
Examples of his work are held in many public collections including the Canterbury Museum, Derby Museum, Dudley Museum, Hartlepool Museum, Malvern Museum, Nottingham Castle Museum, Walker Art Gallery, Wednesbury Museum, The Wilson, Wolverhampton Art Gallery and the Worcester City Museum.

Bredon's Norton is a village located in the Cotswolds, on the slopes of Bredon Hill in South Worcestershire. The America women's rights activist Victoria Woodhull Martin moved to the village in 1901 and by 1908 had set up an agricultural school for women at her Norton's Park estate. The Antarctic explore Raymond Priestley also lived there. Although Bates was living in Surrey at the time of this painting, he would have been familiar with the area after having lived and worked in Worcestershire for some considerable time. He would have also most likely been aware of Victoria Woodhull Martin and the school.

Presentation: The painting is housed in a new, English made gilt frame which is in excellent condition.
Condition: As with all of our original antique oil paintings, this work is offered in ready to hang gallery condition, having been professionally cleaned, restored and revarnished.
© Benton Fine Art
Dimensions
Image Size: 15.5 inches x 23.5 inches (39.5cm x 59.5cm) / Framed Size: 21.5 inches x 29.5 inches (55cm x 75cm)
The BADA Standard
Since 1918, BADA has been the leading association for the antiques and fine art trade
Members are elected for their knowledge, integrity and quality of stock
Our clients are protected by BADA's code of conduct
Our dealers' membership is reviewed and renewed annually
Bada.org is a non-profit site: clients deal directly with members and they pay no hidden fees
Click here for more information on the BADA Standard