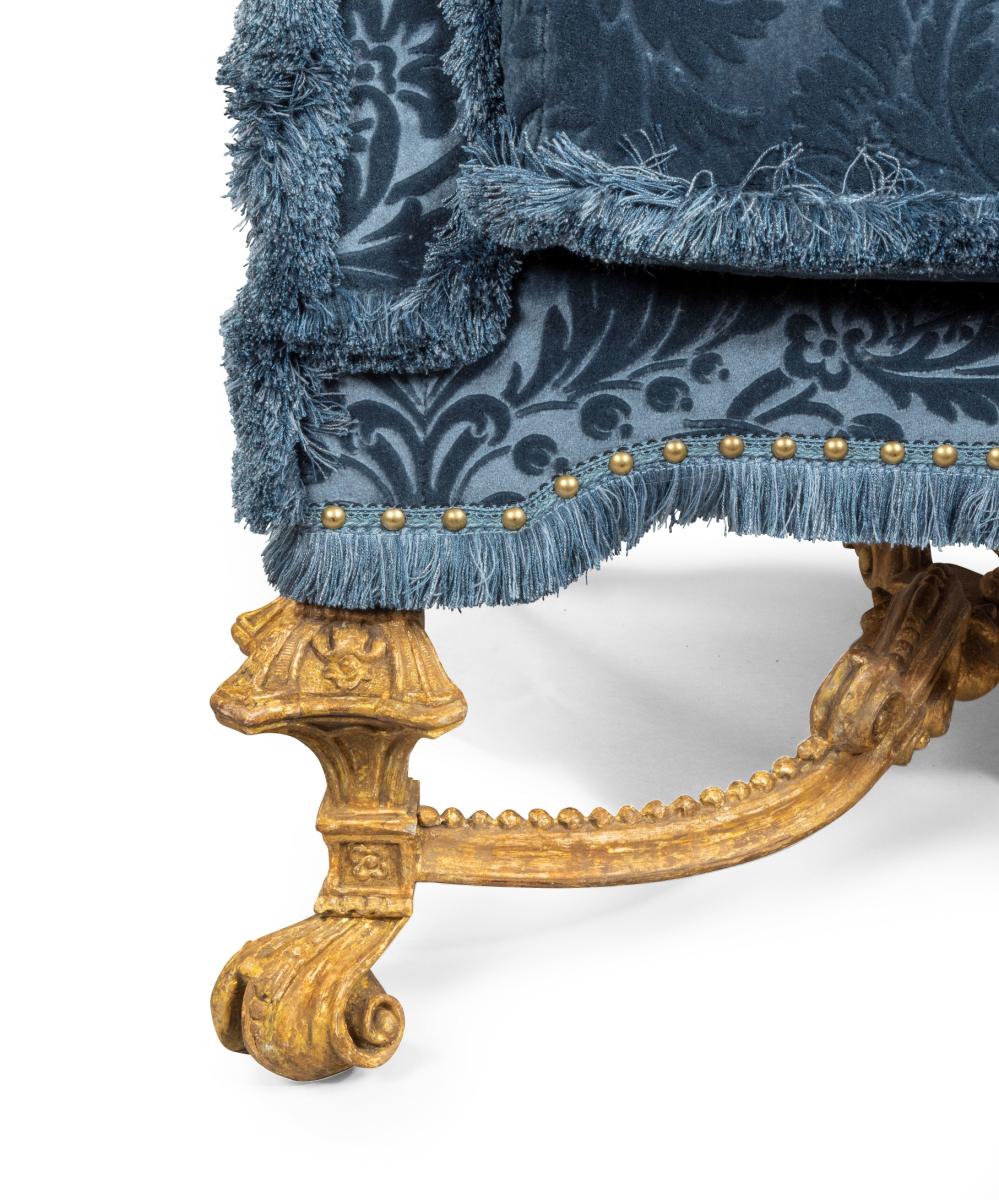 Price
£120000.00
The BADA Standard
Since 1918, BADA has been the leading association for the antiques and fine art trade
Members are elected for their knowledge, integrity and quality of stock
Our clients are protected by BADA's code of conduct
Our dealers' membership is reviewed and renewed annually
Bada.org is a non-profit site: clients deal directly with members and they pay no hidden fees
Click here for more information on the BADA Standard
An exceptional William III Baroque carved giltwood settee commissioned by Sir Thomas Osborne, Bt., 1st Duke of Leeds (1632-1712) either for his house at Wimbledon, Surrey or for Kiveton Park, Yorkshire.
This giltwood settee is the key piece from a larger suite of furniture which is decorated with wonderful carved gilt gesso decoration in the Baroque taste and is clearly inspired by the designs of Daniel Marot (1661-1752).
The careers of Daniel Marot and Thomas Osborne were both inextricably intertwined with the ascendancy of William III to the English throne. Osborne was one of seven politicians involved in the Glorious Revolution who wrote to William of Orange inviting him to ascend the throne of England. For his support Osborne was rewarded with the Dukedom of Leeds in 1694 and the suite may have been commissioned to celebrate his elevation. Marot, a huguenot emigre was instrumental in bringing the Baroque style to the Court of William of Orange. Marot is associated with the remodelling of the interiors of Het Loo Palace, Amsterdam and the redecoration of Hampton Court in the lavish Baroque style.
The settee is probably by the royal upholderer Philip Guibert who is recorded as working in St. James's, London from 1692-1739. He is the only cabinet-maker or upholsterer who appears in the account books of the Duke of Leeds and his work for the Royal Court (at Windsor and Kensington Palace) would have given him first hand knowledge of Marot's work.
Please contact Peter Alexander for more in depth research, and a full condition report.
The giltwood settee's upholstered arched back and scrolling arms above a cushioned seat; raised on beautifully carved legs which have flared facets ornamented with flowers and strapwork above boldly scrolling bifurcated feet to the front and swept legs decorated with panels of strapwork to the rear united by moulded, scrolled X-stretchers with beaded ornament and centred by an urn finial. The sette retains much of its original carved gilt gesso decoration and is now upholstered in gaufraged blue velvet.
Dimensions
Height: 54.25" (137.75cm), Width: 64" (162.5cm), Depth: 34" (86.5cm)
The BADA Standard
Since 1918, BADA has been the leading association for the antiques and fine art trade
Members are elected for their knowledge, integrity and quality of stock
Our clients are protected by BADA's code of conduct
Our dealers' membership is reviewed and renewed annually
Bada.org is a non-profit site: clients deal directly with members and they pay no hidden fees
Click here for more information on the BADA Standard