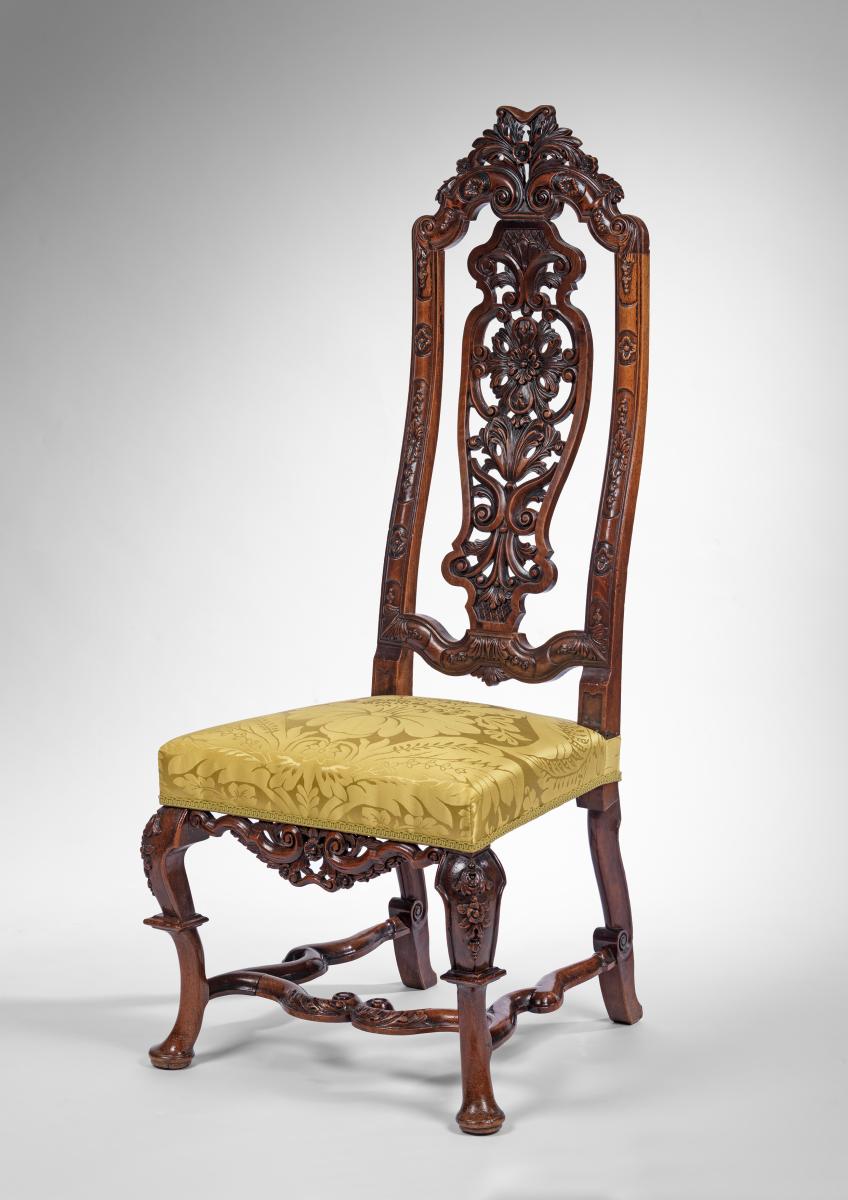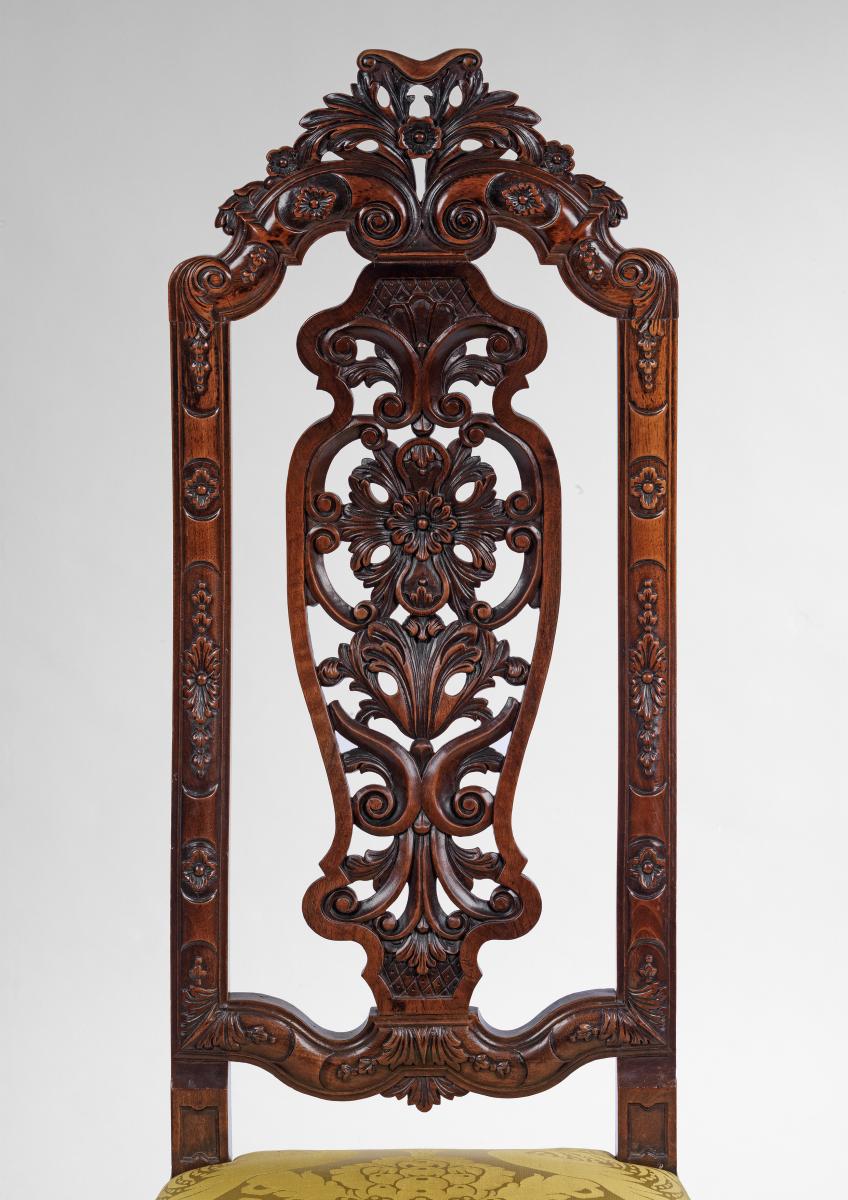 Price on application
The BADA Standard
Since 1918, BADA has been the leading association for the antiques and fine art trade
Members are elected for their knowledge, integrity and quality of stock
Our clients are protected by BADA's code of conduct
Our dealers' membership is reviewed and renewed annually
Bada.org is a non-profit site: clients deal directly with members and they pay no hidden fees
Click here for more information on the BADA Standard
A Very Rare Set of Twelve Anglo Dutch Queen Anne Walnut side Chairs From a Design by Daniel Marot. Circa 1715.
The high backs have carved and shaped top rails with double scrolls surmounted by open and pierced sprays of acanthus leaves and rosettes. The side rails to the backs are carved with panels set with rosettes flanked by husk drapery. The seats are wider to the front and have an elaborately carved apron of pierced scrolling foliage and rosettes. Supported on slightly shaped legs carved with bell flowers and rosettes on the knees and terminating on pad feet. The legs are joined by stretchers formed of scrolls and with scrolling foliage in the front. The upholstered seats covered in yellow silk. There are a similar set of eighteen chairs with upholstered seats at Hampton Court Palace, supplied in 1717 by Richard Roberts to George I. Whilst the use of carved decoration is old-fashioned, the actual design of the carving is not and nor is the shape of the chair. This model is very advanced in its form with its S shaped back and cabriole legs, and was inspired by Chinese chairs from the late Ming and early Qing dynasties.
Illustrated:
Partridge Summer Exhibition 1989 P 29.
Related Literature:
The Dictionary of English Furniture by Percy Macquoid & Ralph Edwards Page 216 Fig 43.
Furniture in England from 1660 to 1760 by Francis Lenyon Page 41 Fig 90.
Daniel Marot ( 1662 – 1752)
Born in Paris in about 1662, the son of Jean Marot a well known architect and engraver. In his youth he worked with his father and gained quite a reputation as an engraver enjoying patronage from the crown.
Marot was a Protestant and in 1684, the year before the Revocation of the Edict of Nantes, sought refuge in Holland where almost immediately he entered the service of the Prince of Orange. In 1686 he is found at The Hague where he designed the Audience Chamber.
He was appointed Master of the Works to the Prince and decorated the apartments at William's new Het Loo Palace in 1692, in a taste appreciably influenced by Berain. Important as were his architectural labours, by his designs for interior decoration and furniture he achieved a wider fame.
Marot styled himself "Architecte de Roy de la Grandes Bretagne" after the Accession of William III in 1689. Although William III was King of England until his death in 1702, Marot appears to have left England in 1698 and spent the last part of his long life in Holland, dying there in 1752.
The arrival of William III to England brought many Hugenot craftsmen who introduced the fashion of making furniture in walnut rather than oak and producing finely carved furniture and intricate seaweed marquetry.
Many features lead one to assume that they were made by Dutch trained craftsmen and a number of similar chairs, often in pairs can be seen in houses all over England.
The finely carved design, the oak seat rails, the scrolled back legs, the dead-flat back and the numbering of chair parts are all indicative of Dutch trained craftsmen rather than local English craftsmen.
Notable examples are held in the Rijksmuseum, Victoria and Albert Museum, the Metropolitan Museum and Hampton Court.
Dimensions
20 x 20 x 48.5 in high (52 x 51 x 123 cm)
The BADA Standard
Since 1918, BADA has been the leading association for the antiques and fine art trade
Members are elected for their knowledge, integrity and quality of stock
Our clients are protected by BADA's code of conduct
Our dealers' membership is reviewed and renewed annually
Bada.org is a non-profit site: clients deal directly with members and they pay no hidden fees
Click here for more information on the BADA Standard