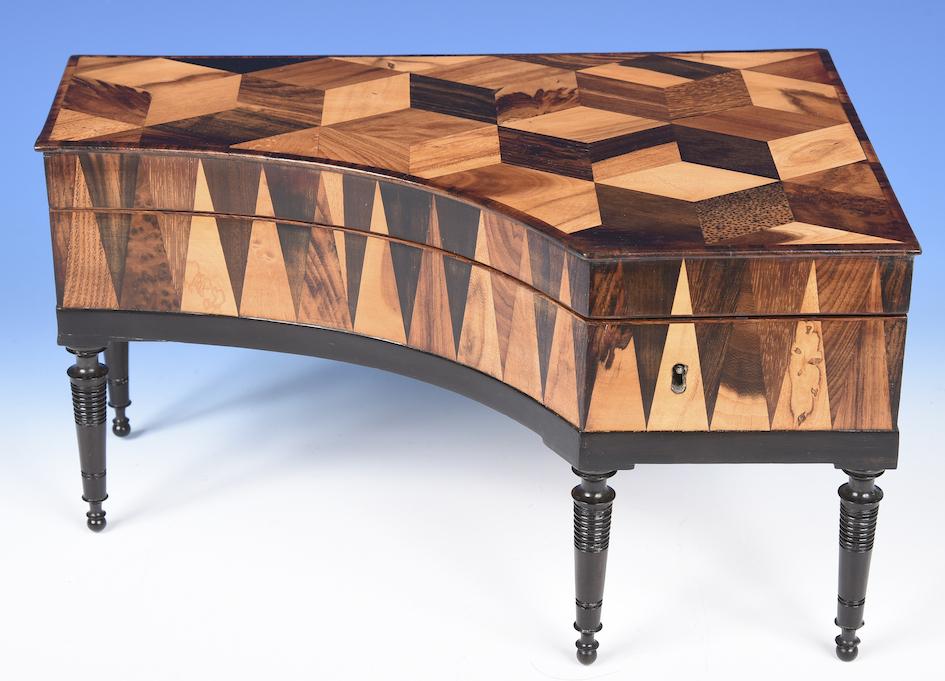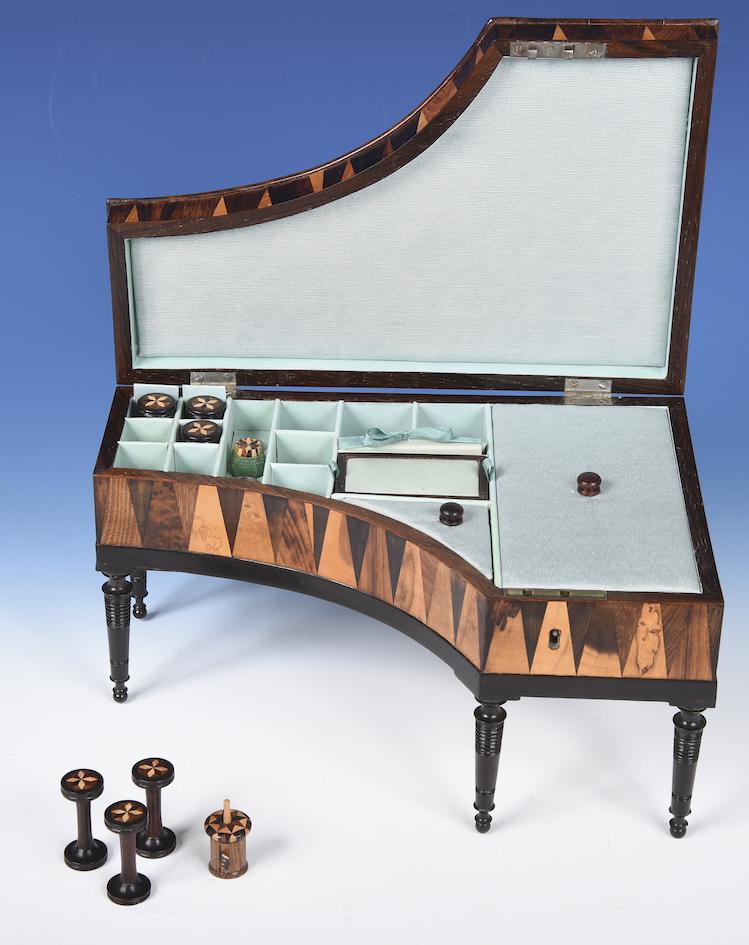 About the dealer
Open Monday-Friday 9.30-5.30; Saturday 10-4.30 (closed during public holidays)
About the object
A very rare needlework box in the shape of a grand piano. The lid is inlaid with a good range of contrasting veneers in large perspective cubes and the frieze in a vandyke pattern. The piano stands on finely turned ebony legs. The re-lined interior is fitted with six spools with mosaic tops, an inlaid tape measure and waxer and a silver thimble. Circa 1830
This piano-shaped box is based on the sought after French Palais Royal examples. It is a very rare find in Tunbridge Ware, especially as unlike most piano shaped boxes it is a left-handed example - possibly unique and the result of a workman's error.
The location in Paris known as the Palais Royal was built in the 17th century as a private house for Cardinal Richelieu. On his death in 1642 the property passed to King Louis XIII and acquired the name Palais Royal. It eventually became the property of the Duke of Orleans and in 1784 an arcade was opened in its gardens.
This essentially was a shopping precinct with a parade of about 150 shops, cafés, salons, museums and a theatre. All classes patronized the parade with the nobility and gentry mixing freely with the lower orders. The Palais Royal became one of the most important market places and social venues, offering everything from gambling and prostitution to the most exclusive shops, selling amongst other things exquisite Palais Royal boxes.
This description of the Palais Royal immediately brings to mind the Parade in Tunbridge Wells, which albeit on a smaller scale in a provincial setting, provided a very similar environment for trade and social gatherings. Like the Palais Royal, the Parade was an important market place, although its souvenirs were generally of a more modest nature.
Palais Royal boxes were of such quality that they soon became sought after throughout Europe, with needlework boxes in particular, on well-to-do ladies' 'must have' lists. The miniature grand piano was an especially appealing shape. Unfortunately due to war and the uncertain political situation in France these boxes were often difficult for English ladies to obtain.
It is not therefore surprising that the ever-enterprising Tunbridge Ware makers saw an opening. In the early 19th century they emulated their French counterparts by producing a piano-shaped needlework box, although judging by their present-day scarcity, very few were made.
Dimensions
W 28.8cm D 19cm H 16cm