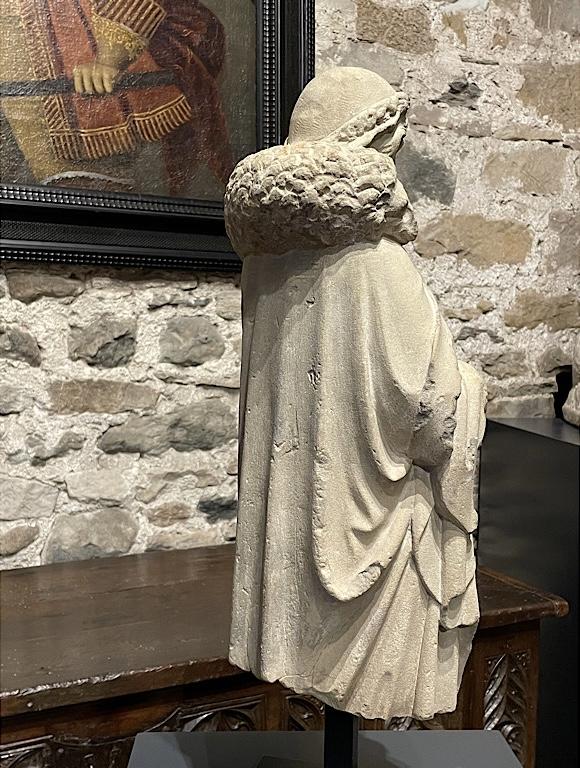 Price on application
The BADA Standard
Since 1918, BADA has been the leading association for the antiques and fine art trade
Members are elected for their knowledge, integrity and quality of stock
Our clients are protected by BADA's code of conduct
Our dealers' membership is reviewed and renewed annually
Bada.org is a non-profit site: clients deal directly with members and they pay no hidden fees
Click here for more information on the BADA Standard
A Truly Stunning and Museum Quality Romanesque Sculpture Of Christ As The Good Shepherd. French. Circa 1250.
This fine Romanesque sculpture from the mid-13th century depicts Christ as the good shepherd carved from limestone in the round. Christ is standing wearing a tight sleeved tunic and mantle draped over his shoulders and gathered on his extended right forearm, reaching to knee length. He has a close-fitting cap with thick braided fillet to the brow carved in high relief. A lamb slung across his shoulders with its head resting beside Christ's right ear, a wonderful deep carved texture to the lamb's fleece with its legs gathered across the collarbone and by Christ's left hand. Christ's face with downcast expression, bearded and with locks of hair flowing from beneath his cap.
Mounted on a custom-made stand, a stunning and atmospheric sculpture.
Private southern France collection.
Dimensions including stand.
Dimensions
Height: 26 inches (66.0 cms), Depth: 8 inches (20.3 cms)
Open any time by prior appointment. Please telephone first.
The BADA Standard
Since 1918, BADA has been the leading association for the antiques and fine art trade
Members are elected for their knowledge, integrity and quality of stock
Our clients are protected by BADA's code of conduct
Our dealers' membership is reviewed and renewed annually
Bada.org is a non-profit site: clients deal directly with members and they pay no hidden fees
Click here for more information on the BADA Standard