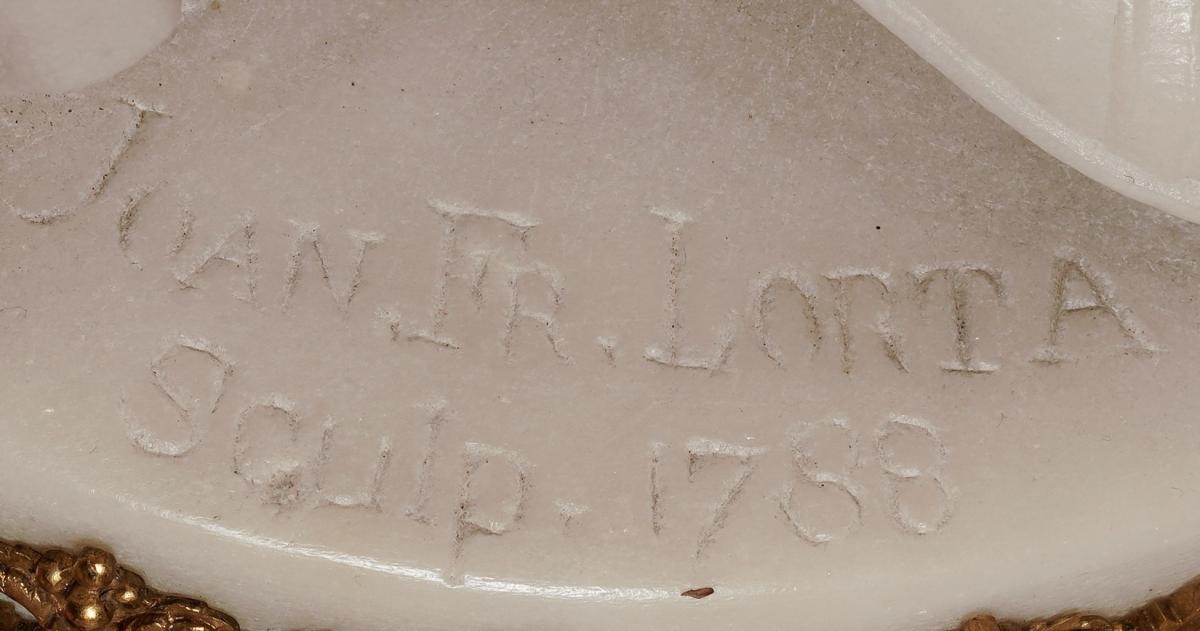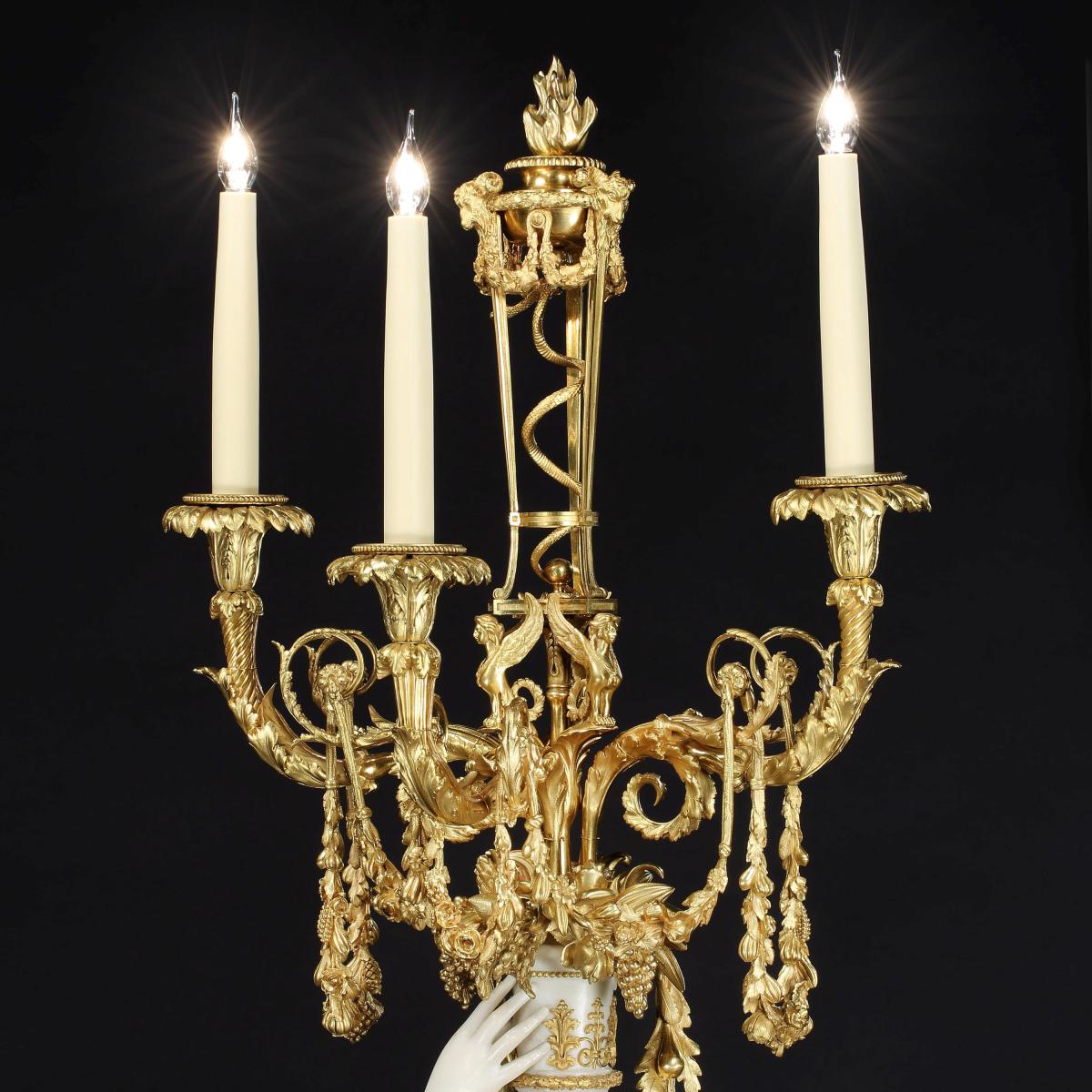 Price on application
The BADA Standard
Since 1918, BADA has been the leading association for the antiques and fine art trade
Members are elected for their knowledge, integrity and quality of stock
Our clients are protected by BADA's code of conduct
Our dealers' membership is reviewed and renewed annually
Bada.org is a non-profit site: clients deal directly with members and they pay no hidden fees
Click here for more information on the BADA Standard
A Remarkable Pair of Ormolu-Mounted Marble Candelabra By Sormani of Paris.

After the originals by Jean-François Lorta (1752-1837).
Residing at the Louvre.

Constructed from the unusual combination of pure white marble and gilt bronze; the magnificent candelabra modelled as Antique-style female figures, one with the floral wreath representing Spring, and the other having the attributes of Autumn with grapes in her hair; each standing on a porphyry and bronze pedestal bordered by a laurel torus, each figure effortlessly carrying a fluted marble torch enriched with gilt bronze cabling, palmettes, beads and culots; the whole issuing three large acanthus scrolls holding rich swags of flowers and fruit with foliate nozzles and beaded bobèches, in the centre, on three winged female sphinxes, stands Apollo's tripod. The marbles signed "Joan Fr Lorta sculp. 1788" and bearing the maker's stamp "Sormani Paris." Recently electrified.
French, circa 1860.
PROVENANCE
These spectacular candelabra, sumptuously combining carved white marble figures with richly cast candle arms in gilt-bronze, are inspired by the celebrated set of candelabra with figures emblematic of the four Seasons supplied by the sculptor Jean-François Lorta in 1788 to Mesdames Adelaïde and Victoire, daughters of Louis XV, for the grand salon of the château de Bellevue as part of a lavish refurbishing scheme.

They remained at Bellevue during the Revolution, but were later moved to the Tuileries in 1807, when they were installed in Empress Josephine's second salon. In 1830 the four were split up, with Summer and Winter remaining initially at the Tuileries in the Galerie de Diane before being moved to Fontainebleau to the bedchamber of the Duc d'Orléans, while Spring and Autumn were briefly at Versailles (1839-1840) before being moved to the Empress's bedchamber at Fontainebleau where they remained from 1857-1930.
LITERATURE
Alcouffe, Daniel, Anne Dion-Tenenbaum, and Gérard Mabille. Gilt Bronzes in the Louvre. Dijon: Faton, 2004, pp. 181-85, no. 93, illustrating the candelabra in the Louvre.
Dimensions
H: 56.5 in / 143 cm  |  W: 20 in / 50 cm  |  D: 20 in / 50 cm
Condition report
Excellent; fully electrified.
The BADA Standard
Since 1918, BADA has been the leading association for the antiques and fine art trade
Members are elected for their knowledge, integrity and quality of stock
Our clients are protected by BADA's code of conduct
Our dealers' membership is reviewed and renewed annually
Bada.org is a non-profit site: clients deal directly with members and they pay no hidden fees
Click here for more information on the BADA Standard