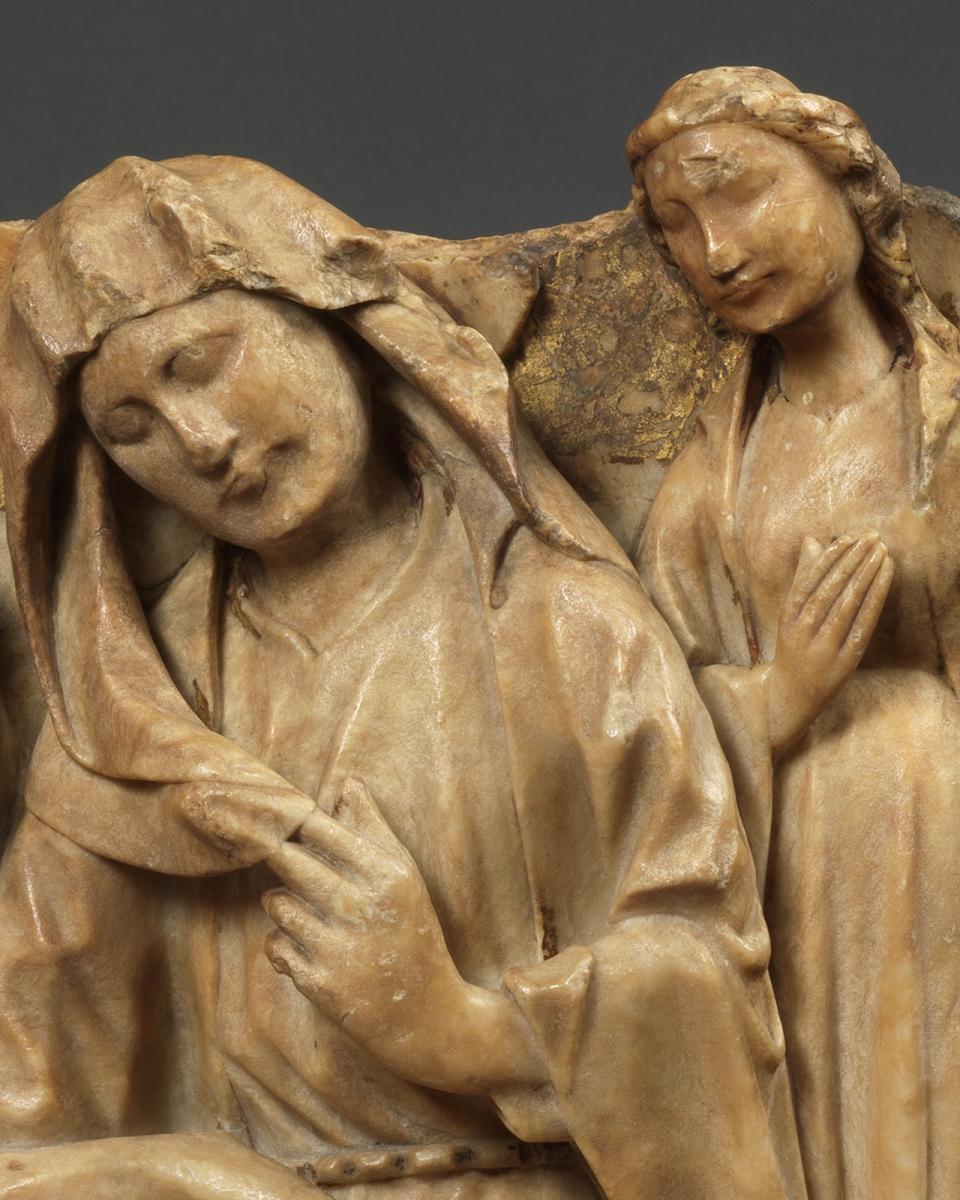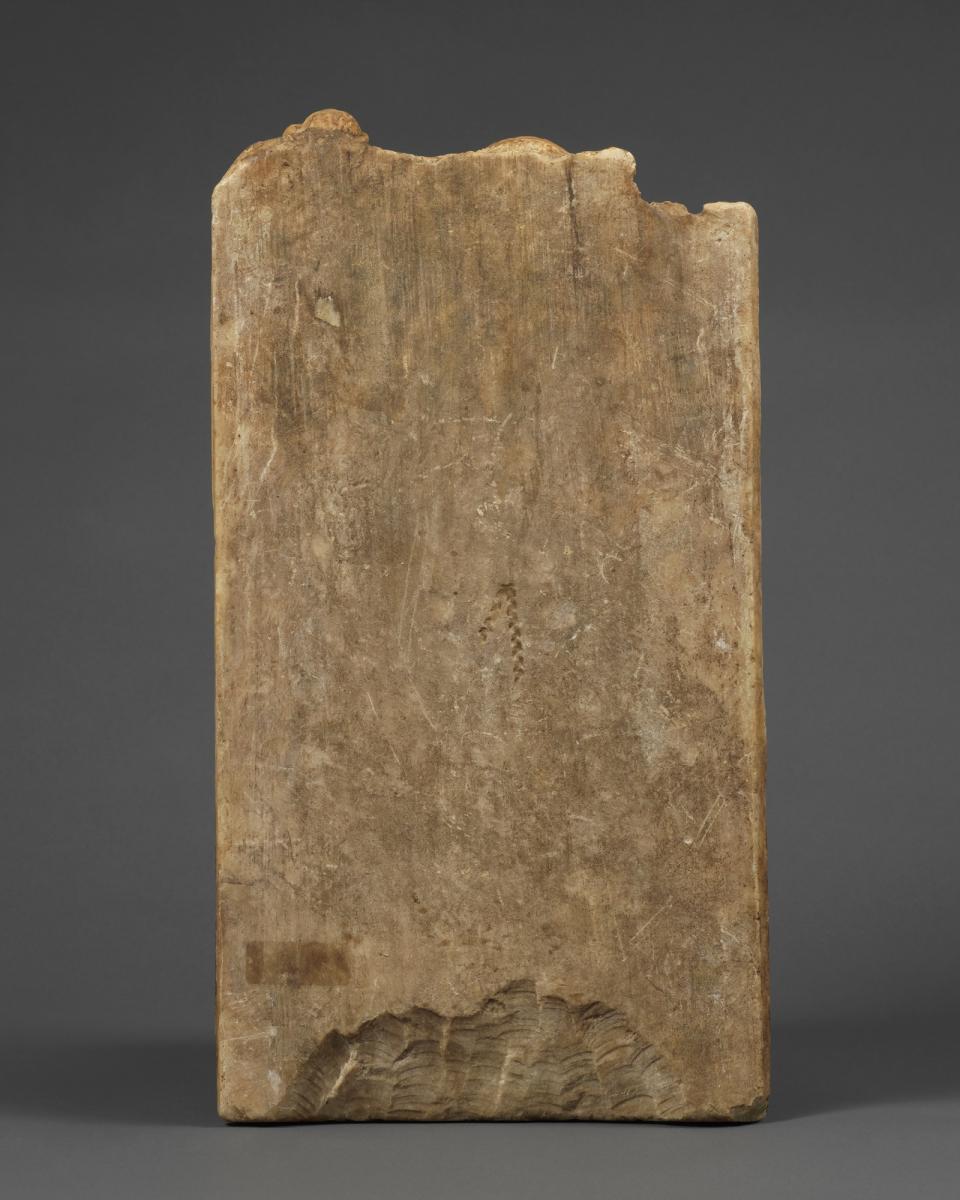 Price on application
The BADA Standard
Since 1918, BADA has been the leading association for the antiques and fine art trade
Members are elected for their knowledge, integrity and quality of stock
Our clients are protected by BADA's code of conduct
Our dealers' membership is reviewed and renewed annually
Bada.org is a non-profit site: clients deal directly with members and they pay no hidden fees
Click here for more information on the BADA Standard
Relief with the Lamentation of Christ
Alabaster, with original polychrome and gilding
England, Nottingham, 15th century.
Provenance:
Private collection, Belgium
This extraordinary alabaster panel depicts the Lamentation of Christ, the body of the Saviour draped over the lap of the Virgin, with Mary Magdalene, Mary of Cleophas (the sister of the Virgin who was present at the crucifixion) and a third saint kneeling in the foreground. The dead Christ, wearing a loincloth and a torse, lies left to right across his mother's lap, his head supported by her right hand. His left arm is by his side, the right hanging down, his hand held by the small figure of the saint in the lower left corner, his legs bent at right angles.
The Virgin, wearing a gown and veil over her head which she holds at the breast with her left hand, is seated on the tomb and looks down at Christ. The figure (headless) in the upper left of the panel, wearing a fitted gown and cloak holding a jar, probably of ointment, is presumably Mary Magdalene. The viewer's eye is drawn to the symbols of the crucifixion, death and Golgotha (where the crucifixion took place) in the form of a skull, jawbone and bones beneath the robes of the Virgin. A comparatively rare subject in Nottingham alabaster carving, the present relief is similar to a composition of the Lamentation of Christ in the Victoria and Albert Museum (Inv. no. A197-1946) (see Cheetham, English Medieval Alabasters, op. cit., p. 197).
The ground of our relief was painted green and adorned with a 'daisy' pattern', traces of which remain. This was a typical colour scheme for Nottingham alabasters, the colouring of the carvings being an integral part of their production. Typically vivid, robes were often painted in scarlets and blues, hair and accoutrements such as crowns and sceptres were often gilded and landscapes were decorated with this distinctive pattern often against a dark-green ground. Moulded and gilded gesso was also used to give extra richness to the carvings which had to be brightly coloured in order to be seen at a distance and by candlelight. Unusually, significant remains of the superb gilded background are preserved in our example. Most surviving reliefs have lost all or the majority of their original paintwork.
For additional images and information on this item click here
Dimensions
Height 48.5 cm; 1 ft. 7 in, Width 26.3 cm; 10⅓ in.
The BADA Standard
Since 1918, BADA has been the leading association for the antiques and fine art trade
Members are elected for their knowledge, integrity and quality of stock
Our clients are protected by BADA's code of conduct
Our dealers' membership is reviewed and renewed annually
Bada.org is a non-profit site: clients deal directly with members and they pay no hidden fees
Click here for more information on the BADA Standard