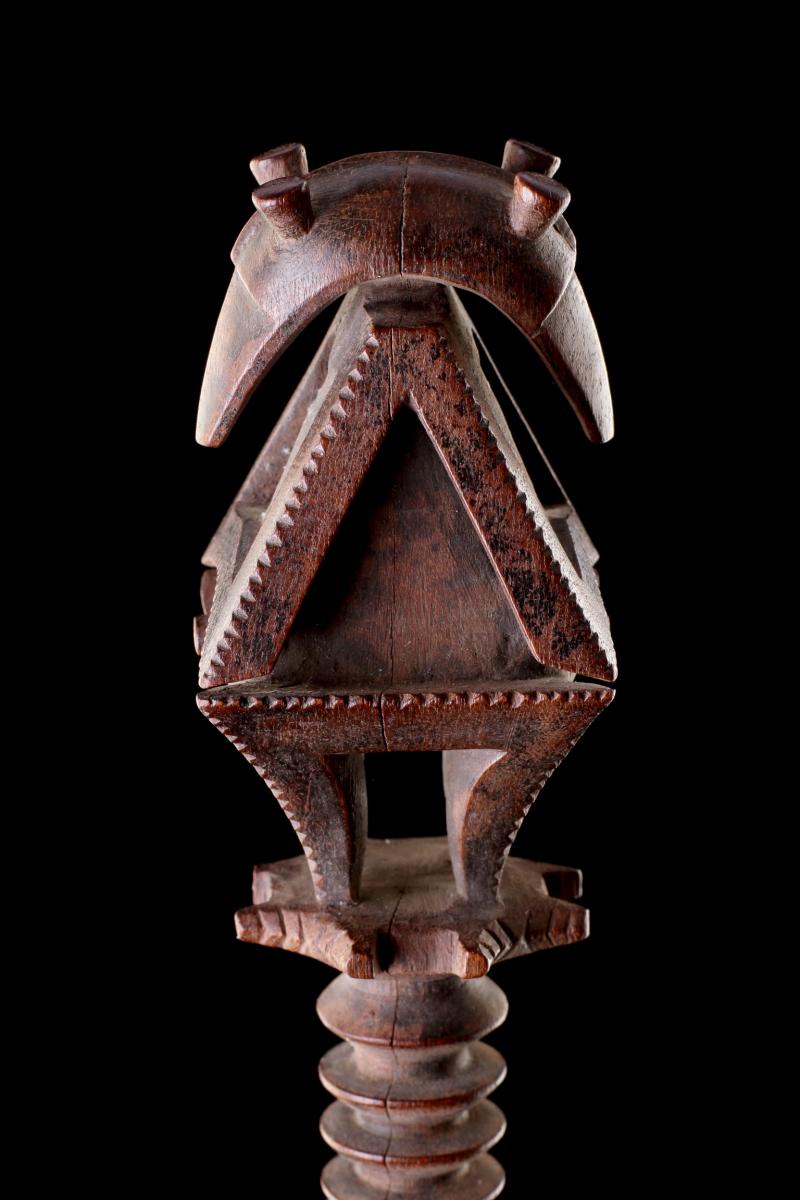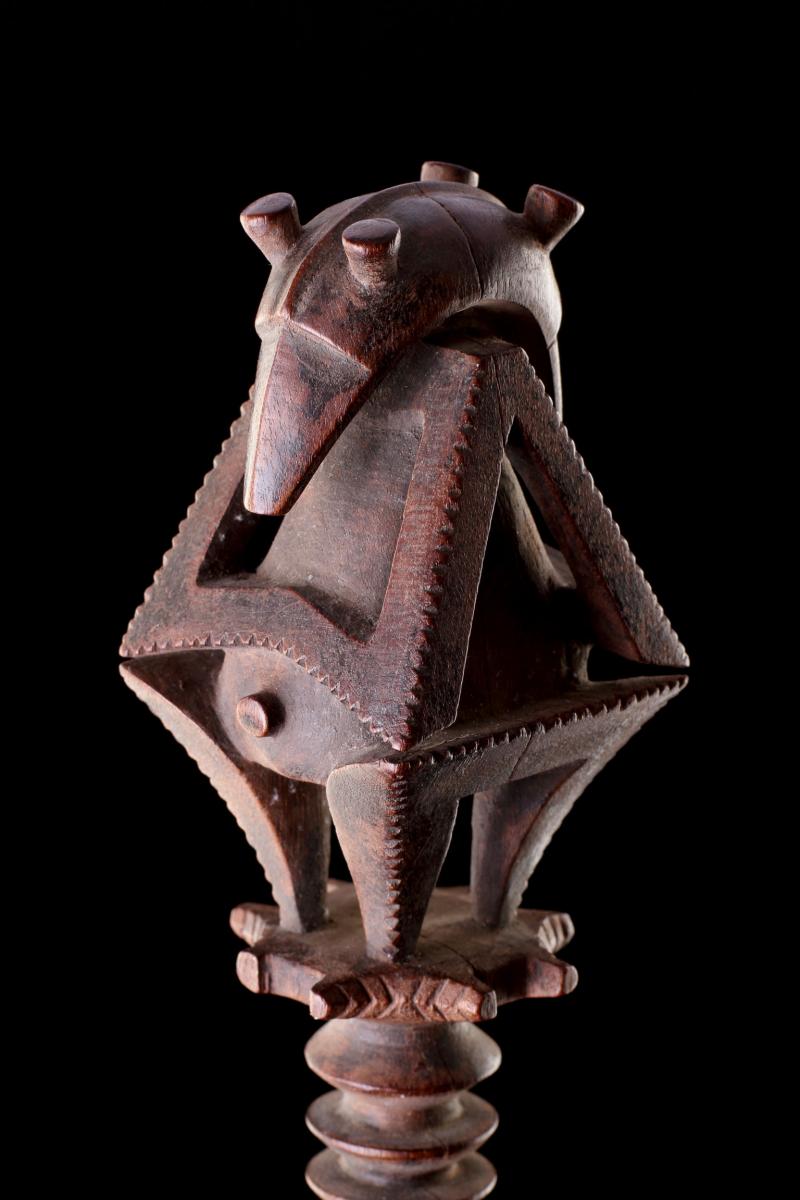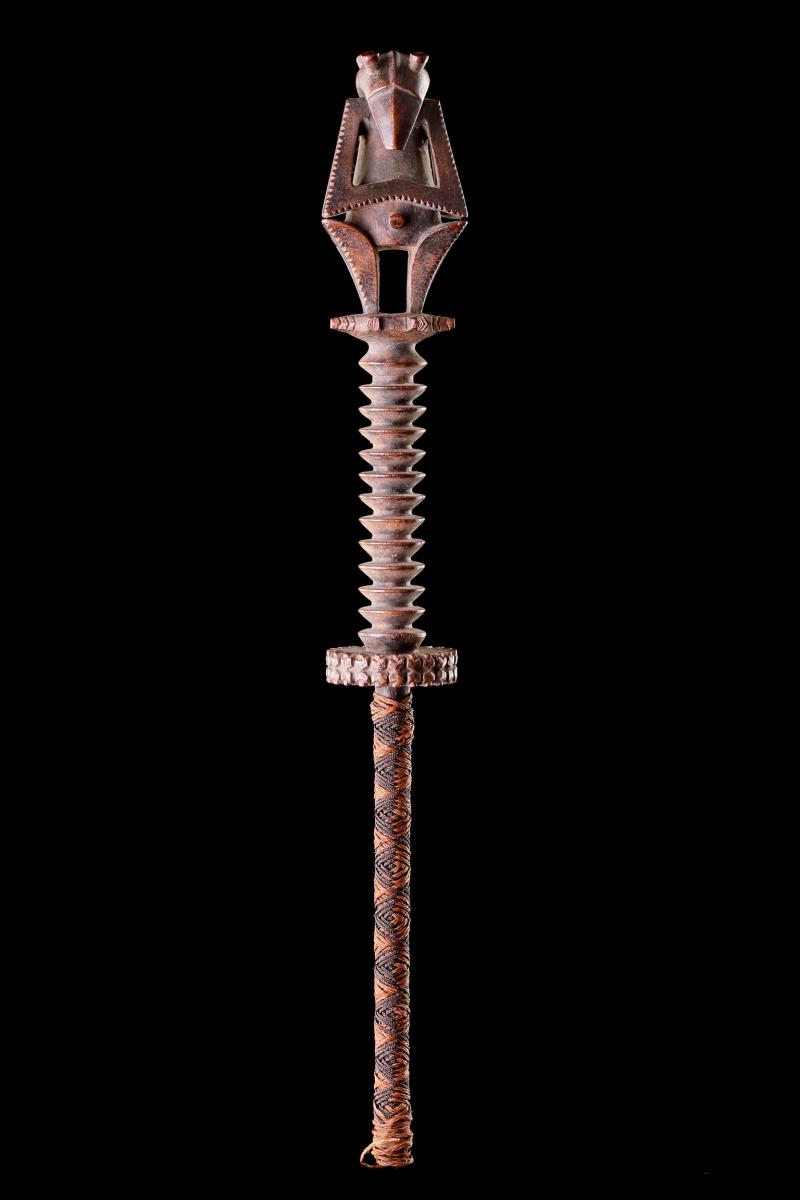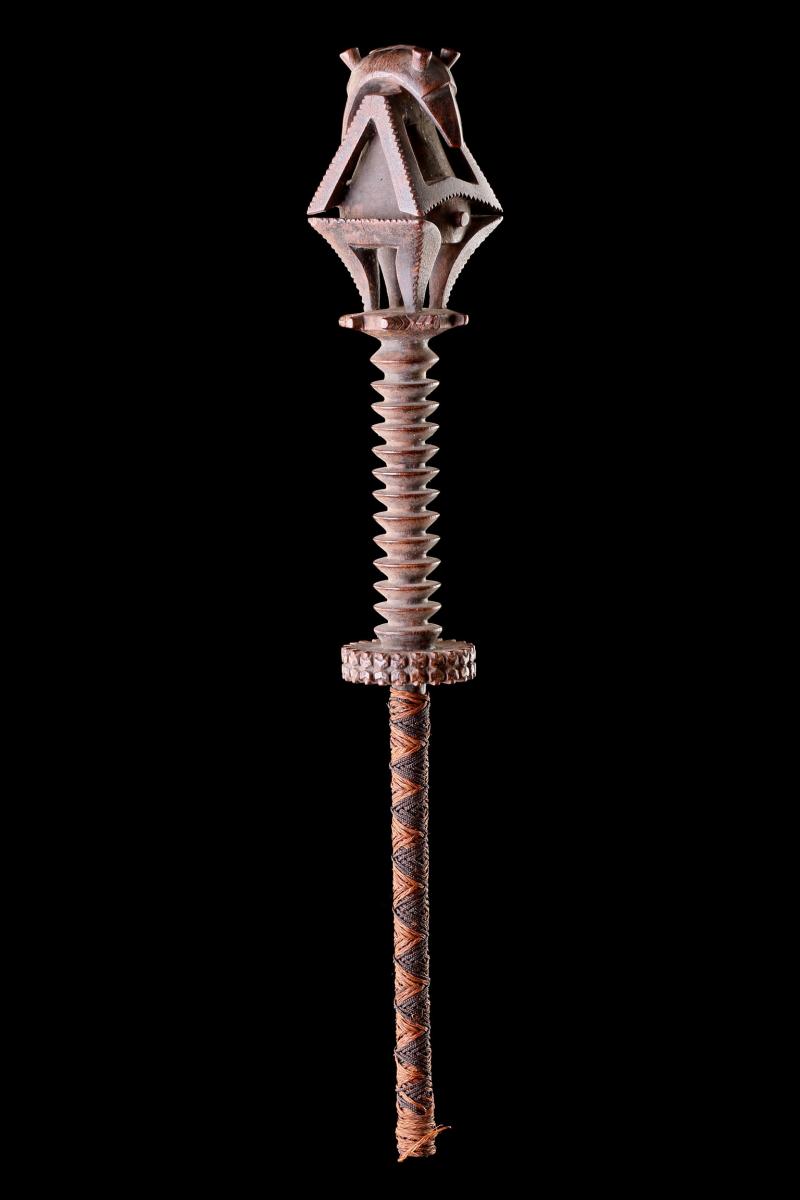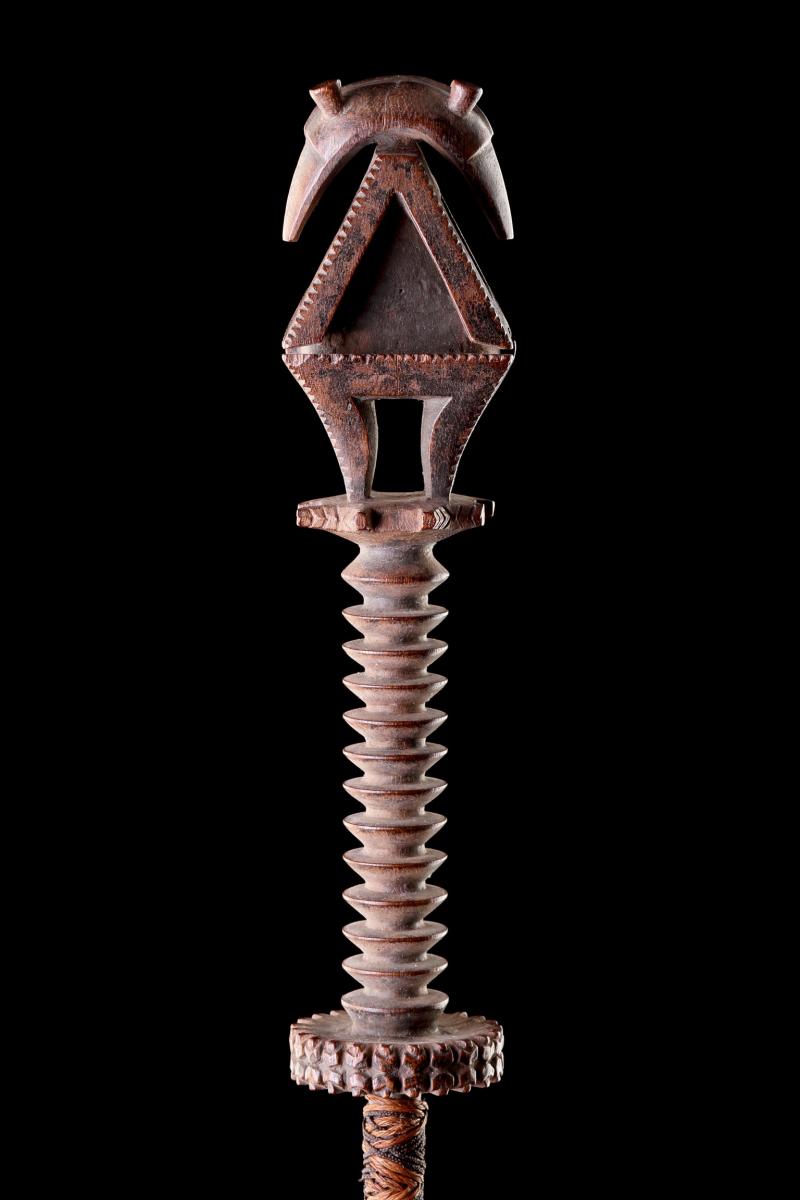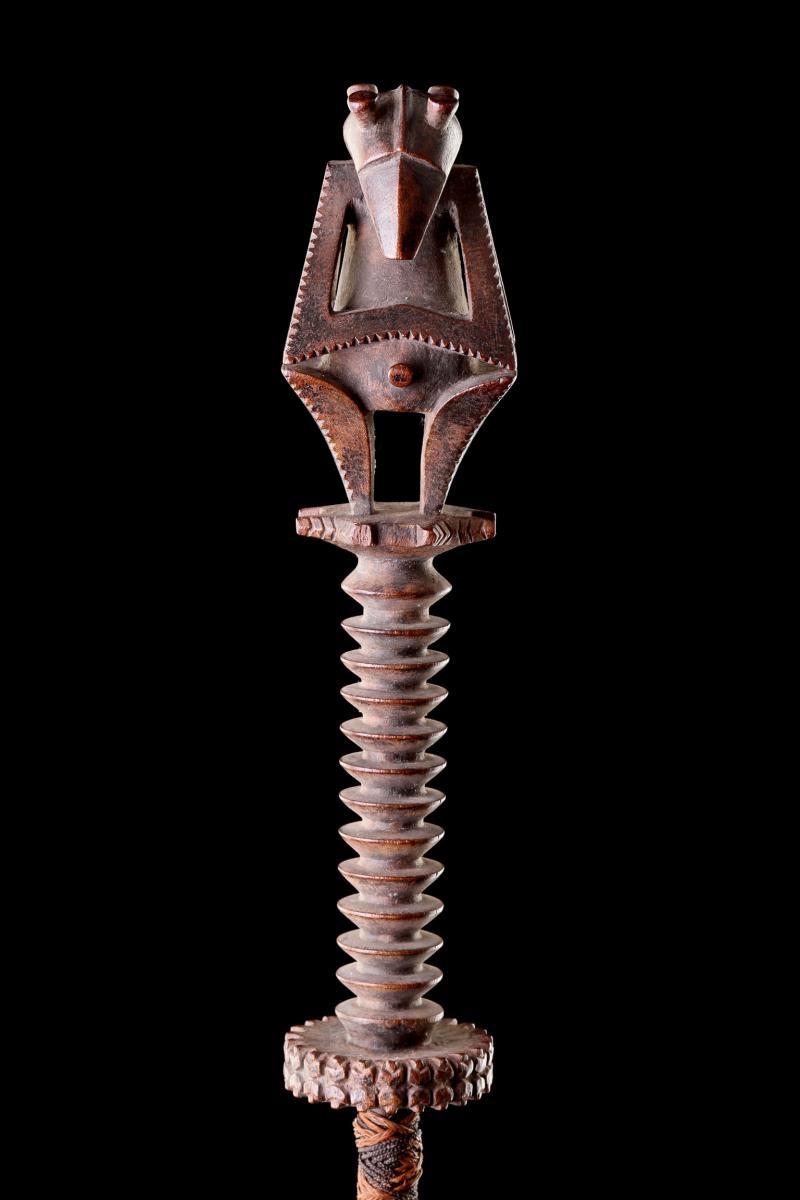 The BADA Standard
Since 1918, BADA has been the leading association for the antiques and fine art trade
Members are elected for their knowledge, integrity and quality of stock
Our clients are protected by BADA's code of conduct
Our dealers' membership is reviewed and renewed annually
Bada.org is a non-profit site: clients deal directly with members and they pay no hidden fees
Click here for more information on the BADA Standard
A Rare Polynesian Austral Islands Chief's Sacred Fly Whisk Handle 'Tahirira'A' from Tubuai Island
With two jugated seated figures carved with remarkable faces and two cylindrical horns like projections on their foreheads possibly representing the ears of the Deity 'Tarianui' – 'great ears' serrated borders to their limbs which sit above a columnar grip terminating in a raised disc engraved with a double frieze of tiny stylised heads probably representing pigs
The decorative shaft ornamented with original plaited coir sennit and human hair binding
The long cocoa nut fibre whisk missing
A small chip to the corner of one leg
Old smooth silky red brown patina
Late 18th Century
Size: 36cm high, 4.5cm wide (max) 4.5cm deep (max) - 14 ins high, 1¾ ins wide (max) 1¾ ins deep
Provenance:
Benjamin Franklin Grouard, Santa Ana, California U.S.A. colleague of Elder Addison Pratt and Joint Founder with Pratt on Tubuai of a Mission for the Mormon Latter Day Saints the Fly Whisk collected by Grouard during his stay on Tubuai 1844 - 1852
Thence by descent to his grand daughter Ms. Stafford of Los Angeles California, U.S.A.
Purchased by Ralph Altman of Altman Antiques, Los Angeles, early 1950's
Ex New York Private collection
cf: 'Robert and Lisa Sainsbury Collection' University of East Anglia (U.E.A. 895)
Peabody Museum Salem Mass USA (E13.216) have comparable examples
The practical function of these intriguing objects was to brush away the numerous irritating flies that existed on the Austral Islands from the backs and shoulders and from a Chief's food. However, it was more importantly a baton denoting high status and rank. Austral Islands fly whisks that were collected and bought back to Europe from Central Polynesia were often previously attributed to Tahiti, the largest of the Society Islands, but it is now almost unanimously agreed that they made in Tubuai or Rurutu Island. It is probable that some examples were acquired in the Society Islands as trade in ritual and ceremonial objects made by Austral craftsmen was well established with the communities on Tahiti.
There are large and small varieties of double figure fly whisks which have twin janus headed figures sitting above a columnar grip. As only smaller and more compact examples were collected by Captain Cook when he discovered Tubuai Island in 1777 it is possible that the larger ones are a local post contact development of the late 18th century.
SOLD: similar examples are required for stock

Dimensions
36cm high, 4.5cm wide (max) 4.5cm deep (max)
Condition report
SOLD: similar examples are always required for stock
The BADA Standard
Since 1918, BADA has been the leading association for the antiques and fine art trade
Members are elected for their knowledge, integrity and quality of stock
Our clients are protected by BADA's code of conduct
Our dealers' membership is reviewed and renewed annually
Bada.org is a non-profit site: clients deal directly with members and they pay no hidden fees
Click here for more information on the BADA Standard