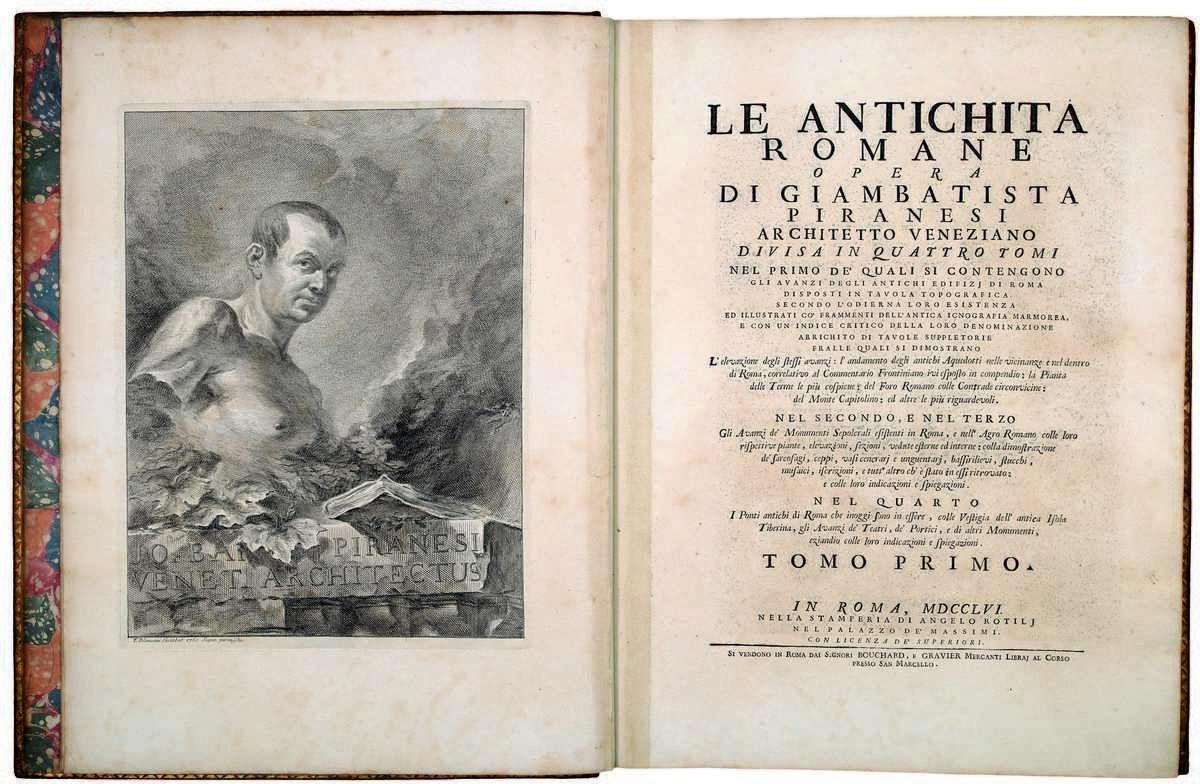 About the dealer
About the object
PIRANESI, Giovanni Battista. Le Antichità Romane.
Rome: Bouchard & Gravier, 1756-7. 4 vols, large folio, contemporary full calf, gilt decorated in compartments, black calf title & volume labels on spines, marbled edges and endpapers. Vol I: pp. [xi]+40+xi+iii+iv+iii+[ii], engraved frontis portrait and 44 numbered plates (6 double-page, one two-sheet map, 7 single page, thirty pages with two plates), with 8 engravings in text. Vol II: pp. 63 numbered plates (one two-sheet folding plate, 46 double-page, 16 single page including title and list of plates. Vol III: 54 numbered plates (one two-sheet folding plate, 46 double-page and 10 single-page, including title). Vol IV: 57 numbered plates (five two-sheet folding, 24 double-page, 28 single page including title and index). Complete.
A fine example of the first edition, second issue, of Piranesi's monumental survey of the antiquities of Rome, with which he established himself as the leading light of the archaeology of Rome. Having spent eight years recording artefacts and buildings, including the the extensive remains of sepulchres, he published this collection of over two hundred plates. About half of the items he recorded are now lost.
According to Piranesi himself only seventy copies of the first issue had been printed before he lost patience with his patron Viscount Charlemont's failure to send funds promised to underwrite the costs of publication. He removed the dedications to each volume, expunged Charlemont's name from the text and added the text of two letters he send to the viscount demanding the promised funds (dated February 1757). He also had the first letter displayed in the Vatican, Barberini and Corsini Libraries in an attempt to embarrass Charlemont to pay, as an ink manuscript note to the letter printed here states. This footnote, composed by Piranesi and probably written by him, also appears in the British Library's example of the Antichità, so perhaps was an addition Piranesi made to every English customer's copies.
Provenance: with the bookplate of Hugh, Duke of Westminster, dated 1884.
Condition report
Some spotting throughout.