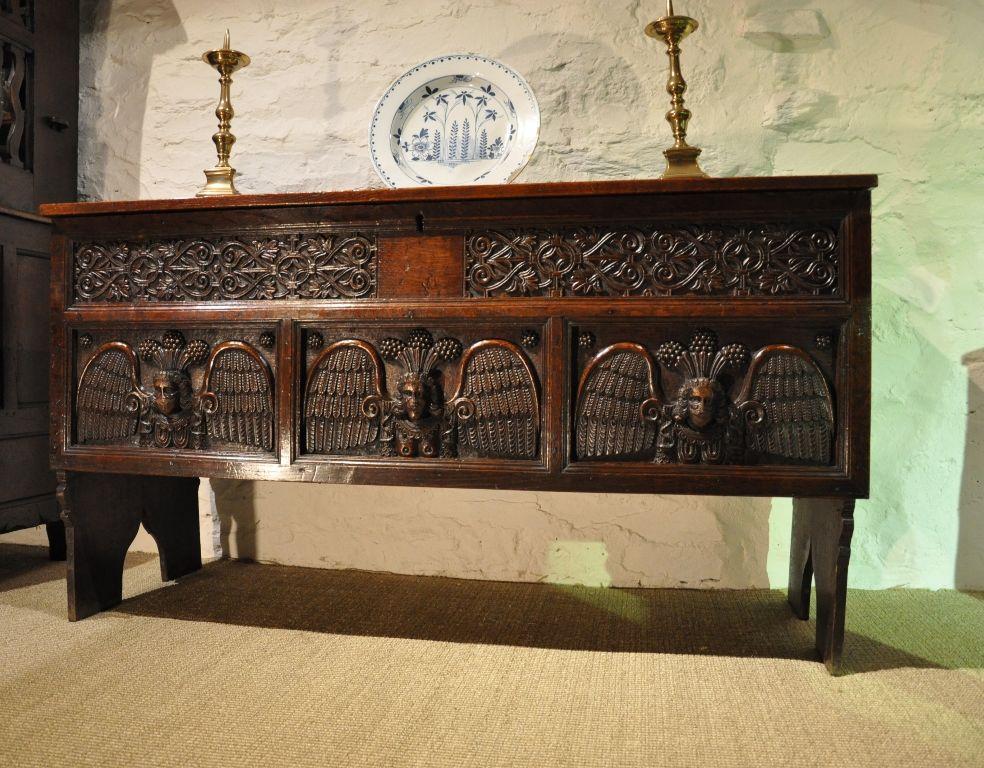 THIS FINE CHEST IS OF EXCEPTIONAL QUALITY AND CARVING. TO THE FRONT IS AN INTRICATELY CARVED FRIEZE WITH INTERLACED STRAP WORK, ABOVE A MOST UNUSUAL CARVED FRONT, EACH PANEL INTRICATELY CARVED WITH ANGELS WITH OUTSPREAD WINGS, THE CENTRAL ONE A FEMALE ANGEL FLANKED BY TWO MALE ANGELS, EACH ANGEL HAS A SERPENT ON EACH SHOULDER. THE OUTSPREAD WINGS ARE AMAZINGLY CARVED WITH GREAT DETAIL, ABOVE EACH HEAD THERE ARE CARVINGS OF GRAPE CLUSTERS.

THE WHOLE CHEST IS CARVED WITH THE HIGHEST QUALITY CARVING.

PRIVATE ENGLISH COLLECTION.

STOCK NO 1836.
Dimensions
Height: 83.8 cms, Width: 154.9 cms, Depth: 59.7 cms
Stock number
STOCK NO 1836.
Open any time by prior appointment. Please telephone first.