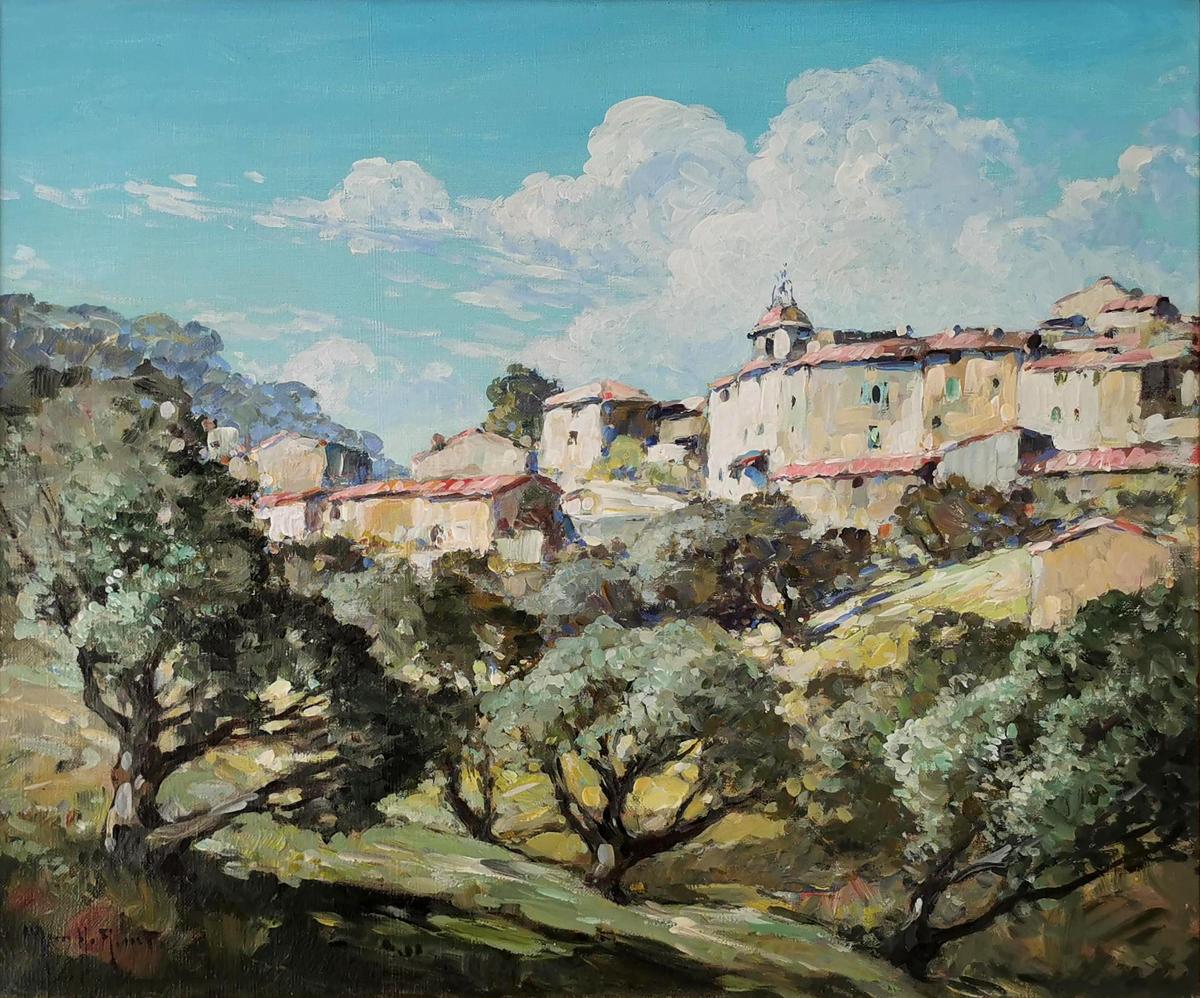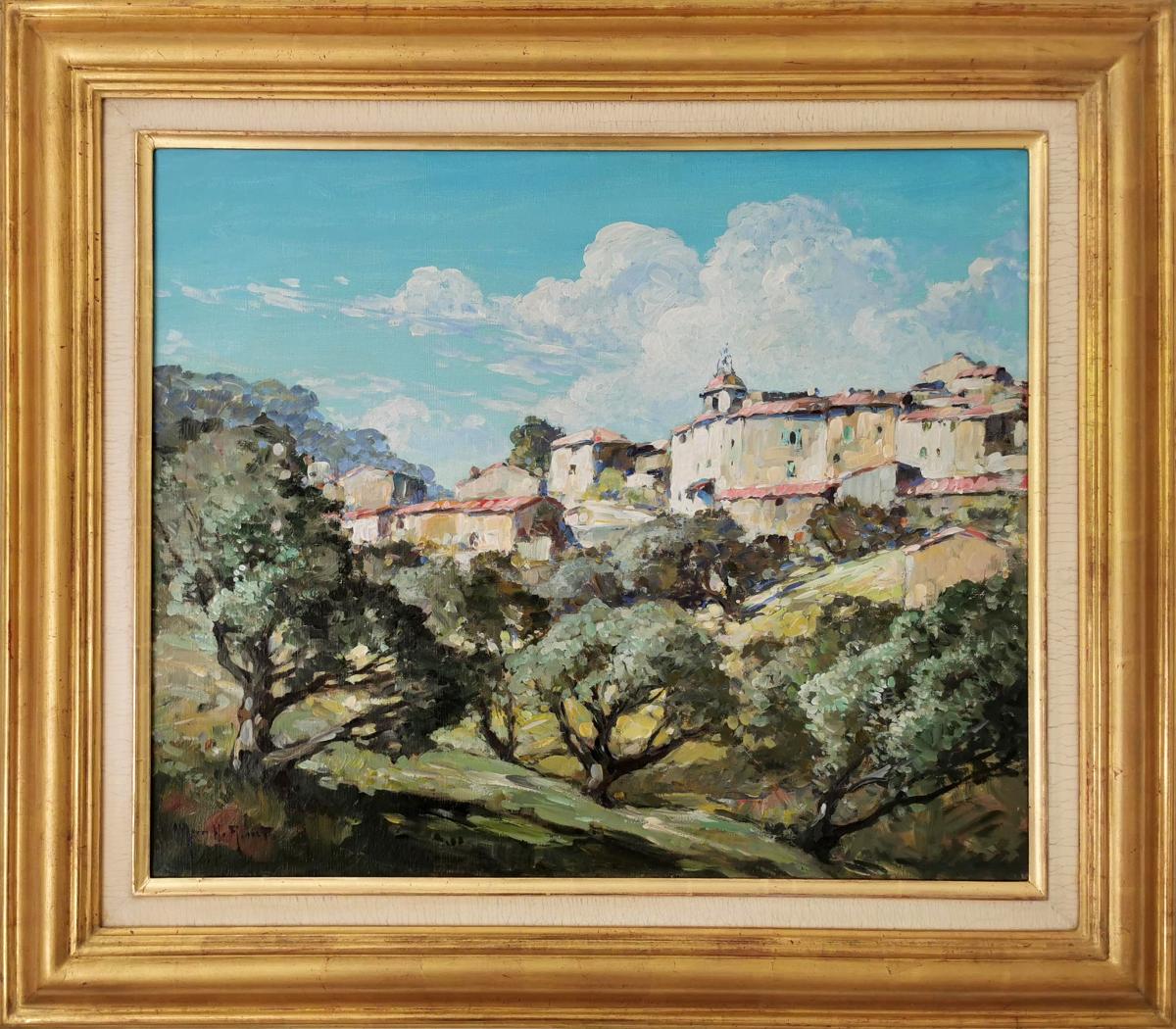 Price on application
The BADA Standard
Since 1918, BADA has been the leading association for the antiques and fine art trade
Members are elected for their knowledge, integrity and quality of stock
Our clients are protected by BADA's code of conduct
Our dealers' membership is reviewed and renewed annually
Bada.org is a non-profit site: clients deal directly with members and they pay no hidden fees
Click here for more information on the BADA Standard
Ramatuelle, Prés St. Tropez
Oil on canvas: 44 cm x 52 cm
Framed size: 64 cm x 72 cm
Signed
by Marius Hubert-Robert (French, 1885-1966)
Marius Hubert-Robert was born in Paris in 1885. He came from a long line of successful artists. He was the great-great nephew of the illustrious 18th century artist Hubert Robert, who was so closely identified with the images of majestic architectural decay that he acquired the nickname Robert des Ruines, his great-grandfather was the artist Jean-Francois Robert (1778 - 1855) and his grandfather was Alphonse Robert (1807 - 1880), whose patron was Louis Philippe 1st of France.
Marius Hubert-Robert was assigned to the 10th. Division of the French army during World War I as a war artist, at the end of which he donated two paintings to the Musée de Luxenbourg in Paris. He exhibited in Paris during his career with Artistes Français, and at the Salon d' Hiver, the Salon des Independents, the Salon des Peintres Francais and the Société Nouvelle des Beaux Arts.
He also had many one man exhibitions both in Paris and worldwide. At the Galerie Charpentier he had three consecutive exhibitions in 1926, 1928, and 1931, all covering his extensive travels in Canada, North Africa and the Mediterranean respectively, He exhibited extensively in the USA and Canada, and also held exhibitions in Brazil, Argentina, Switzerland, Greece, Germany and Algeria. His worldwide travels and subsequent exhibitions were enabled by a ten year long patronage by the Astor family, during which he travelled to the USA, Canada, North Africa (Morocco and Egypt), Greece and Indochina.
His paintings were purchased over the years both by prominent individuals such as Queen Mary (who purchased three), King Albert of Belgium, King Alfonso XIII of Spain and the French President Alexandre Millerand (1920-24) and by many public institutions. These included the French State, the Ville de Paris, Musee de la Guerre and Musée des Invalides in Paris. In addition, Marius Hubert-Robert's paintings are held in four museums in the USA, and one in Argentina.
Marius Hubert-Robert was also very well known for his numerous illustrations for travel books written by a variety of authors, and his contributions to the French magazine L'Illustration between 1930-1938.
Marius Hubert-Robert died in Nice in 1966. Like his long line of artist forebears he enjoyed a long career of great success and popularity.
The BADA Standard
Since 1918, BADA has been the leading association for the antiques and fine art trade
Members are elected for their knowledge, integrity and quality of stock
Our clients are protected by BADA's code of conduct
Our dealers' membership is reviewed and renewed annually
Bada.org is a non-profit site: clients deal directly with members and they pay no hidden fees
Click here for more information on the BADA Standard