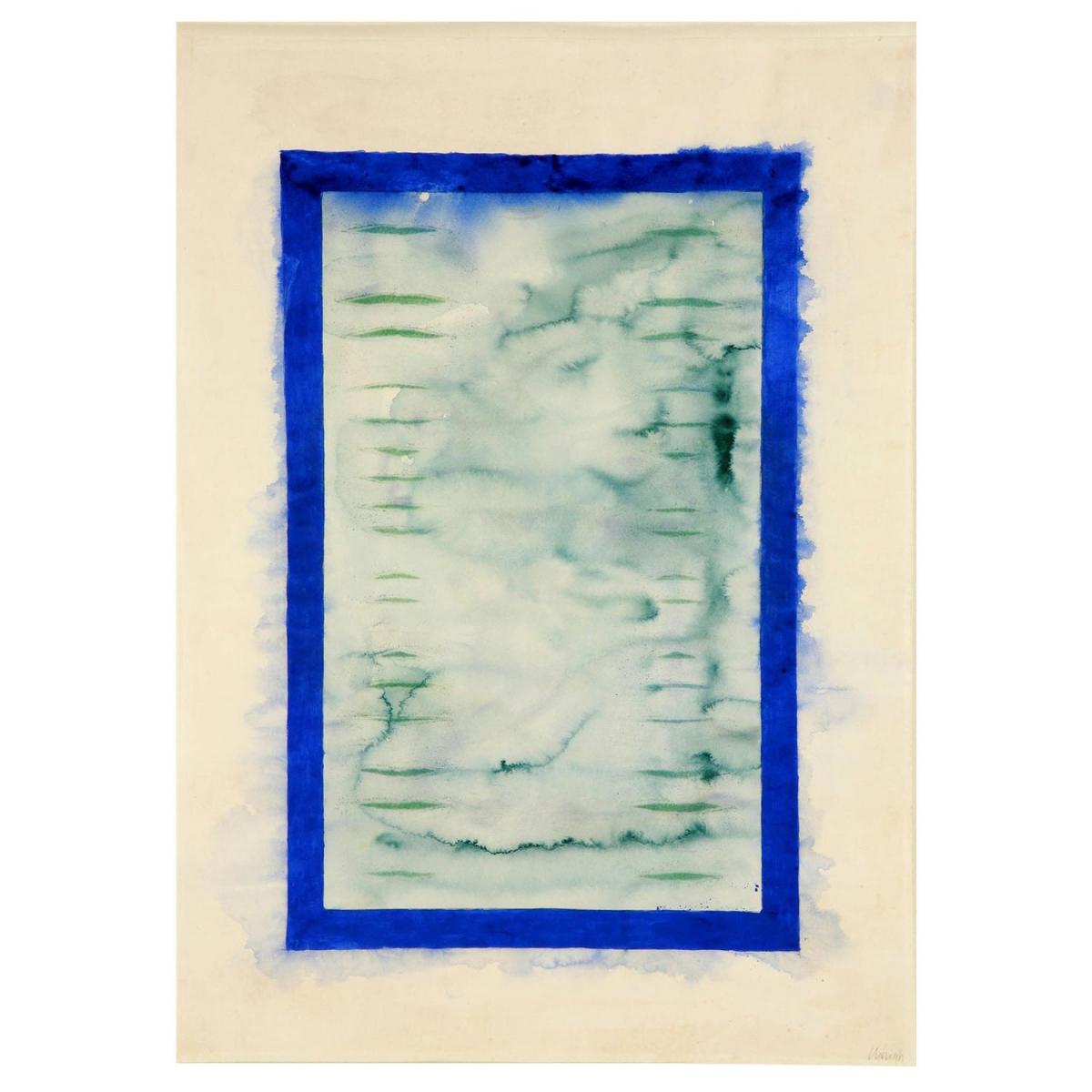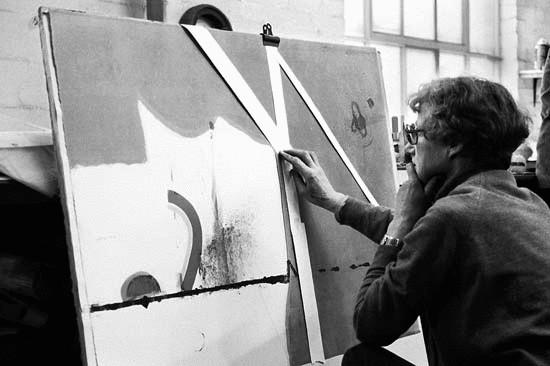 Price
£7200.00
The BADA Standard
Since 1918, BADA has been the leading association for the antiques and fine art trade
Members are elected for their knowledge, integrity and quality of stock
Our clients are protected by BADA's code of conduct
Our dealers' membership is reviewed and renewed annually
Bada.org is a non-profit site: clients deal directly with members and they pay no hidden fees
Click here for more information on the BADA Standard
Prunella Clough (1919-1999)
Enclosure, 1973.
Signed. Watercolour. 1973
Label verso, signed, titled and dated
Sheet height 48cm., 18.7/8in., Length 35cm., 13 3/4in.,
Floated in a white Cornish box frame.
Frame Height 64 cm., 25 in., Length 49.5 cm., 19½ in.

This was executed during the period which saw Clough's work subjected to a process of reduction. The visual cues from the observed world, while still present, become increasingly oblique and enigmatic. She had a one man show at the New Art Centre in 1973 at which this work might have been shown.

Although critically acclaimed as one of the most interesting British artists of the postwar period and highly respected among her peers, Clough is not well-known amongst the wider public.
She devoted her career to finding beauty in unconsidered aspects of the urban and industrial landscape. Clough's preoccupation with abstract, formal qualities such as composition, colour and texture, which is foregrounded in her later works, also underpinned her earlier, figurative work.

Born in Chelsea, she was the daughter of Eric Clough-Taylor, a published poet. At Chelsea Art School from 1938, she was taught by Ceri Richards, Julian Trevelyan, Robert Medley and Henry Moore. She studied commercial graphic design and sought advice from Graham Sutherland when he came in to use the etching press.

During the second world war, Clough drew charts, maps and graphs for the office of war information (US), bicycling to an office in the basement of Selfridge's. By 1945 she was exhibiting small still-lifes and landscapes at the Redfern gallery, and presented her first solo show at the Leger gallery two years later.
She found her subjects by touring the industrial wastelands and bombsites - docks, power stations, factories, scrapyards - for gritty urban paintings. Slowly she focused on the components of the cityscape (literally the nuts and bolts of the picture) as her art floated towards abstraction.
But her paintings, drawings and prints never quite lost the shadowy shapes of the recognisable world, as if reality were being placed under a microscope.

From 1946 to 1951 Clough produced etchings, lithographs and paintings of fishermen and dockers in London, East Anglia and the industrial Midlands.
During the 1950s, preoccupied with the potential for abstraction in flatness of form, she introduced plant motifs into her urban scenes. Her work was shown at the 1951 Festival of Britain.

Clough was drawn to the Soho pub and club circuit, and, in a 1949 article in Picture Post magazine, was named, among several friends, as a young artist to watch - the others being the Roberts (Colquhoun and MacBryde), Patrick Heron, Leonard Rosoman, Keith Vaughan and John Minton.
She was then unfairly bracketed with the neo-romantic movement, when the real link here was social rather than artistic. Her art resisted the allusive and illustrative image, and she owed far more to Braque than to Samuel Palmer.

And yet, in her very distinctive handling of paint (stencilling, spraying, blending and blurring, scraping and scratching out - never repeating and never revealing any clues of technique), and in her delight in the visual evidence all around her, she managed to convey the fabric and the feel of urban life in general and her native London in particular.
Into a basic palette of browns, greys and ochre, there might be an iridescent flash of red and green, bringing to mind a plastic bag blowing in a gutter.

Like all great artists, Clough made us look at the world in a new way. A decade ago Patrick Heron wrote: "Her paintings are machines for seeing with. It is impossible, after contemplation of them, to be aware of the street, the yard, the facade, as existing in any formal patterns other than those one's eyes have just enjoyed savouring, as one's gaze crossed and recrossed the endlessly subtle surfaces of her canvases."

After a retrospective at Bryan Robertson's Whitechapel gallery in 1960, Clough exhibited widely - latterly with Annely Juda Fine Art - but she gently rebuffed biographers (destroying personal papers, as had her aunt, the architect and designer Eileen Gray, who had been a mentor and ally) and rejected major overviews of her career.

Towards the end of her life she became regarded largely as an abstractionist, but her work always retained a figurative base, as if form had been filtered through memory. In the late 1960s Clough's style became even freer in terms of colour and scale, but it still revealed her continuing fascination with the 'edginess' of form, the sudden intrusion of hard shapes into softer areas. Later pictures describe colourful objects in shallow space with playful tonal gradations that suggest movement.

Moves for a retrospective at the Tate received no encouragement from the artist, but she did allow substantial surveys at the Camden arts centre (1996) and Kettle's Yard, Cambridge (1999). For the former, Clough asked Judith Collins to pen only a short text - "anything you don't write, we can fill in with drawings". In Cambridge, she advised Michael Harrison not to bother with a catalogue (guidance which, thankfully, was ignored).

Prunella Clough toiled hard to erase what she saw as unnecessary elegance in her art - a characteristic which she believed had ruled out wider international recognition - and, in this, she never entirely succeeded. Somehow, every mark she made on paper or canvas appeared beautiful.
Teaching at Chelsea and then, for more than 30 years, at Wimbledon school of art, she was painting - still stretching her own canvases - and printing almost to the end. One of her last acts was to give the prize money from the 1999 Jerwood award to other artists, adding to earlier scholarships she had instituted anonymously. Prunella Clough died on December 26th 1999.

PRUNELLA CLOUGH

• 1919 Born in Chelsea, London. Her father worked for the Board of Trade and her aunt was the architect designer Eileen Gray.

• 1937 Attended Chelsea School of Art (part-time). Studied design, life drawing and sculpture (where Henry Moore was a tutor).

• 1939-45 Worked in Office of War Information (USA) drawing charts and maps and working on magazine layouts.

• 1946-49 Studied with Victor Pasmore at Camberwell School of Art (part-time). Visited various fishing ports in East Anglia including Lowestoft.

• 1950s Was part of the group which included Michael Ayrton, Keith Vaughan, John Croxton and the poet Dylan Thomas that met in the Camden Hill Studio, which John Minton shared with Robert MacBryde and Robert Colquhoun. Work included in the 60 Paintings for '51 Festival of Britain exhibition and the first Sao Paulo Biennale.

• 1956-69 Taught part-time at Chelsea School of Art.

• 1966-97 Taught part-time at Wimbledon School of Art.

• 1999 Awarded Jerwood Painting Prize. Died 26 December in London.
• Solo Exhibitions
• 1947 Leger Gallery, London

• 1949 Roland Browse and Delbanco, London

• 1953 Leicester Galleries, London

• 1960 Whitechapel Gallery, London

• 1964 Grosvenor Gallery, London

• 1967 Grosvenor Gallery, London

• 1972 Graves Art Gallery, Sheffield

• 1973 New Art Centre, London

• 1975 New Art Centre, London, Park Square Gallery, Leeds

• 1976 New Art Centre, London, Serpentine Gallery, London, National
• Gallery of Modern Art, Edinburgh

• 1979 New Art Centre, London

• 1982 New Art Centre, London,
• Fitzwilliam Museum, Cambridge,
• Warwick Art Trust, London

• 1985 Imperial College Consort Gallery, London

• 1989 Annely Juda Fine Art, London

• 1992 Annely Juda Fine Art, London, Flowers Graphics, London

• 1992-3 Art Collection, Arthur Anderson, London

• 1993 Annely Juda Fine Art, London

• 1996 Camden Arts Centre, London travelling to Oriel 31, Newtown Powys, Wales, The Customs House Gallery, South Shields

• 1997-8 Henie Onstad Kunstsenter, Hovikodden, Norway

• 1998 Annely Juda Fine Art, London

• 1999 Kettle's Yard, Cambridge Graves Art Gallery, Sheffield

• 1999-2001 Prunella Clough Spotlight, Arts Council exhibition, University of Essex, Colchester; touring to Muni Arts Centre, Pontypridd (2000); The Glynn Vivian Art Gallery; Peter Scott Gallery, Lancaster; Ropewalk Contemporary Art Centre; Plymouth City Art Gallery; Ruthin Gallery (2001), Buckley Library; Denbigh Museum and Art Gallery; Gainsborough's House, Sudbury

• 2000 Annely Juda Fine Art, London

• 2003 Annely Juda Fine Art, London


GROUP EXHIBITIONS

• 1947 The London Group, RBA Galleries, London Homestead Exhibition, Southwold; Young British Artists: selected by Bernard Denvir, Heal's Mansard Gallery, London Summer Exhibition, Redfern Gallery, London

• 1948 Nineteenth and Twentieth Century Women Painters and Sculptors, RBA Galleries, London; Names to Remember, Roland Browse and Delbanco, London; Young Pointers Working in Britain, A.I.A. Gallery, London

• 1949 Paintings and Drawings by London Artists, selected by Leonard Rosoman, International House, Edinburgh; Artists of Fame and Promise, Roland Browse and Delbanco, London

• 1950 Pittsburgh International, Carnegie Institute, Pittsburgh, USA; The London Group, New Burlington Galleries, London; A Private Collection, York City Art; Gallery Scenes de Ballet by Contemporary Artists, Wildenstein, London; Painters Progress, Whitechapel Art Gallery, London;
• Summer Exhibition, Redfern Gallery, London; Summer Exhibition, RBA Galleries, London; Artists of Fame and Promise, Leicester Galleries, London; Summer Exhibition, Gimpel Fils, London; 20th-Century British Painters, Lefevre Gallery; Cross Section of Drawings and Watercolours, Roland Browse and Delbanco, London

• 1951 Exhibition of Drawing, Redfern Gallery, London; 60 paintings for '51, RBA Galleries, London; First anthology of British Painting 1925-50, organised by the Arts Council, London and Manchester; I Bienal at the Museo de Arte Moderne, Sao Paulo; Young Contemporaries, RBA Galleries, London; New Year Exhibition, Leicester Galleries, London; British Painting, New Burlington Galleries, London; Artists of Fame and Promise, Leicester Galleries, London

• 1952 Four Contemporaries, Heffer's Gallery, London; Artists of Fame and Promise, Leicester Galleries, London

• 1953 Summer Exhibition, Roland Browse and Delbanco, London; New Year Exhibition, Leicester Galleries, London; London Group Show, New Burlington Galleries, London

• 1954 Figures in their Setting, Contemporary Art Society, Tate Gallery, London; British painting and Sculpture, Whitechapel Art Gallery, London

• 1955 Artists of Fame and Promise, Leicester Galleries, London

• 1956 Vision and Reality, Wakefield City Art Gallery; Artists of Fame and Promise, Leicester Galleries, London; Mostra Internationale di Bianco e Nero, Lugano

• 1957 A.I.A. Gallery, exhibition with AdrianHeath, London

• 1960 The Guggenheim Foundation International Award, RWS Galleries, London

• 1963 First Image, Grosvenor Gallery, London

• 1965 Hambledon Gallery, Blandford

• 1966 The Whitworth Art Gallery, Manchester; Museum of Modern Art, Oxford

• 1967 The Arnolfini Gallery, Bristol

• 1968 The Frederick Wright Gallery, UCLA, Berkeley, California

• 1969 Tib Lane Gallery, Manchester

• 1971 Bear Lane Gallery, Oxford

• 1972 Bruton Gallery, Somerset

• 1974 Desborough Gallery, Perth, Australia; British Painting, Hayward Gallery, London

• 1975 Eton College; Park Square Gallery, Leeds; Sunderland Arts Centre

• 1977 Monika Kinley, London; Peter Millard, Saskatoon, Canada; British Art 1952-1977, Royal Academy, London

• 1978 Liverpool Academy of Art

• 1979 Imperial College Consort Gallery, London

• 1981 Artspace Galleries, Aberdeen

• 1982-3 Ikon Gallery, Birmingham and tour

• 1984 Studio ODD, Hiroshima, Japan

• 1985 Imperial College Consort Gallery, London

• 1988 Albemarle Gallery, London

• 1989 Monoprints, Flowers East, London

• 1991 The Discerning Eye, The Mall Galleries, London and tour

• 1992 Drawing from the Imagination, Morley Gallery, London; British Abstract Painting, Adelson Galleries Inc., New York

• 1993 New Beginnings. Postwar British Art from the Collection of Ken Powell, toured Edinburgh, Sheffield and London

• 1994 British Abstraction, Flowers East, London

• 1995 British Abstract Art Part I: Paintings, Flowers East at London Fields, London

• 1995-6 Natural Forces, Reed's Wharf Gallery, London

• 1996 British Abstract Art Part III: Works on Paper, Flowers East at London Fields, London; The Print Show 1996, Flowers Graphics, London

• 1997 Aldeburgh Festival 50th Anniversary; Print, Riverside Studios, London; The Print Show 1997, Flowers Graphics, London

• 1998 The Print Show 1998, Flowers Graphics, London

• 1999 New Prints and Publications, Flowers Graphics, London; Contemporary British Landscape, Flowers East, London; The Print Show 1999, Flowers Graphics, London; White Out, Gallery Fine, London

Dimensions
35.00cm wide (13.78 inches wide), 48.00cm high (18.90 inches high)
The BADA Standard
Since 1918, BADA has been the leading association for the antiques and fine art trade
Members are elected for their knowledge, integrity and quality of stock
Our clients are protected by BADA's code of conduct
Our dealers' membership is reviewed and renewed annually
Bada.org is a non-profit site: clients deal directly with members and they pay no hidden fees
Click here for more information on the BADA Standard