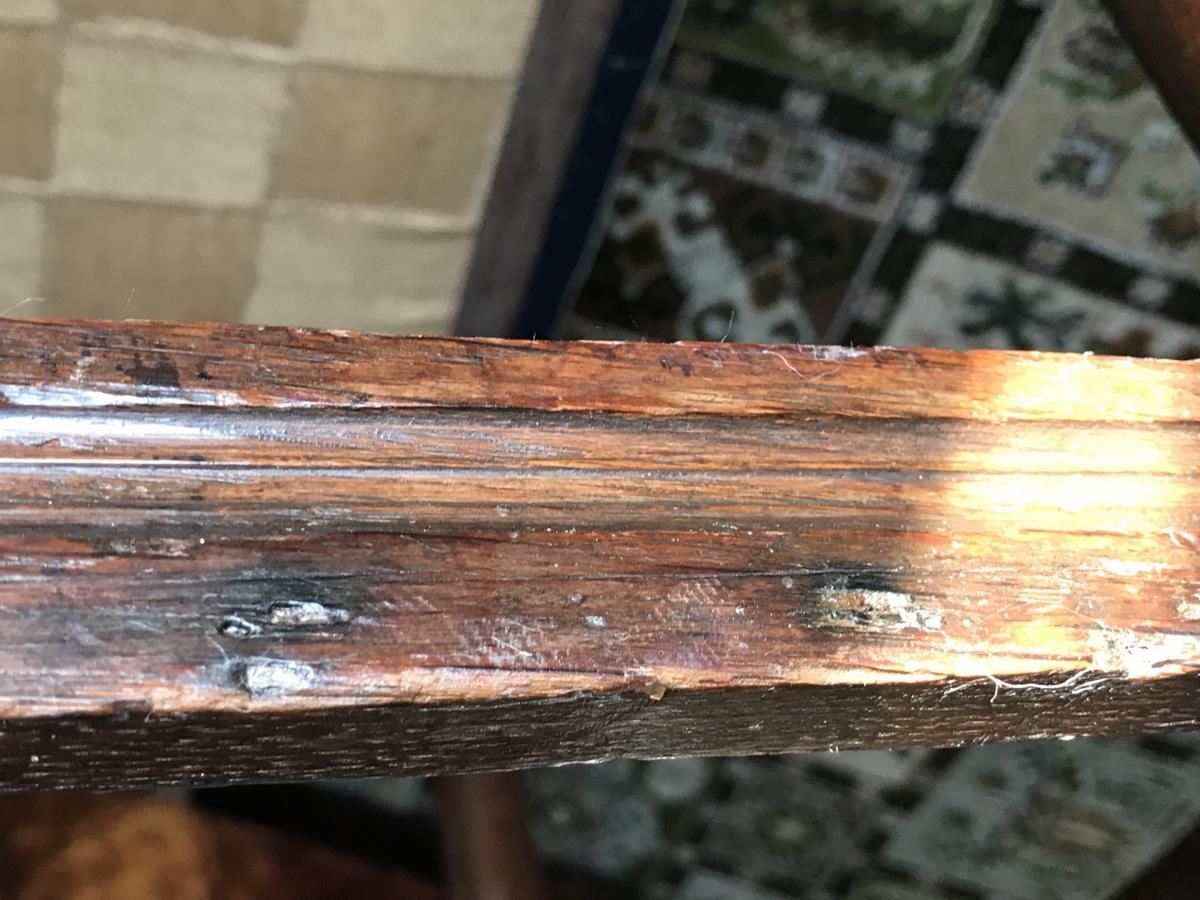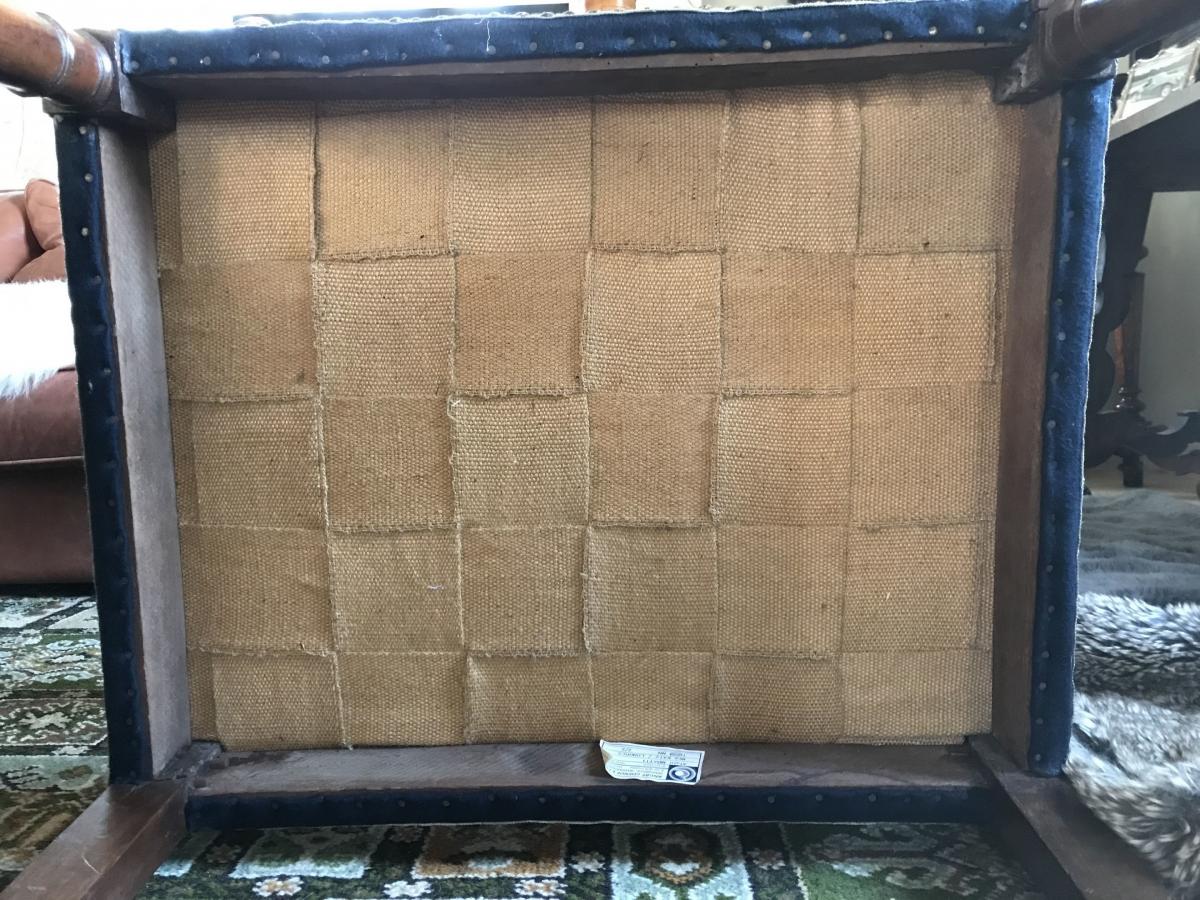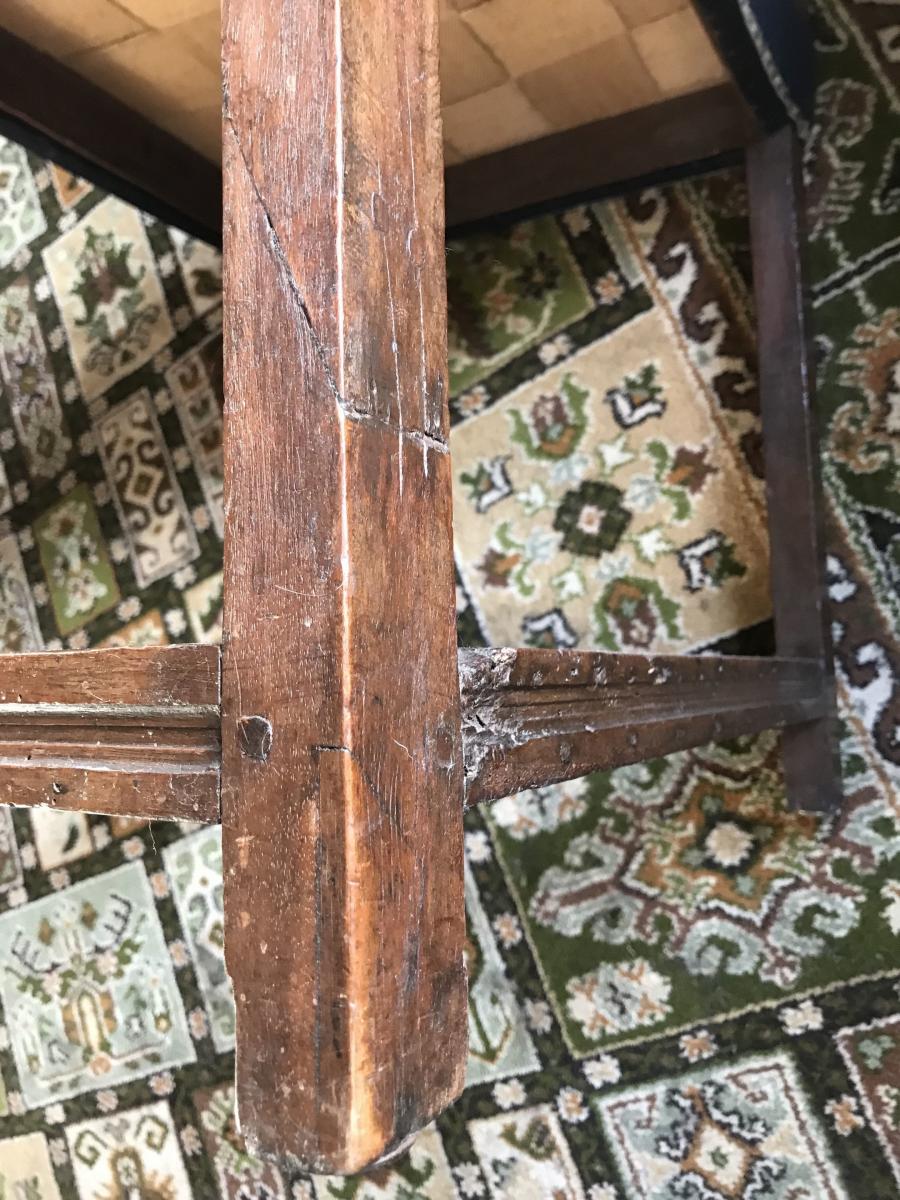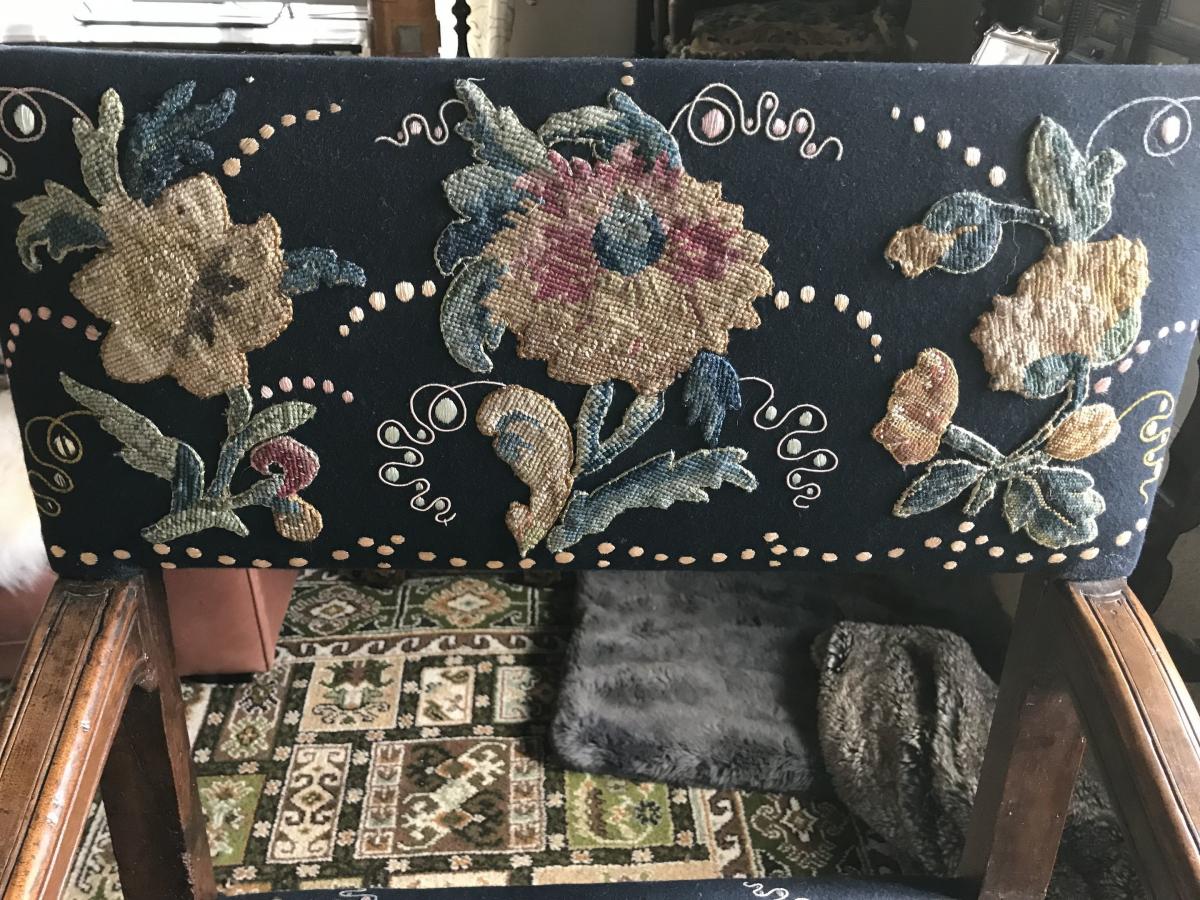 Price
£13500.00
The BADA Standard
Since 1918, BADA has been the leading association for the antiques and fine art trade
Members are elected for their knowledge, integrity and quality of stock
Our clients are protected by BADA's code of conduct
Our dealers' membership is reviewed and renewed annually
Bada.org is a non-profit site: clients deal directly with members and they pay no hidden fees
Click here for more information on the BADA Standard
Pair of Late 16th Century French walnut armchairs.
1550 to 1600 France
This rare pair of upholstered open armchairs relate to examples in museum collections in France, the USA and the UK. Few pieces of Renaissance furniture featuring ram's head motif arm terminals survive as the chairs would have been in the ownership of the elite symbolising leadership and authority. The condition of these armchairs reflects their age and use and they have a rich colour and lustrous patina.

The form of these chairs is characteristic of a stereotypical Renaissance model. The upholstered section of the backs are upholstered in wool with applied 17th century floral needlework faced with gilded studs and supported by square section uprights. The channelled tablet and stylised rosette incised curved arms terminate in acanthus capped carved rams' masks and are supported by column turned uprights headed by an entrelac collar. The ram is a symbol of leadership and authority and it also determination, action, initiative, and Aries, the first sign of the Zodiac. The seats are upholstered in wool with applied 17th century needlework faced with gilded studs and supported by tapering column/ring turned front legs and square section back legs. Some of the stretchers with moulded detailing. Standing on front ball feet. Exceptional original colour and patina. Henri II 1550-60.

CONDITION : The chairs are both sturdy with exceptional colour and patina. One armchair with a splice on the rhs back leg and replaced but period front and lhs stretcher both bearing old nail marks, two other replaced stretchers and the back uprights bearing old nail marks indicating that they were upholstered at some point. The other armchair with an old repair to a break in the right back leg and an old patch near the end of the leg, replaced but period back and lhs stretcher, small patch to bottom of lhs arm where it meets the support. Old worm marks and some losses. Considering the age of the armchairs, these repairs and replacements are not unusual and consistent with the repairs on the related armchairs in museum collections. They suggest that the chairs either fell backwards at some point or someone leant back while sitting in them.
RELATED TO :
There are comparable armchairs in international museum collections dated to the second half of the 16th century. Most share the following characteristics with the above pair, the form, the ram's mask carved to the end of each arm, the curvilinear outline of the arm rests, the ring turned front legs as well as the plain square section back legs and plain stretchers.

1. Two stained glass windows at Cothele demonstrate early use of the ram's head motif in England
a. Date circa 1493 - circa 1520
b. NT 348896.3 & NT 348896.4

2. The Frick Collection, Upholstered Armchair with Ram's-Head Terminals, French, Sixteenth Century, Accession number: 1916.5.89, illustrated in D. Dubon and T. Dell, Furniture in the Frick Collection, Vol. V, 1992, New York, pp.'s 178-83.
a. Date: 16th and 19th century
b. Medium: Walnut, pine, ebony and other wood, upholstered with velvet, braid and fringe
c. Dimensions: 41 x 21 5/8 x 23 1/4 in. (104.1 x 54.9 x 59.1 cm)
d. Credit Line: Henry Clay Frick Bequest

3. Frick Collection, Upholstered Armchair with Ram's-Head Terminals, French, Sixteenth Century, illustrated in D. Dubon and T. Dell, Furniture in the Frick Collection, Vol. V, 1992, New York, pp.'s 178-83.
a. Accession number: 1965.5.152
b. Date: 16th and 19th century
c. Dimensions: 41 1/2 × 20 5/8 × 23 1/4 in. (105.4 × 52.4 × 59.1 cm)
d. Credit Line: Bequest of Childs Frick, 1965

4. Cinquantenaire museum, Brussels, Collection Sculptures and Furniture,
a. Inventory number3147
b. Armchair, Chaise de commode
c. Date : France, Date1501 / 1550
d. Walnut, leather, velvet
e. Dimensions : Height: 130 cm, Width: 57,5 cm, Depth: 51 cm
f. Owner : Musées royaux d'art et d'histoire/Koninklijke Musea voor Kunst en Geschiedenis
g. Requested image 10/01/19

5. Musee du Louvre, Caquetoire, don Davillie, noyer, illustrated in Jacques Thirion p144
a. 2e moitie du XVI siecle
b. OA 3120)

6. Museum fur Kunsthandwert, Francfort-sur Main, Caquetoire, noyer, illustrated in Jacques Thirion p144
a. 2e moitie du XVI siècle

7. Pair of chairs with a Chilham Castle provenance
a. Offered by Galerie Liova – Marc Perpitch in 2014
b. Image requested

8. The Musee des Arts Decoratifs
a. Inventory Number PE1225
b. Date : described as 1575-1600 on the label
c. Lacks the tetes de belier
d. Requested image

9. V&A Museum
a. Armchair
b. France (made)
c. Date: late 16th century (made)
d. Walnut, carved and turned
e. Museum number: W.115-1937
f. Dimensions
g. Height: 110.5 cm, Width: 57.5 cm, Depth: 50 cm

10. Le château d'Écouen, Musee National de la Renaissance
a. Similar, also without upholstery, and with a different style of carved back.
b. Requested image

11. Le Mobilier Francais du Moyen Age a la Renaissance, Jaqueline Boccador
a. "Certaines de ces chaires a bras de plus grand raffinement et devenue tres rare sont dites a 'tetes de beliers'. En effet, les bouts d'accotoirs ou nez sont sculptes dans le prolongement de celui-ci et toujours dans le meme morceau de bois, de tetes de belier, le plus souvent de grande qualite".
b. Boccador illustrates three related chairs 235, 236 238 from private collections

12. There will be other analogies in French regional collections, but it is not easy to locate them.

13. A pair of gesso and gilt open upholstered armchairs at Knole Park
a. Date circa 1672
b. NT129527

14. The ram's head motif more commonly found painted on shields on the backs of hall chairs:
a. Montacute House, long set of eighteen, circa 1720, NT 2900077
b. Seaton Delaval Hall, three chairs, circa 1720 NT 1276666

15. An open armchair at Nymans
a. Date circa 1880
b. NT1205843

16. The ram's head is a carved or sculptured decoration found in Greek and Roman art

17. The ram's head was revived as a decorative motive in the 18th century furniture and extensively used by Robert Adam in mask form in the 18th century
a. Three benches in the entrance hall at Osterley, unattributed, circa 1760, NT 771724
b. Candlestand ca. 1771-1774 (made) Adam, Robert, born 1728 - died 1792 (designer)
c. Materials and Techniques, VAM, W.36A-1946. Three designs for candelabra for the Eating Room of 20 St James's Square are included in Adam's volumes of designs, housed in the Soane Museum, London. Two of them (vol. 6, nos 53 and 54) are dated 26 April 1777 and inscribed for Sir Watkin Williams-Wynn. The third (vol. 6, no. 49) is neither dated nor inscribed but most closely resembles the executed object.

18. There was another revival of the ram's head motif in the 19th century furniture inspired by neo-classical style

LITERATURE
• D. Dubon and T. Dell, Furniture in the Frick Collection, Vol. V, 1992, New York.
• Jacques Thirion. Le Mobilier du Moyen Age et de la Renaissance en France, Editions Faton, 1998
• D. Dubon and T. Dell, Furniture in the Frick Collection, Vol. V, 1992, New York
• Jacqueline Boccador, Le Mobilier Francais du Moyen Age a la Renaissance, Editions d'Art, Monelle Hayot

RAM'S HEAD SYMBOLISM IN ANTIQUITY
The Ram was revered by the Persians and sacred to the Egyptians as a symbol of life, dominion and stability. It is also said to represent leadership and authority. The symbolism of the Ram has great antiquity. The cult of the Ram flourished in the Middle East beginning about 2000 BC. For example, the chief god of Upper Egypt was Amon, a highly spiritual deity whose name means "occult" or "hidden."He was originally represented as having the head of a Ram and was worshiped in Roman times as Jupiter Ammon. Isaiah prophesied that the Rams returning to Israel with God's scattered children would joyfully offer themselves upon the altars of the Millennial Temple. The most famous Ram in the Old Testament is the one Abraham found trapped by its horns in a thicket on Mount Moriah where he had gone to sacrifice his only son Isaac. [Gen 22: 1-14] An angel stopped the hand of Abraham just as he was about to kill his boy and the Ram was sacrificed instead. This story is known as the akedah (binding) and is a reminder of the obedience of the patriarchs.

In antiquity symbolic imagery of the ram was used to evoke power and strength, such as the c. 680 BC granite RAM OF AMUN-RE in the Ashmolean Museum (AN1931.553)

The ram was a powerful symbol throughout the ancient world. A ram head figurine was found in the Tsauni Mine in Nigeria. It dates to about 500 BC. The skins of rams dyed red made a covering for the Tent of Meeting (Ex. 26:14). This is the blood covering over Moses as he met with the Almighty.

The Golden Fleece of Chrysomallos, the ram who bore Phrixus to Colchis, where the ram was then sacrificed in accordance with Hermes' love of flesh offerings and hung in a tree guarded by a fearsome serpent. There we meet hybrid beasts of bull headed men, lions with eagle or human heads and endless others who were common deities and demi-deities. The rampant sexuality of men and gods seen in both Classical Greek and Irish tales made for many bizarre offspring. Although Chrysomallos could not save Helle from her fate he did talk to Phrixus, which few rams do, and after his sacrificial death he was put into the heavens as the constellation Aries the ram

A Greek sculpture of a Ram with the Golden Fleece c. 300 B.C. now in the Römisch-Germanischer Museum, Köln. His mouth is open, as if to talk, just as Chrysomallos did in Colchis when it told Phrixus to sacrifice him to Zeus.

There are hidden ram's heads in Michaelangelo's ceiling in the Sistene Chapel which Dr Deivis de Campos, a researcher in human anatomy at the Federal University of Health Sciences in Porto Alegre in Brazil, and eight colleagues argue hid coded messages about pagan notions of female sexuality. "In the exact centre of the Sistine Chapel's ceiling, Michalengelo may have placed a notorious pagan female symbol," they posited in the paper, entitled "The hidden symbols of female anatomy in Michelangelo Buonarroti's ceiling in the Sistine Chapel." The sweeping fresco features eight ram's skulls, complete with horns, which the scholars believe are subversive representations of the female reproductive anatomy. They claim the ram's skulls closely match a woman's uterus and Fallopian tubes. The ram was revered in ancient Egypt in matters of fertility and war. Early gods with long wavy ram horns include Khnum and the equivalent god in Lower Egypt, Banebdjedet, the "Ram Lord of Djedet" (Mendes), who was typically shown with four ram heads to represent the four souls (Ba) of the sun god.[1] Banebdjedet may also be linked to the first four gods to rule over Egypt, Osiris, Geb, Shu and Ra-Atum, with large granite shrines devoted to each in the Mendes sanctuary. The Book of the Heavenly Cow describes the "Ram of Mendes" as being the Ba of Osiris, but this was not an exclusive association.
Provenance
Deaccessioned by The National Galleries of Scotland
Bearing an old transport label from Alain Moatti (French architect) to Mrs Katz, London
Dimensions
Height: 107.00 cm (42.13 inches), Width: 60.00 cm (23.62 inches), Depth: 59.00 cm (23.23 inches)
The BADA Standard
Since 1918, BADA has been the leading association for the antiques and fine art trade
Members are elected for their knowledge, integrity and quality of stock
Our clients are protected by BADA's code of conduct
Our dealers' membership is reviewed and renewed annually
Bada.org is a non-profit site: clients deal directly with members and they pay no hidden fees
Click here for more information on the BADA Standard