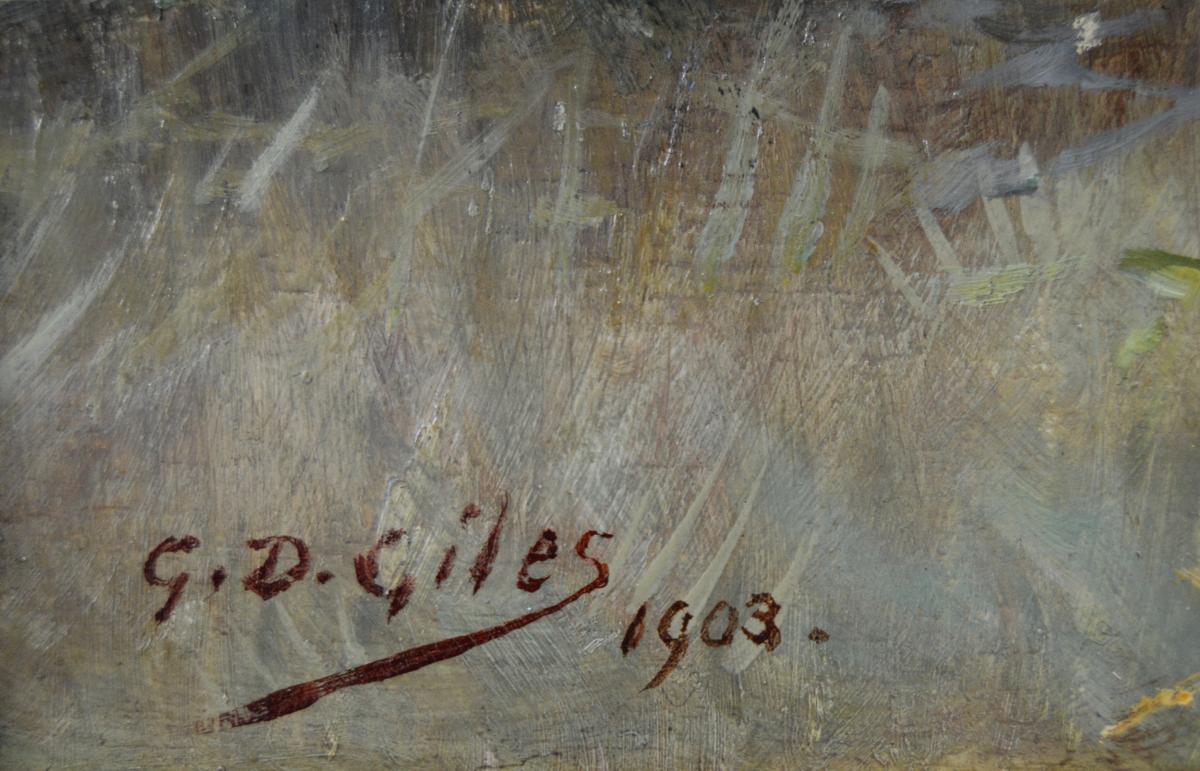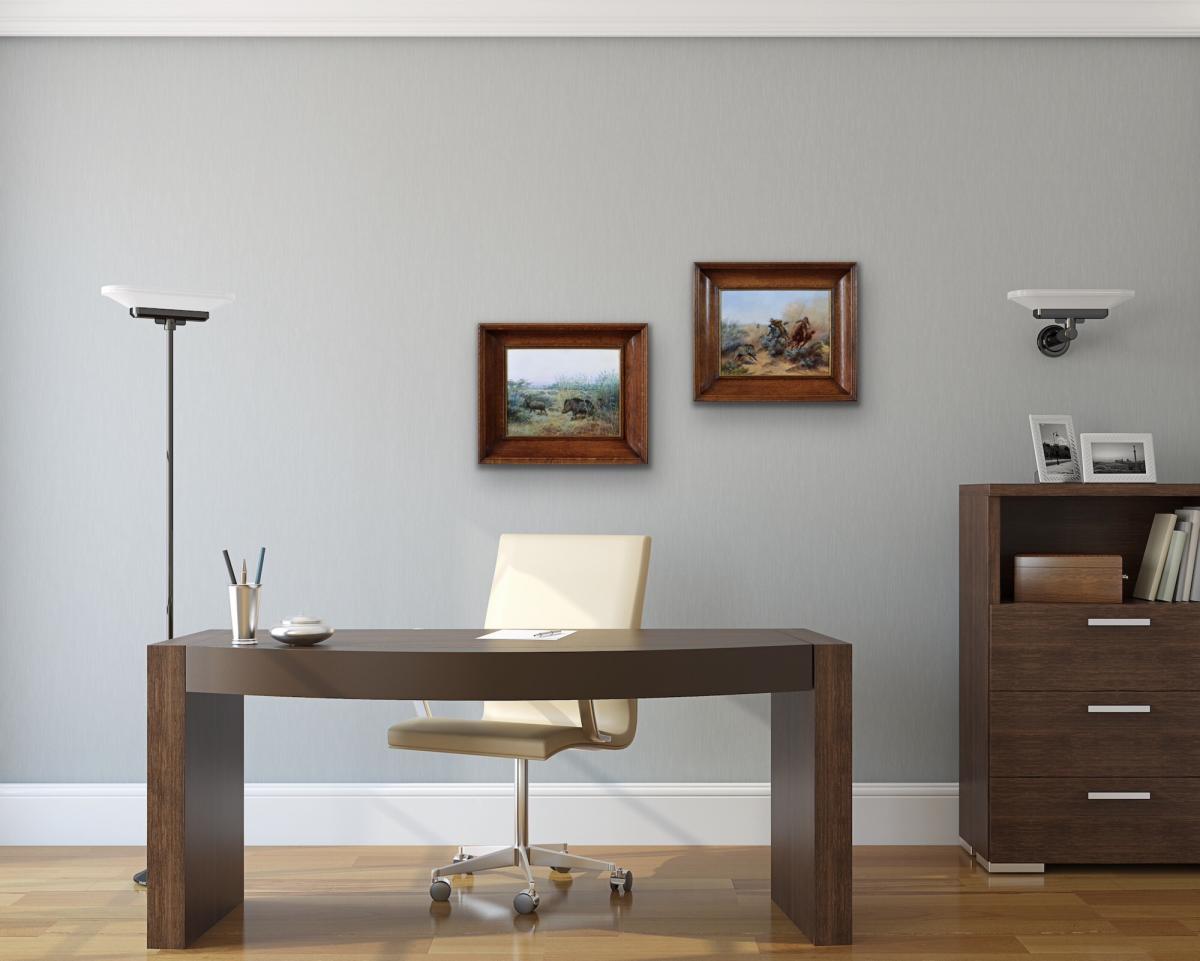 Price
£4900.00
The BADA Standard
Since 1918, BADA has been the leading association for the antiques and fine art trade
Members are elected for their knowledge, integrity and quality of stock
Our clients are protected by BADA's code of conduct
Our dealers' membership is reviewed and renewed annually
Bada.org is a non-profit site: clients deal directly with members and they pay no hidden fees
Click here for more information on the BADA Standard
Godfrey Douglas Giles
British, (1857-1941)
Wild Boar & her Young in an Indian Landscape & Pursuit of a Wild Boar
Oil on panel, pair, both signed & dated 1903

Godfrey Douglas Giles was born in Karachi, Pakistan on 9 November, 1857 to Captain Edward Giles of the Royal Navy and Emily Atkins. His father was stationed in Karachi at the time of his birth and when he was old enough sent his son to boarding school in Cheltenham. Giles later attended the Royal Military College in Sandhurst and after graduating was posted to India in 1875. During his military career he spent time in Sudan, Afghanistan, Egypt and South Africa and attained the rank of Major. Whilst on service he painted a number of battle scenes of not only those he was present at but also ones from details supplied by other soldiers. He also produced a number of caricatures for magazines such as Vanity Fair.
After retiring from the army in 1884, he decided to actively pursue an artistic career and began exhibiting at the Royal Academy that same year. He moved to Paris in 1885 where he studied under Carolus-Duran (1837-1917) and exhibited at the Paris Salon. He also visited Venice to continue his studies and whilst there became friends with Robert Browning. After returning to England he continued exhibiting and worked out of Bolton Studios and Trafalgar Studios in Chelsea, London. He married Alice Evelyn Barclay in Edinburgh on 14 January, 1891 and they lived at Brand Road, Woodhouse in Leicestershire.
By the time his only child, Evelyn, was born in 1896, Giles had moved to Cheveley Road and later Douglas Lodge in Newmarket, Cambridge where he began painting horses and horse racing scenes. After the outbreak of the Boar War in 1899, Giles worked as a war correspondent and artist in South Africa for The Graphic and the Daily Graphic. He was awarded the Queen's South Africa Medal on 12 February 1903, coincidently the same year he produced these paintings.
He lived in Newmarket for many years but sometime during the late 1920's/early 1930's moved to Edinburgh. He died at 9 Forres Street, Edinburgh on 1 February, 1941 aged 83.
Examples of his paintings are held by the Museum of the King's Royal Hussars, National Army Museum, Parliamentary Art Collection, Royal Collection Trust, York and the Lancaster Regimental Museum.

Presentation: The paintings are housed in their original oak frames, which are in excellent condition. Both paintings bear a label to the reverse for Lechertier, Barbe & Co, who were a well-established artist's colour and supply shop. The firm existed as Lechertier Barbe from 1848-1864, Lechertier Barbe & Co from 1859-1897 and Lechertier Barbe Ltd from 1898-1969. They operated out of 60 Regent Street from 1827 until 1898 and 7 Glasshouse Street from 1864-1898.
Condition: As with all of our original antique oil paintings, these works are offered in ready to hang gallery condition, having been professionally cleaned, restored and revarnished.
© Benton Fine Art
Dimensions
(Each) Image Size: 10.5 inches x 13.5 inches (26.5cm x 34cm) / Framed Size: 17 inches x 20 inches (43cm x 51cm)
The BADA Standard
Since 1918, BADA has been the leading association for the antiques and fine art trade
Members are elected for their knowledge, integrity and quality of stock
Our clients are protected by BADA's code of conduct
Our dealers' membership is reviewed and renewed annually
Bada.org is a non-profit site: clients deal directly with members and they pay no hidden fees
Click here for more information on the BADA Standard