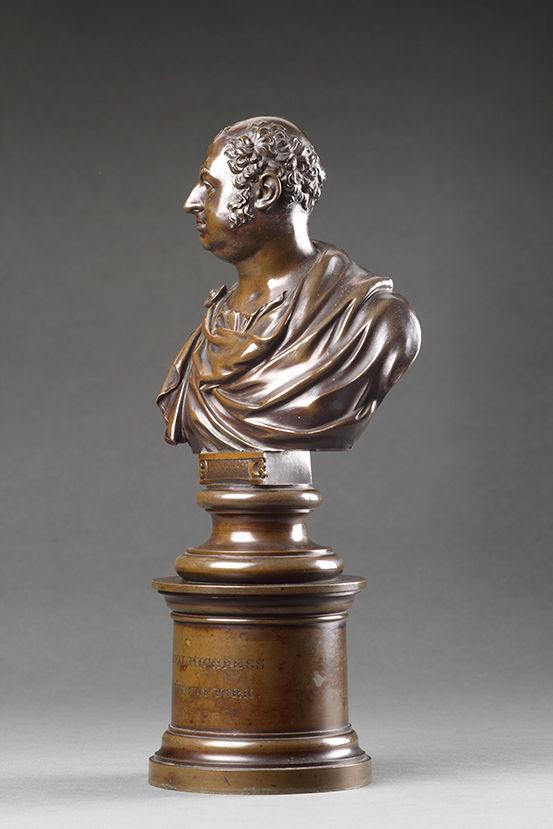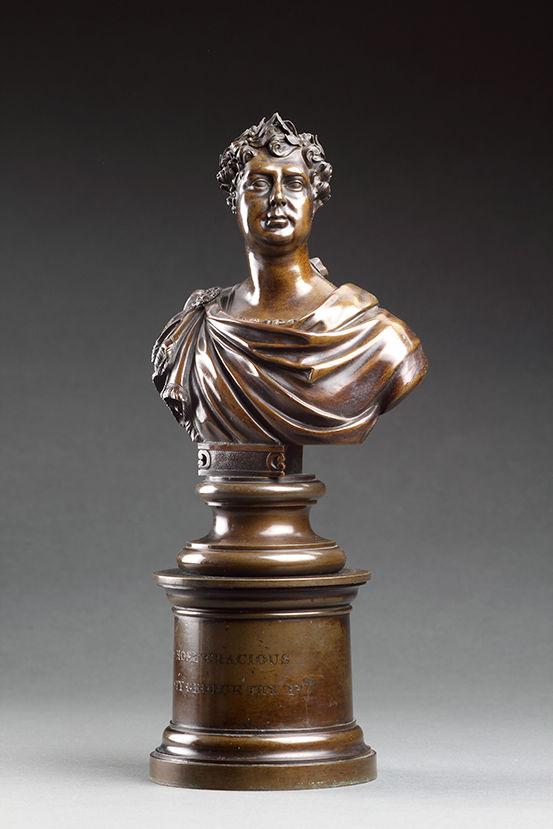 The BADA Standard
Since 1918, BADA has been the leading association for the antiques and fine art trade
Members are elected for their knowledge, integrity and quality of stock
Our clients are protected by BADA's code of conduct
Our dealers' membership is reviewed and renewed annually
Bada.org is a non-profit site: clients deal directly with members and they pay no hidden fees
Click here for more information on the BADA Standard
A Fine Pair of English Regency Cast Bronze Royal Portrait Busts of George IV and the Duke of York 'After the Antique' in Classical Attire.
Inscribed to reverse 'Published by T.Hamlet 1 Jan 1823'.
Circa 1823.
Sizes:
29cm high - 11½ ins high and 28cm high - 11 ins high.
See: Finch and Co catalogue no. 15, item no. 56, for another bronze by T Hamlet of the Duke of York.
Frederick, Duke of York, brother to the King George IV, was a handsome, affable, military-cum-sporting type who had to leave the army when it was publicly discovered that his mistress was up to her neck in the sale of military commissions and promotions. The Prince Regent was devoted to him, and soon made him Commander-in-Chief of the army again. His marriage to a German princess quickly failed and she retired to Oatlands Park in Weybridge, Surrey where she amused herself with her pet dogs, up to 100 of them at any one time! Popular in his early years, his rigid Tory attitudes, the scandals and his spectacular waste of money on building projects eventually lost him his popularity. He died of dropsy in 1827.
Known as the 'Prince of Pleasure' during the years of his regency from 1811 to 1820 George IV was crowned King on July 19th 1821, and his coronation was a truly magnificent affair. Nothing was spared. At midnight, all the church bells of London pealed and guns roared and continued to do so every half hour. Westminster Abbey was decorated in crimson cloth and fitted out with boxes, galleries and benches as if a giant playhouse.
The King wore a 27 foot train of red velvet emblazoned with gold stars, with a black Spanish hat with huge plumes of white ostrich feathers, and the curls of his wig fell gracefully over his forehead. His coronation coat had cost 3½ times as much as later did that of Queen Victoria, but for George IV now able to wear anything he had ever fancied, the show was well worth it. The painter Benjamin Robert Haydon described the scene: 'The way in which the King bowed was really royal. As he looked towards the peeresses and foreign Ambassadors he showed like some gorgeous bird of the East.'
Dimensions
29cm high and 28cm high
The BADA Standard
Since 1918, BADA has been the leading association for the antiques and fine art trade
Members are elected for their knowledge, integrity and quality of stock
Our clients are protected by BADA's code of conduct
Our dealers' membership is reviewed and renewed annually
Bada.org is a non-profit site: clients deal directly with members and they pay no hidden fees
Click here for more information on the BADA Standard