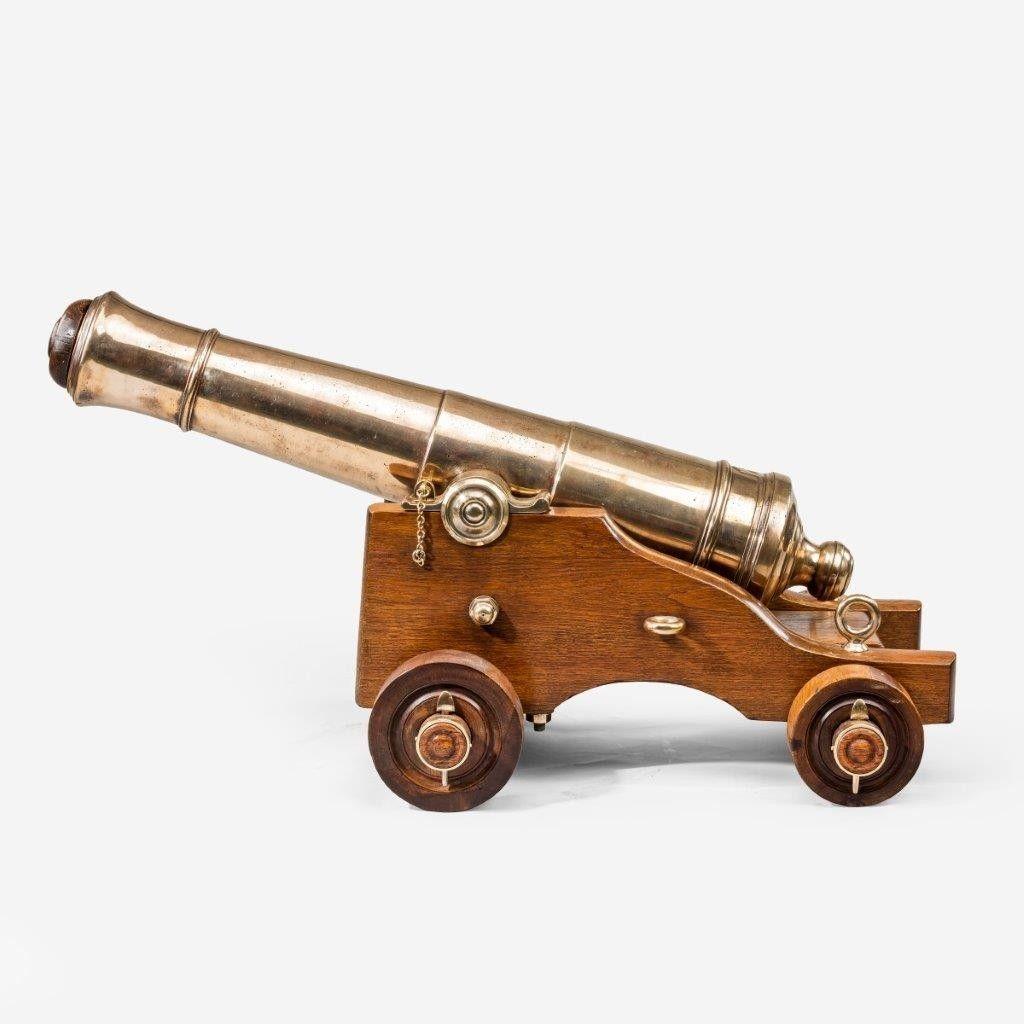 Price
£88000.00
The BADA Standard
Since 1918, BADA has been the leading association for the antiques and fine art trade
Members are elected for their knowledge, integrity and quality of stock
Our clients are protected by BADA's code of conduct
Our dealers' membership is reviewed and renewed annually
Bada.org is a non-profit site: clients deal directly with members and they pay no hidden fees
Click here for more information on the BADA Standard
Pair of antique English naval cannon each with a tapering three stage barrel flanked by plain trunnions, with a knob shaped cascabel button before a shaped rectangular raised vent and ending in a 3 1/2" bore muzzle, enclosing a removable conforming wood plug. Circa 1800.
Stood upon a naval type bronze mounted four wheeled wooden carriage, including its wedge shaped quoin with knob handle.
Overall Height: 57 cm – 22 1/2 inches
Width: 68 cm – 27 inches
Overall Length 124cm – 48 inches
BARREL LENGTH 104 cm – 41 inches
Provenance
The Earls of Lonsdale, Lowther Castle, Cumbria, presumably by descent to Hugh Cecil Lowther, 5th Earl of Lonsdale (1857-1944), until sold by his heir and brother, Lancelot, 6th Earl, as part of the contents of Lowther Castle, Maple & Co. Ltd./Thomas Wyatt, Tuesday 14 April 1947 and two following days, lot 558: 'A pair of Old Gun Metal Cannons on teakwood carriages, 3ft. 6in. long'.
Mrs. P.M. Adie-Shepherd, sold Christie's, London, 29 May 1970, lot 96.
Lowther Castle is a castellated mansion built by Robert Smirke between 1806 and 1814 for William Lowther, 1st Earl of Lonsdale (1757-1844). It was constructed on the foundations of the former 17th century family seat, Lowther Hall, but it was only in the early 19th century that it was afforded the name 'castle' in keeping with the Europe-wide fashion for romanticism and which was promoted by influential characters such as William Beckford at Fonthill Abbey, Wiltshire in England and by the writer Sir Walter Scott at Abbotsford, Roxburghshire, Scotland.
While it's not known when these naval cannon were acquired for Lowther they would have been entirely fitting in the castle or its approaches and it's likely that they were in place soon after the castle was completed, or perhaps acquired later by the 5th Earl. A tantalising possibility is that the cannon were originally aboard the East Indiaman Lowther Castle which was active in the early 19th century.
Hugh Cecil Lonsdale, 5th Earl of Lonsdale (1857-1944) and the demise of Lowther Castle
In 1882 at the age of 25 Hugh Lonsdale (1857-1944) unexpectedly inherited the earldom and with it the extensive Lonsdale estate, including tens of thousands of acres of Cumberland and Westmorland and coalfields at Whitehaven. However, despite his spectacular inherited wealth – he was suddenly one of the wealthiest men in England, over the course of his lifetime he managed to decimate the family fortune. He led a full and colourful life, one of adventure and luxury.
An early intrepid escapade took place in July 1888 when, as part of an expedition called the Scotch Naturalist Society, he set embarked on horse sleigh, dog sleigh and boat to reach the Arctic circle, travelling 6000 km up the Mackenzie mirror and across northern Alaska. On his return and with new-found understanding of the Indian and Inuit peoples whose way of life was being destroyed, he presented his ethnographic collection the Arctic to the British Museum; one hundred years after his death they formed an exhibition about him.
The press named him 'the Yellow Earl' because of his favourite colour which he used for his carriages, Rolls Royce, servants' livery and even the gardenia button hole he wore and when he became the first president of the Automobile Association they took the colour yellow for their distinctive badge. He was a keen huntsman and sportsman, in 1907 he was elected the first president of the International Horse Show at Olympia and in 1909 he became first president of the National Sporting Club, who introduced a boxing championship trophy named the Lonsdale Belt.
During the First World War he helped to found the Blue Cross and recruited both men and horses for the army. After the war he became more involved in horse-racing, in 1922 his colt Royal Lancer won both the St. Leger and the Irish St. Leger, and he became a senior steward of the Jockey Club. Throughout his life, Lonsdale was known as a larger than life, flamboyant character, and he was much liked by his tenants who called him 'Lordy'.
Such were his interests, yet as a peer he was rarely seen in the House of Lords and by 1921 the extravagant spendthrift was running short of money. His mansions, Whitehaven Castle and Barleythorpe, were sold, the family's west Cumberland coalmines closed, and in 1936, Lonsdale was finally forced to leave the principal Lonsdale seat, Lowther Castle.
In 1939 or 1940 the castle was requisitioned or the war effort and used for tank development. When it was returned to the family the cost of maintaining the house was way beyond their means and so, despite their desire to offer it to the National Trust and other heritage bodies, the contents were sold (including the cannon), and then, for the avoidance of onerous taxes, the castle was stripped and the roof removed to leave an empty shell.
Dimensions
Height 8.50 inch., Width 12.75 inch., Depth 43.00 inch.
The BADA Standard
Since 1918, BADA has been the leading association for the antiques and fine art trade
Members are elected for their knowledge, integrity and quality of stock
Our clients are protected by BADA's code of conduct
Our dealers' membership is reviewed and renewed annually
Bada.org is a non-profit site: clients deal directly with members and they pay no hidden fees
Click here for more information on the BADA Standard